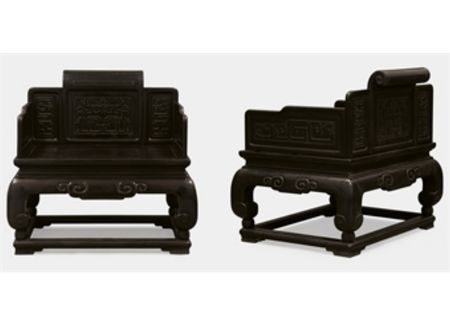 A Magnificent And Important Zitan Throne Chair, Baozuo. Qianlong Period (1736-1795)
The impressive throne constructed of a rectangular seat framed with ice-plate edge supporting peripheral panel screens, decorated with stylised kui dragons on both sides, the chair back comprising three panels with the central splat carved into a cylindrical scrolled crested rail, all set above a straight waist supported on a ruyi-head decorated apron, the powerful legs curved inwards, each attached to a ball resting on a floor stretcher - 42 7/8 x 34 1/16 x 40 1/8 in. (109 x 86.5 x 102 cm.) high - Estimate on request
This throne is constructed of zitan wood, measuring 109 cm. wide, 86.5 cm. deep and 102 cm. in height. The bow legs are in-turned and terminate into horse hooves. The apron is carved with ruyi motifs, and repeated on the terminal of the hooves above a circular ball, all resting on a square support stretcher. The back central panel is higher than the two side panels. Each panel is set within a frame and carved in shallow relief with kui dragons on the outer and inner sides. Although the dragon motifs are shallow they are depicted in a lively fashion. The generous proportions are well balanced, and in view of the style of the carving and the shape of the throne it should be dated to the late Qianlong period. The throne is important from a historic and artistic point of view; and a worthy piece for collectors.

Generally, "thrones" or baozuo are considered as furniture used for the purpose of rest such as day beds and benches. The difference being their sizes will differ in length and width to normal beds. Aside from the size, the style and construction are also different. Thrones are used as seats only and are not for reclining. In view of this, thrones are considered as "bed-form" chairs.

Imperial thrones are placed in various settings such as within a palace, palace gardens, official halls, imperial residences and princes' regional residences. Thrones are normally displayed centrally and placed in the middle of a hall with a screen behind them for protection, and the left and right sides are arranged with decorations such as ornamental elephants, mythical beasts, fans and censers. The area around this whole arrangement is regarded as the "imperial throne territory". Even though furnishings within the throne area can be fashioned in different styles, they are basically formulaic. Unlike furnishings in civil households, the specific arrangement is indicative of a highly regulated hierarchical system. Displayed within a setting, the throne is a symbol of ultimate authority; and aside from the emperor and empress no one was permitted to sit on a throne. Within the residence of princes, thrones were used by the householders, and they were considered important pieces of furniture. Hu Desheng. Researcher, The Palace Museum, Beijing
Exhibited: National Museum of History, Splendor of Style: Classical Furniture from the Ming and Qing Dynasties, 1999, and illustrated in the Catalogue, p. 96
Notes: Zitan became a very expensive commodity by the early Qing period as the number of zitan trees dwindled dramatically from excessive lumbering throughout the Ming period (1368-1644). The wood's scarcity was compounded by the fact that the trees themselves are slow growing and require centuries to fully mature into usable material. Although local sources of zitan exist in the southern provinces of Yunnan, Guangdong and Guangxi, much of the material was imported from Southeast Asia. As an expensive imported commodity its use was scrupulously monitored and carefully restricted at the Imperial workshops.
It is very rare to find sumptuous large thrones of this highly prized wood since it required raw material of enormous girth to permit the construction of the rectangular seat and shaping the sturdy protruding curve of the legs from a single piece of timber. From its massive size, it is evident that no expense was spared in the production of this throne.
Further research by Hu Desheng of the Beijing Palace Museum dates this imposing zitan throne to the late Qianlong period, and most probably a tribute from the Canton workshops. Compare with another large, although more ornate in design, zitan throne dated to the mid-Qing dynasty in the Capital Museum, Beijing, illustrated by Tian Jiaqing, Classic Chinese Furniture of the Qing Dynasty, p. 136, no. 54. The Beijing throne is thought to have been made in Guangdong as a tribute to the Imperial court or at the Imperial workshops staffed by Guangdong cabinetmakers, op. cit., p. 137.
Christie's. Important Chinese Ceramics and Works of Art. 3 December 2008. Hong Kong. www.sothebys.com - Image 2008 Christie's Ltd