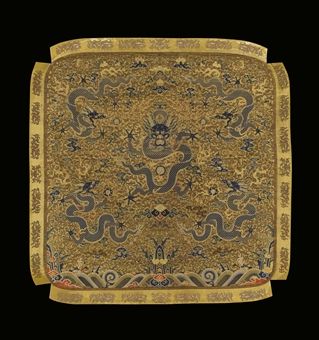 An Imperial Yellow Throne Seat 'Dragon' Cushion Cover. Qianlong Period (1736-95)
Of square shape, the cushion cover meticulously embroidered in satin stitch with a frontal five-clawed dragon in the centre in blue and gold-wrapped threads coiled around a 'flaming pearl', surrounded by a dragon in profile grasping or chasing a 'flaming pearl' in each corner, reserved against a dense ground of bats, flame, multi-coloured cloud clusters and tendril scrolls all worked in shades of gold, red, blue, cream and brown, all above the terrestrial diagram and babao treasures among pingshui waves, bordered with stylised gui dragons and ruyi clouds in gold, reserved on an imperial yellow ground. 49 in. (124.5 cm) wide, framed - Estimate HK$500,000 - HK$700,000 ($64,808 - $90,731)
Provenance: General Charles Gordon (1833-1885)
Notes: Previously sold at Christie's London, 4 December 1995, lot 3.

Chinese cushion covers were tightly packed with wadding. Rectangular cushions were used for seats, while shaped examples (please see lot 2266 in the Dowager Empress Cixi: Elegance of the Late Qing sale) stood upright against chair backs. These upholstered cushions, provide decoration as well as comfort to the wide thrones and hard, raised kang platforms placed throughout the ceremonial halls and principal residences of the Forbidden City. These types of large yellow cushions are unique to their particular settings, and pictures of imperial residences and court paintings give us an idea of how they were used. Under strict Qing regulations, the use of the dragon motif was reserved strictly for the emperor and the empress.

The current seat cushion cover was formerly in the collection of the well-known General Charles Gordon (1883-1885). Having arrived in Tianjin in September 1860, General Gordon volunteered his service with the Chinese imperial government in suppressing the Taiping rebellion. He was later bestowed with the title of Titu by Emperor Tongzhi which earned him the nickname of "Chinese Gordon". Gordon was present at the occupation of Beijing where he witnessed the destruction of the Summer Palace, Yuanmingyuan, in October of 1860. It is interesting to note that this throne seat cushion cover is a match to a throne back cushion cover formerly in the Wolseley collection, now in the Victoria and Albert Museum, London (fig. 1). The Wolseley back cushion cover was part of a larger collection of textiles that were acquired by Lt. Col. Wolseley (1833-1913) who commanded British troops during the invasion of the Summer Palace. When the collection was donated, the museum discovered labels sewn on the back of some of the textile pieces bearing the words: 'From Summer Palace, Peking 1861, Wolseley'. It is highly probable that both the present throne cushion cover and the Wolseley throne back cushion cover were taken from the same throne and were both removed from the Yuanmingyuan on the same occasion.

Compare with another imperial yellow throne seat cushion cover with dragons, in the collection of the Minneapolis Institute of Arts, illustrated in Imperial Silks: Ch'ing Dynasty Textiles in The Minneapolis Institute of Arts, Minneapolis, 2000, p. 833, pl. 401.
Christie's. Important Chinese Ceramics and Works of Art. 3 December 2008. Hong Kong. www.sothebys.com - Image 2008 Christie's Ltd