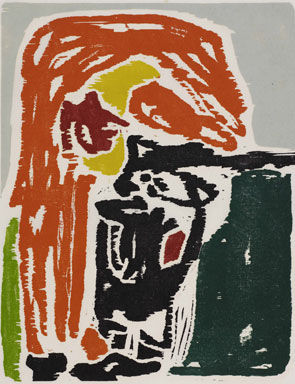 Asger Jorn, Ohne Titel (Sommerreise), 1970, farbiger Holzschnitt, mit Passepartout 44 x 35 cm. Galerie van de Loo München © Donation Jorn, Silkeborg / VG Bild-Kunst, Bonn 2008
MUNICH.- In 1967 the first international art fair for modern and contemporary art took place in Cologne. Only 18 galleries took part, but with 15,000 visitors and a turnover of one million German mark the starting shot for a lively contemporary art market was given. Everybody was able to look at and buy art, and for the first time galleries were confronted with a direct comparison with their competitors: works by international artists, various media, various subject matters – all were next to each other for the first time. This context offered the perfect platform for editions and multiples: "The large crowds incited me to also approach a young audience with multiples and posters. The people stocked up hugely in the range between 8 and 50 mark; they even cued around the booth", Raimund Thomas recounted. He was there from the very beginning with his Galerie Thomas, which, significantly, was – and still is – based in Munich. Because at the beginning of the 70s Munich, together with New York and London was leading with regards to editions and multiples.

The exhibition 'Made in Munich' provides a different view on the history of Munich's art trade, as well as Munich's avant-garde of the 60s to the present day. Well-known producers of editions such as Galerie Thomas, Galerie van de Loo and Galerie Heiner Friedrich were joined in the mid-70s by Edition Schellmann & Klüser, Galerie + Edition Sigrid Friedrich and Sabine Knust, as well as Galerie Fred Jahn. The exhibition though also looks at lesser-known producers such as edition x, Godula Buchholz and Dorothea Leonhart following the trails all the way to the alternative art scene: Forum Galerie van de Loo, Aktionsraum, P.A.P. Kunstagentur Karlheinz & Renate Hein, Kunstraum, zehn neun and s press tonband verlag.

Besides graphic prints a most diverse range of objects will be on show: photographic portfolios, record covers, sculptures, videos and tape cassettes, 16-mm films, a furniture suite, wallpaper, porcelain and mini artworks such as invitation cards. Some works are even delivered in adjustable pieces: e.g. Kara Walker's "Pastoral" comes with a stencil.

After three exhibitions – 'The Gods of Greece' that showed the cartons by Peter Cornelius; 'A View for the People. Art for All', focused on a magazine with links to the National Socialists' cultural politics; 'The Trial of Strength', which was dedicated to the 200-year jubilee of the Munich art academy – the Haus der Kunst is now offering a fourth exhibition with 'Made in Munich' that has emerged as the result of intensive research on Munich's history.

Edition or Multiple?
A multiple is a three-dimensional object that an artist produces in several identical copies. Each print edition and each multiple requires certain decisions during the production process: How many prints should be made? And, depending on the number of prints, which designation is the more appropriate? Can the number of prints be infinite? And, if so, does this signify a decrease in quality? Or can a print and multiple only refer to something that is limited? The technical procedure could be the decisive factor regarding such considerations. Whenever Joseph Beuys himself created every detail for a multiple, he would keep the edition low so as to save time. For other multiples in higher editions, he would only research the material and coordinate the ideas. One of the first of many multiples that Beuys produced in Munich is the 1970 film 'Transsibirische Bahn' [Trans-Siberian Railway], which is included in the exhibition.

Richard Hamilton, 'Kent State'
In May 1970 Richard Hamilton set up a photographic camera in front of a television screen. A specific moment from the transmitted material that was recorded by the camera is later the foundation for his silkscreen print, 'Kent State': It is the blurred image of an upper body, which lies twisted on the ground, the T-shirt is bloodstained. The snapshot depicts the student Dean Kahler who had been shot by the Ohio National Guard during a protest. He survived but was left permanently paralyzed from the chest down. Hamilton wanted to "to keep the shame in our minds"; the distribution of the print in a high edition was perhaps "the strongest indictment I could make". (Hamilton in "Collected Works")

'Kent State' is exemplary for the exhibition because of its contextual and technical complexity, because of the close collaboration between artist, printer and publisher and because it was created in Munich.

To the Limits of the Medium
In Hamilton's silkscreen 'Kent State' no fewer than 15 colours overlap – more than in the spectrum of a normal television screen. Additionally, Hamilton insisted on printing 5,000, all of the same high quality that was usually reserved for smaller editions. Because of the many layers of paint each print had a long drying period; soon Hamilton and the printer Dieter Dietz realized that insects had become stuck to the paint and ruined many of the first 3,000 prints. 'Kent State' became a technical challenge; yet the planned 5,000 prints were produced in the desired quality.

Characteristic of edition production is the fact that artists actually sought such technical challenges. Some artists were inspired by materials used in industrial design: With his portfolio 'Stoffwechsel' [metabolism] from 1968, Uwe Lausen, for example, wanted to create waterproof graphic art that could be hung up in the bathroom. He decided to use PVC, a new material at the time. Others such as Asger Jorn and Georg Baselitz saw themselves as universal artists and wanted to master the technical disciplines of classical print techniques: etching – dry point, open-bite and aquatint – multi-coloured woodcut and lithography. With huge efforts Hermann Nitsch mixed materials and techniques such as ink, chalk drawings and etchings. The lithographs 'Die Architektur des Orgien Mysterien Theaters I + II' [The Architecture of the Orgies Mysteries Theatre I + II] required seven years of the printer Karl Imhof's time. The portfolios consisted of labyrinthine drawings that were reminiscent of human intestines and were created for a subterranean theatre. For other artists an edition represented a welcome experiment to try out another medium: Barry LeVa wanted "to explore other aspects of sculpture with lithographs". Sometimes artistic interests and strategies of an artist's œuvre found an intensified expression in prints. It is no coincidence that Blinky Palermo named a series of prints, which was exemplary for his graphic work, '4 Prototypen' [4 Prototypes].

The Circulation of Ideas
At the time newspapers would offer editions of prints at affordable prices via mail order or subscriptions – much in the same way as magazines such as Monopol and Texte zur Kunst do today: The British newspaper The Observer advertised with the slogan 'Art Within Reach'. In 1971 readers could purchase Eduardo Paolozzi's silkscreen print 'Bash' produced in Munich as an edition of 3,000, for £17.50. All that one had to do was fill out an order form and send it, together with a cheque to The Observer. The same newspaper had also sold 'Kent State' at one time.

Infiltrating the private sphere and reaching the so-called 'normal public' was of particular interest to artists who wanted to make a political statement. The cooperative zehn neun was founded in Munich in 1969. They picked up on the idea of mail-order and subscriptions: The subscribers agreed to buy six prints or purchase 400 DM worth of goods annually. The artist members made two or three works available each year that could be sold via the mail-order catalogue. Characterized by the spirit of self-organization, zehn neun did not want to share its profits with the galleries and therefore organized exhibitions in unusual locations such as laundrettes and schools. The artworks created by zehn neun often had a political undertone. A typical work is KP Brehmer's print 'Korrektur der National Farben' [Correction of the National Colours].

Printed editions were intended to democratize art and speak to a young public. Artists, who were more interested in the message than in the medium, printed leaflets for mass circulation. Joseph Beuys summarized: "I am interested in the circulation of physical vehicles in the form of prints because I am interested in spreading ideas".

A result of the busy production was that the vast supply was soon confronted with a decrease in demand. By 1975 it seemed that the appetite for affordable prints had been satiated. Many artists were disappointed that the far-reaching effect had not materialized and that the 'sensitizing of the masses' had not occurred to the extent they had hoped it would. Yet, at a time when political activism was widespread, it remained doubtful that people's political attitudes could be influenced at all by prints.

Graphic Art for the Olympic Games 1972
The desire to reach the general public was also, to a large extent, the goal of the Olympic Games that took place in Munich in 1972. It was the first time that such an event was transmitted worldwide by television and, thereby, tragically also the first time a terrorist attack was viewed globally. For the first time the overall design, created by Otl Aicher, used predominantly images instead of text. Nearly 30 international artists, including Max Bill, David Hockney, Allen Jones, R.B. Kitaj, Victor Vasarely and Tom Wesselmann, were commissioned by the Olympic organizers and the Bruckmann-Verlag to create editions of prints especially for the Olympic Games. The goal was to unite art and sports. The prints were offered in three variations:

 as signed and numbered original prints in an edition of 200 (costing between 340 and 1,200 DM)

 as signed, but not numbered, original posters in an edition of no more than 4,000 (costing between 30 and 100 DM)

 as posters produced as offset reproductions in an unlimited edition (for 12.50 DM).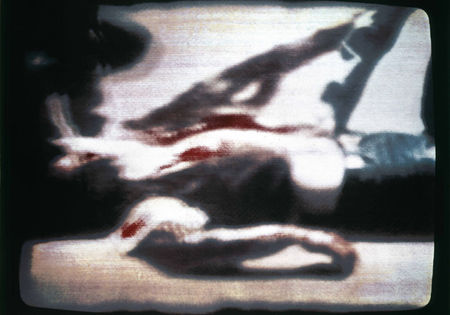 Richard Hamilton, Kent State, 1970 72.7 x 102.2 cm. Screenprint © VG Bild-Kunst, Bonn 2008