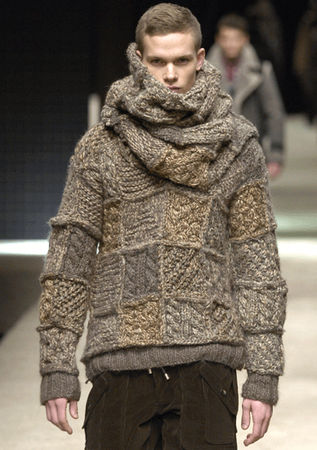 Fashion, so often clairvoyant with clothing, has woven a different image for this season - a period when no young banker wants to wear knitwear the color of a pink "you're laid off" slip, or when hanging around a bar, hugging a glass of bubbly against a sleek sweater, is a bad fit with a credit crunch. There is something rugged and comforting about the new knits that envelop and embrace the body, as with this D&G cardigan, left.
Cardigans are often hefty enough to be worn as jackets - the thick texture bumped up with cable stitching, with patchworks of different patterns or even with fur, woven in with the knitting. As at Fendi, left, the look, but not the feel, is heavyweight.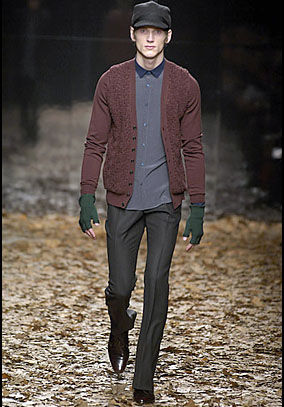 Clothes at Burberry, left, were part of a similar autumnal, russet style, where the knits seem more suited to country woods than urban streets. They tended to be shown on the runway with plaid pants and would make a natural partner for flannel or corduroy.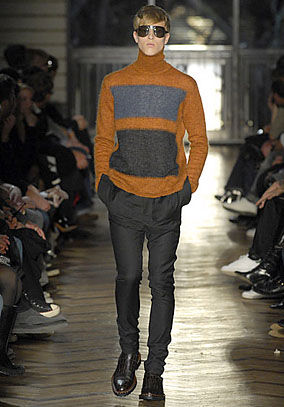 The patterns are indisputably masculine, with straight lines, sharp angles and geometric symbols: stripes, thick and wide; or blocks of color, sometimes with different textures worked into the designs, as at Raf Simons, left.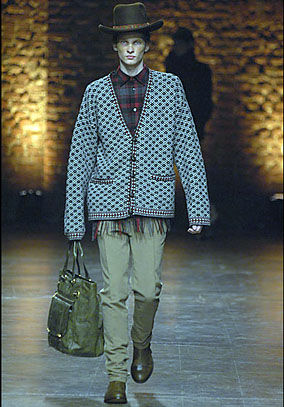 It is the Andes that seem to inspire designers as diverse as Alexander McQueen (left) and Riccardo Tisci at Givenchy. The poncho, abstracted and reduced to a line of tasseled fringing or to a Mexican blanket pattern, is currently a recurring theme.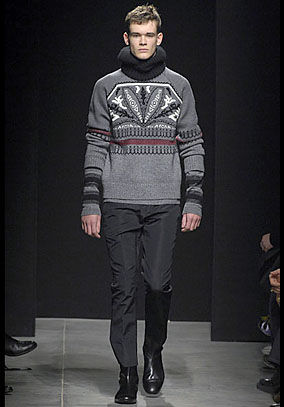 The irony is, of course, that today's variations on a robust or rustic theme are just as likely to be made of cashmere as their simple, V-necked, pull-on forebears. In fact double cashmere, as luxurious a wool as you can get, is the basis of most of these hefty knits. Thickness without weight is the essence of modern style, as seen in Alessandro Dell' Acqua's Fall 2008 collection, left.
photos catwalking.com - Lire "New knits define a rugged masculinity" by Suzy Menkès http://www.iht.com/articles/2008/12/02/style/FSWEATER.php