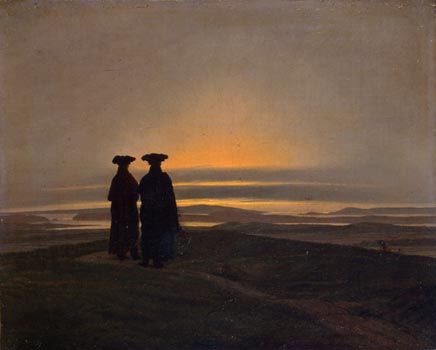 Caspar David Friedrich (1774-1840), Sunset (brothers), ca. 1835, Oil on canvas, 26 x 31
AMSTERDAM.- The Hermitage Amsterdam is to end its stay on Nieuwe Herengracht with a remarkable finale. For the first time ever all the works by Caspar David Friedrich (1774-1840) from the collection of the Hermitage Museum in St Petersburg will be loaned for a special exhibition about this renowned German artist curated by guest curator Prof. Henk van Os. Friedrich's paintings and drawings are at the centre of the exhibition, but they are surrounded by works by contemporaries, predecessors and followers. They all present aspects of the Romantic landscape and illustrate the special ties between these painters, with Friedrich at the fore, and Tsar Nicholas I and his family. Particularly noteworthy are the watercolours by Carl Fohr, which have not been shown or published before. They were discovered during the preparations for this exhibition, the tenth and last to be held in the Neerlandia building. Afterwards the Hermitage Amsterdam will move to the adjacent Amstelhof and become ten times as big. This second phase will open before the summer of 2009. The present premises will be converted into the Hermitage for Children.

Until about 1960 for most art lovers in the Netherlands Friedrich's paintings represented a suspect world associated with a fatal nationalism fuelled by notions about Blut und Boden. Much has changed since then. Friedrich has been 'in' for years. For many he has become a cult figure. This has to do with the fact that in recent decades the experience of nature expressed in his paintings has been shared by many. His recent retrospective in Germany was a resounding success.

Caspar David Friedrich and his friend Philipp Otto Runge unwittingly brought about a renewal of art. The landscapes by the deeply devout Protestant Friedrich are full of religious symbolism alluding to a divine presence in the landscape.

His paintings are now much loved but rare. The State Hermitage Museum in St Petersburg has the largest collection of works by Friedrich outside Germany. The museum will be loaning all of them for the first time: nine paintings and six drawings. The idea of holding an exhibition in Amsterdam of all Friedrich's works from the Hermitage was prompted in part by the fact that the history of their acquisition is so interesting. Moreover, they form a representative group and include many of his finest paintings and drawings, marking very different moments in Friedrich's oeuvre. Thanks to this diversity, they give a wide-ranging picture of the painter's imaginative world, and make it possible to get to know the artist Caspar David Friedrich.

When guest curator (and former director of the Rijksmuseum) Henk van Os looked more closely at the Hermitage's collection of German paintings of the eighteenth and nineteenth centuries for this exhibition, it became clear that the prominent position of artists from the German-speaking countries in St Petersburg around 1800 had resulted in there being a surprisingly rich collection of German paintings from that period in the storerooms. It included important paintings and drawings by landscapists who are hardly if at all known in the Netherlands. As a result of this discovery, the idea was born of devoting an exhibition at the Hermitage Amsterdam to showing what a revolution Friedrich had brought about in German landscape painting. More traditional painters such as Hackert, Reinhart and Mechau, contemporaries like the unknown young artists Carl Fohr (1795-1817) and Carl von Kügelgen (1772-1832), and followers such as Hagens, Carus and Von Klenze place Friedrich in a historical context. It is only when his works are juxtaposed with traditional landscapes that it becomes clear why at the time so many critics could not or would not understand Friedrich's work. It is unique, and that is all the more evident when his paintings are shown in the context of work by other artists.

'For our art critics our German sun, moon, lakes and rivers are not enough. If the aim is elevated art and beauty, it must all be Italian.' With these words the painter again makes it clear that the historical importance of his art lies not only in how he depicts nature, but also in the fact that he decided not to journey to Italy to learn about art, but found inspiration in the landscapes of his surroundings: Rügen, Rostock, the country around Dresden and the Giant Mountains.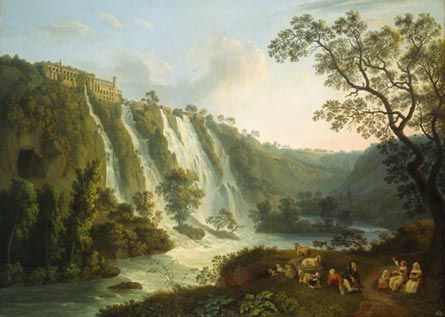 Jacob Philipp Hackert (1737-1780), Maecenas' Villa at Tivoli, 1783, Oil on canvas, 121 x 169. creditline: State Hermitage Museum St Petersburg.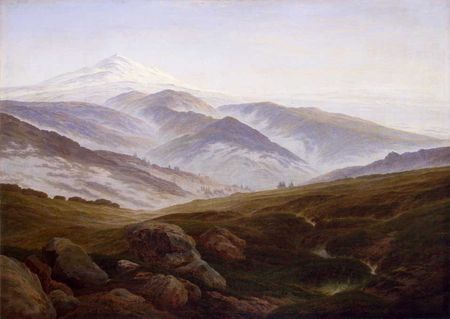 Caspar David Friedrich (1774-1840), Giant Mountains, not dated, Oil on canvas, 73,5 x 102,5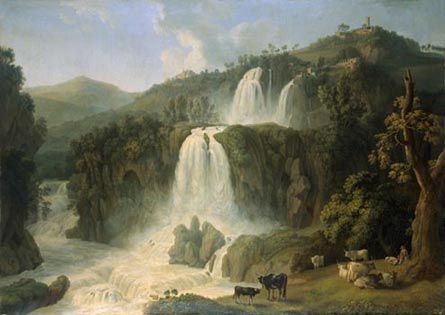 Jacob Philipp Hackert (1737-1780), The Grand Cascade at Tivoli, 1783, Oil on canvas, 120 x 170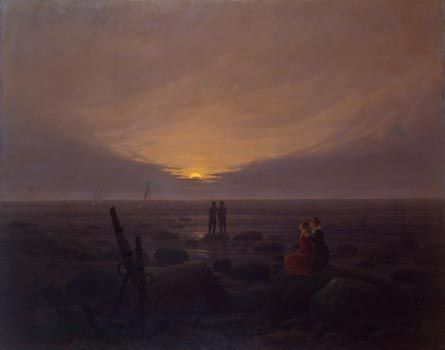 Caspar David Friedrich (1774-1840), Moonrise Over the Sea, Oil on canvas, 135 x 170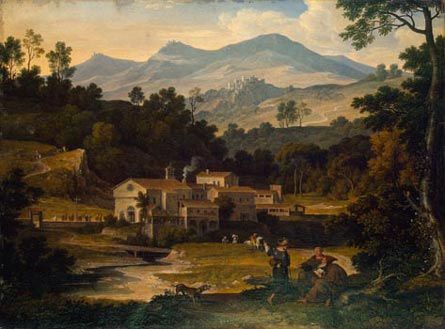 Joseph Anton Koch (1768-1839), Monastery of San Francesco di Civitella in the Sabine Mountains, 1812, Oil on panel, 34 x 46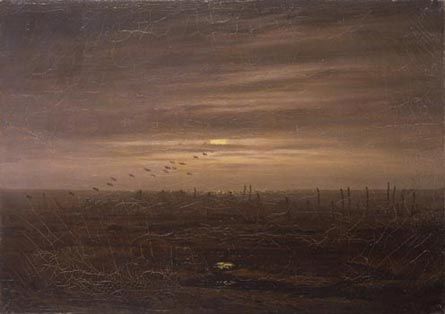 Caspar David Friedrich (1774-1840), Seashore (Nets), 1830-1835, Oil on canvas, 21,5 x 30,5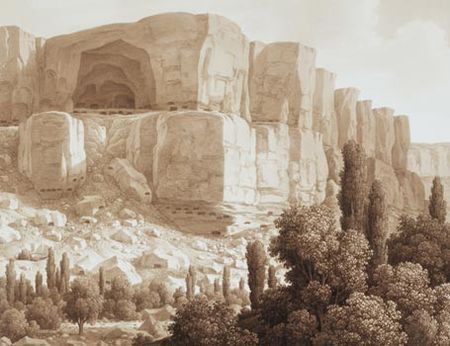 Carl Ferdinand von Kügelgen (1772-1832), Backhisarai (from a Series of Views of the Crimea) , 1824, Pen and brown wash over a pencil sketch, 31,5 x 41,2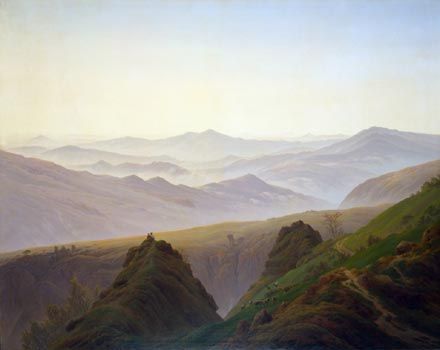 Caspar David Friedrich (1774-1840), Morning in the Mountains, 1821-1823, Oil on canvas, 135 x 170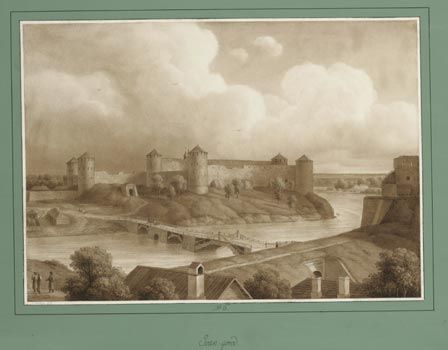 Carl Ferdinand von Kügelgen (1772-1832), Ruins of the Old Castle at Wesenberg (from a Series of Views of Narva), 1818, Pen and brown wash over a pencil sketch, 30 x 42,5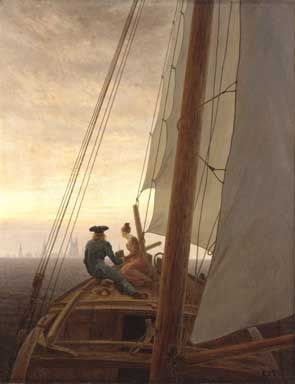 Caspar David Friedrich (1774--1840), On a Sailing Ship, 1818-1820, Oil on canvas, 71 x 56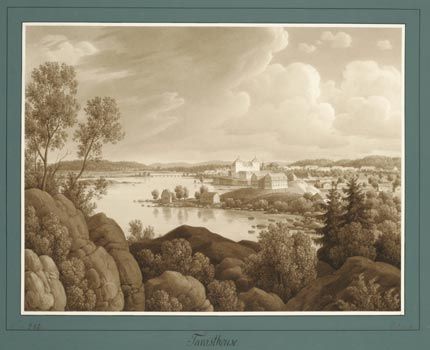 Carl Ferdinand von Kügelgen (1772-1832), View of the Countryside near Tavastehus (From a series of Views of Finland), 1819, Pen and brown wash over a pencil sketch, 32,3 x 43,5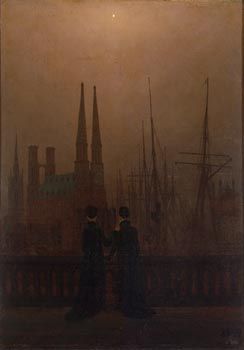 Caspar David Friedrich (1774-1840), Night in Harbour (Sisters), 1818-1820, Oil on canvas, 74 x 52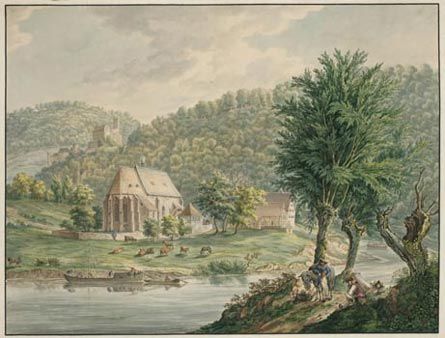 Carl Ferdinand von Kügelgen (1772-1832), Sudak (from a Series of Views of the Crimea) , 1824, Pen and brown wash over a pencil sketch, 31,5 x 41,5
Caspar David Friedrich (1774-1840), Swans, ca. 1830, Oil on canvas, 33 x 44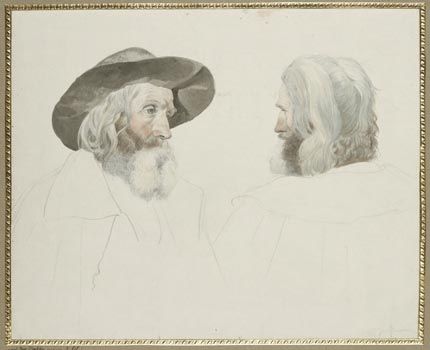 Carl Philipp Fohr (1795-1818), Two Studies of a Bearded Old Man, With and Without a Hat, 1817-18, Pencil, watercolor, 18,5 x 22
Caspar David Friedrich (1774-1840), The Dreamer (Ruins of the Oybin Monastery), ca. 1835, Oil on canvas, 27 x 21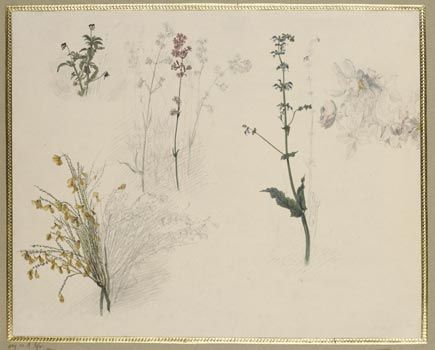 Carl Philipp Fohr (1795-1818), Study of Flowers: Three-colour Violet, Vaccaria, Sage, Rosehip and Broom, 1816, Pencil, watercolor, 19,8 x 24,8
Caspar David Friedrich (1774-1840), Owl Flying against a Moonlit Sky, ca. 1837, Sepia over a pencil sketch, 27,9 x 24,4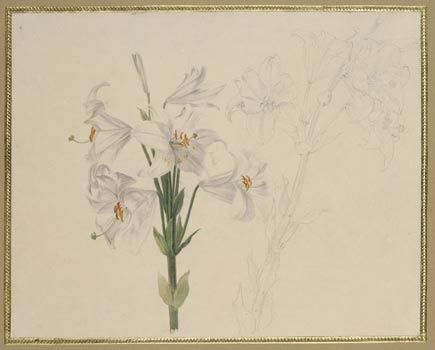 Carl Philipp Fohr (1795-1818), Study of Flowers: White Lily, 1816, Pencil, watercolor, 19,2 x 24,2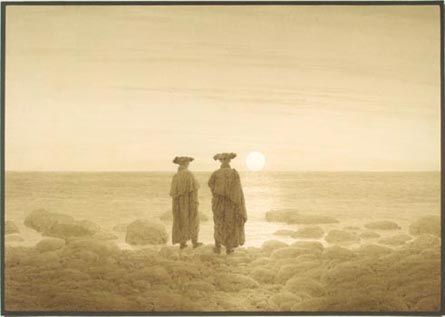 Caspar David Friedrich (1774-1840), Moonrise (Two Men on the Shore), ca. 1837, Sepia over a pencil sketch, 24,5 x 34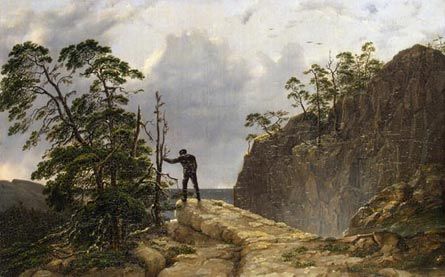 August Matthias Hagen (1794-1878), Mountains, 1835, Oil on canvas, 36,5 x 58,5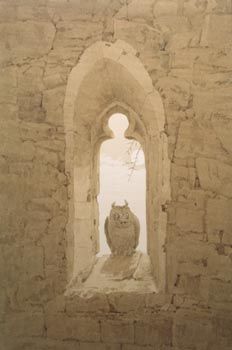 Caspar David Friedrich (1774-1840), Owl in a Gothic Window, ca. 1837, Sepia over a pencil sketch, 37,8 x 25,6
Leo von Klenze (1784-1864), View of the Valhalla near Regensburg, 1836, Oil on canvas, 95 x 132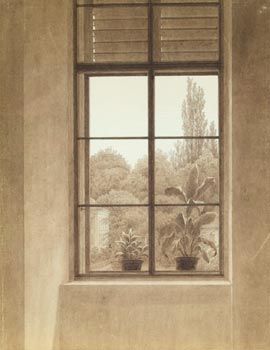 Caspar David Friedrich (1774-1840), Window Looking over the Park, ca. 1837, Sepia over a pencil sketch, 39,8 x 30,5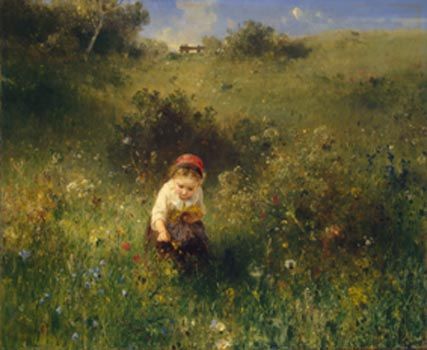 Ludwig Knaus (1829-1910), Girl in a field, 1857, Oil on canvas, 50 x 61
Caspar David Friedrich (1774-1840), Boat on the Shore. Moonrise, ca. 1837, Sepia over a pencil sketch, 24,4 x 41,6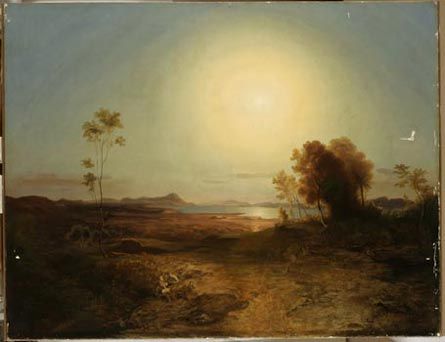 Karl Rottmann (1791-1850), Landscape (Aulis), Ca. 1850, Oil on canvas, 103 x 134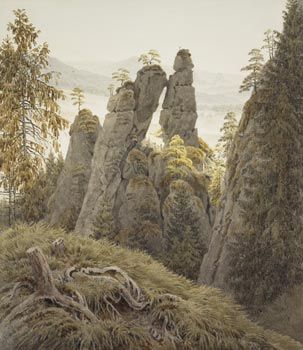 Caspar David Friedrich (1774-1840), The Rock Gates in Neurathen, ca. 1837, Watercolor over a pencil sketch, 27,9 x 24,5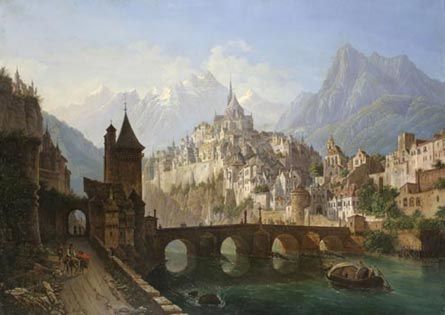 Andreas Roller (1805-1891), Landscape with a Bridge and Fortress, 1843, Oil on canvas, 92 x 128
creditline: "State Hermitage Museum St Petersburg". www.hermitage.nl