New York, NY – Yesterday, before a standing-room-only crowd, Sotheby's sale of Antiquities totalled $8,899,377, exceeding the high estimate of $6.9 million.

Richard M. Keresey and Florent Heintz, experts in charge of the sale said, "We were very gratified with the results of today's sale. Rare objects of great quality and with good provenance sold extremely well, as well in fact as they did in our June sale. The overall total of $8.9 million was nearly identical."
The top ten.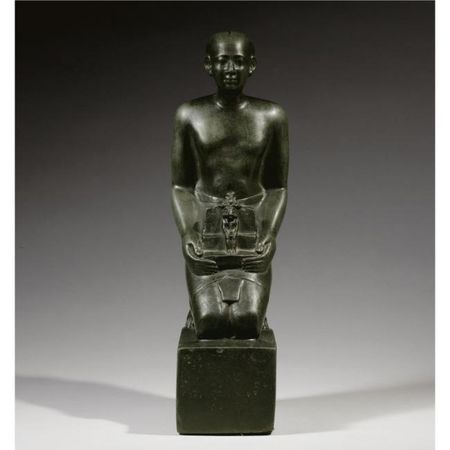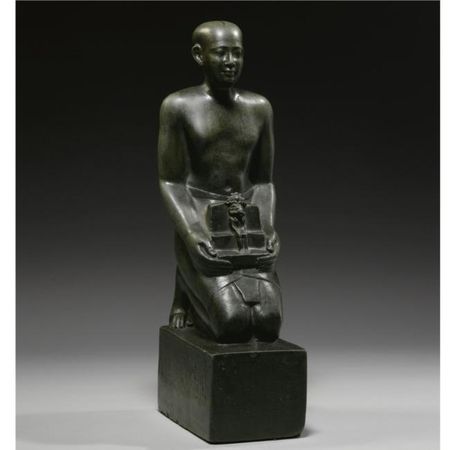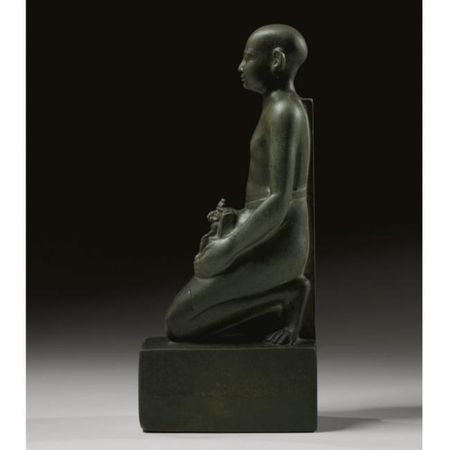 An Egyptian Greywacke Figure of a Man, late 26th/30th Dynasty, circa 600-342 B.C.
kneeling on a high rectangular base and holding an enthroned figure of ram-headed Khnum on his lap, and wearing a kilt with wide belt and central tab, his idealizing face with outlined lips deeply indented at the corners, straight nose, and finely contoured eyes, a barely visible line indicating his close-cropped hair, the inscriptions on the back pillar and base erased in antiquity. height 13 7/8 in. 35 cm. Estimate $600,000 - 900,000 - Lot sold $1,650,500 (£1,112,272) to an European Trade.
PROVENANCE: Henry Salt (1780-1827), collected in Egypt between 1824 and 1827, said to have been found "in the Temple of Bubastes, Lower Egypt" (Sotheby's, London, Catalogue of the Highly Interesting and Magnificent Collection the Property of the Late Henry Salt, Esq., His Britannic Majesty's Late Consul General in Egypt, June 29th-July 8th, 1835, no. 838)
Sir Charles John Greville (1785-1836), Warwick Castle, Warwickshire, acquired at the above sale
Collections of the Earls of Warwick (Sotheby's, London, June 12th, 1997, no. 341, illus.)
LITERATURE AND REFERENCES: Giovanni d'Athanasi, A Brief Account of the Researches and Discoveries in Upper Egypt, made under the Direction of Henry Salt, Esq., [...] to which is added a Detailed Catalogue of Mr. Salt's Collection of Egyptian Antiquities; Illustrated with Twelve Engravings of some of the most Interesting Objects, and an Enumeration of Those Articles purchased for the British Museum, London, 1836, p. 221, no. 838, pl. IX
Henry T. Cooke and W. Drake, An Historical and Descriptive Guide to Warwick Castle, Kenilworth Castle, Guy's Cliff, Stoneleigh Abbey, the Beauchamp Chapel, and other Places of Interest in the Neighborhood, 6th ed., Warwick, 1849, p. 48 (in "The Cedar Drawing Room:... on a Marqueterie table in the east window, a dying gladiator, in bronze, an Egyptian bust, and a very curious and valuable image, in green basalt, brought by Mr. Salt from Egypt, and purchased at his sale by Sir C. J. Greville")
The Tourist's Shilling Guide to Warwick and Neighborhood, Warwick, 1880, p. 31
Ward and Lock's Pictorial Guide to Warwickshire, 1882, p. 70
A Pictorial and Descriptive Guide to Leamington Spa, Warwick, etc., 1904, p. 52
Sotheby's, New York, Antiquities, May 31st, 1997, advertisement
Minerva, vol. 8 [5], September/October 1997, p. 45, fig. 16
Jaromir Malek, Diana Magee, and Elizabeth Miles, Topographical Bibliography of Ancient Egyptian Hieroglyphic Texts, Statues, Reliefs, and Paintings, vol. VIII, Oxford, 1999, p. 828, no. 801-750-450
NOTE: Henry Salt (1780-1827) became British Consul-General in Egypt in 1815, and during the course of the next decade carried out numerous excavations with the purpose of obtaining antiquities for the British Museum. Giovanni Belzoni among others excavated under his supervision, and he was in close contact with Champollion. Salt also acquired for his own account, forming collections he later sold to the British Museum and the Louvre. The magnificent sarcophagus of King Sety I was bought by Sir John Soane for his London museum. Salt's final collection was sold in 1835 at Sotheby's in London, the 1083 lots being among the first antiquities sold there.
Lucas describes greywacke, often confused with schist or basalt, as a "fine-grained , compact, hard, crystalline, quartzose rock, very like slate in appearence and generally of various shades of grey, ranging from light to dark, with sometimes a greenish tint," as in the present statue. He states that possibly the "only ancient source... was in the neighborhood of the Wadi Hammamat... where there are extensive ancient quarries with more than 250 inscriptions ranging in date from the protodynastic period to the 30th Dynasty" (A. Lucas, Ancient Egyptian Materials and Industries, 4th ed., revised and enlarged by J.R.Harris, Oxford, 1962, pp.419-420).
For the cap-like indication of natural hair cf. B.V. Bothmer, Egyptian Sculpture of the Late Period, Brooklyn, N.Y., 1960, pl. 9, no. 9, pl. 63, no. 166, and pl. 107, no.115. The author notes (p.11) that "By far the overwhelming majority of all heads, however, are either bald (or shaven) or are covered by a wig". For related sculpture of the 30th Dynasty compare Bothmer, op.cit., pl. 77, no. 81, pl.81, no. 85, and pl.84, no. 89; of the first, the striding statue of Ankh-pa-khered in the Metropolitan Museum of Art, he writes that the "Thin plastic eyebrows and cosmetic lines, a straight nose and small mouth complete the picture of dignified, formal reticence, which characterizes so much of the sculpture of this period."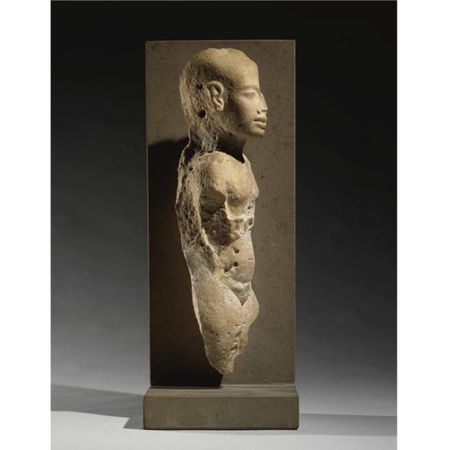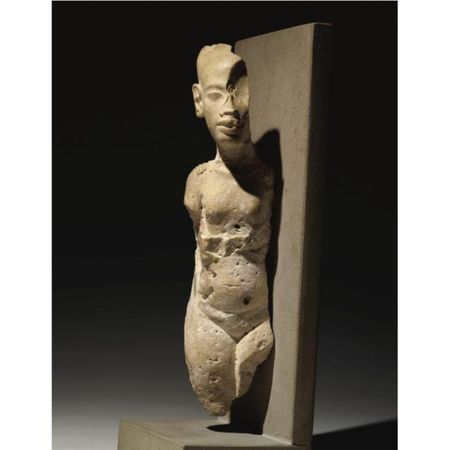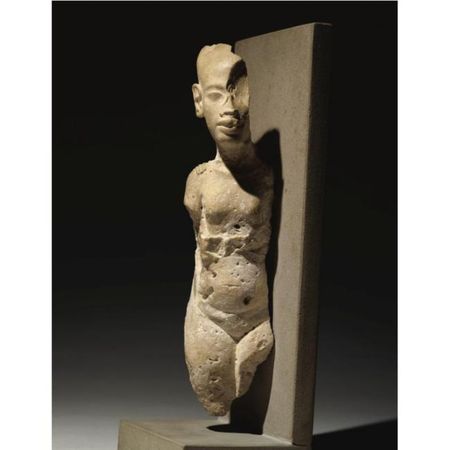 Nummulitic Limestone Figure of a Princess, Tell el-Amarna, 18th Dynasty, Reign of Akhenaten, circa 1347-1345 B.C.
probably Meretaten or Meketaten, daughter of Akhenaten and Nefertiti, standing with her left leg advanced, her fragmentary right arm folded beneath her breasts, her face with rounded chin, full outlined lips, and large naturally formed eye once delineated with pigment, the earlobe indented, the recesses behind her ear perhaps to secure a braided sidelock, the right hand of a royal sister, next to whom she once stood, embracing her shoulder. Estimate $400,000 - 600,000 - Lot sold $1,082,500 (£729,497) to an European Trade.
PROVENANCE: Leo Mildenberg, Zurich, 1960
Spink & Son, Ltd., London, November 1960
NOTE: Bernard V. Bothmer photographed the present figure in Zurich in 1960 (The Brooklyn Museum of Art, Archives, neg. no. L948-3A ).
The scale, style, material, posture of the present figure, and especially the hand on her shoulder, all suggest that she once stood on one of the boundary stelae with which King Akhenaten surrounded his new city of Akhetaten, or "Horizon of the Aten" (modern Tell el-Amarna). These monuments, carved out of the cliffs and escarpments surrounding the city to the north, east, and south (the western limit being provided by the Nile), were each engraved with a lengthy inscription of a binding, magical nature designed to prevent the expansion of the city beyond a certain sacred perimeter, and allowed only for the burials of members of the royal family to be located outside of it. Above each inscription was a large scene, carved in sunk relief within the lunette, depicting the king and queen and their daughters worshipping the Aten. On most examples, on either side of the stela proper, was a group of engaged three-dimensional figures representing the king and queen standing side by side and accompanied by two princesses wearing large sidelocks. Each one of these monuments, of which sixteen have been recorded so far, functioned not only as a boundary marker of a religious nature, stating that Akhenaten had responded to a direct order from the Aten when founding the city where he did, but also as a powerful dynastic statement establishing in perpetuity Akhenaten's family as the only legitimate embodiment of royal power.
In an extract from a letter concerning the present figure and dated September 26th, 1960, the Egyptologist and leading authority on the Age of Akhenaten, Cyril Aldred (then curator at the Royal Scottish Museum in Edinburgh), wrote: "I can tell you that the piece representing one of the royal daughters almost certainly comes from Stela P at Tell el-amarna, which was blown up by Copts in the early years of this century under the common delusion that it was a doorway into the rock concealing the usual Aladdin's cave. On each side of the Stela was a group of statuary and this fragment seems to be all that is left of one of such groups." However, a recently published detailed description of the remains of stela P (W. J. Murnane and C.C. van Siclen, The Boundary stelae of Akhenaten, London and New York, 1993, pp. 129-130) shows that both pairs of princesses on each side of this stela were holding hands, whereas the hand on the present figure's right shoulder indicates that she was joined in embrace with her sister. Stelae A and B are the only two recorded boundary stelae showing pairs of embracing princesses standing to the left of the stela proper from the viewer's standpoint: in this arrangement only does the princess standing on the outside, closest to the far end of the whole monument, have her sister's right hand on her own right shoulder (see Murnane and van Siclen, op. cit., pp. 113-117, for relevant descriptions of Stelae A and B; for a 19th Century engraving of Stela A showing the relationships between the figures more clearly than any published photographs see N. de G. Davies, The Rock-tombs of El Amarna, Part V: Smaller Tombs and Boundary Stelae, London, 1908, pl. XLIII, and D. Arnold, The Royal Women of Amarna, New York, 1996, fig. 103 [detail]).
Based on the names of the princesses carved on the boundary stelae (mostly Meretaten and Meketaten, sometimes Ankhesenpaaten) the boundary stelae of Tell el-Amarna were probably carved in the years 6 to 8 of Akhenaten's reign (see Murnane and van Siclen, op. cit., p. 178).
Cyril Aldred writes of a closely related figure of a princess, holding what may be a pomegranate beneath her breasts, in The Nelson-Atkins Museum of Art, Kansas City (Cyril Aldred, Akhenaten and Nefertiti, Brooklyn, N.Y., 1973, p.131, no. 52): "One of the achievements of Amarna artists was the representation of children as children and not, as had been customary in Egypt, as adults on a miniature scale. This statuette, with the disproportionately large head of infancy...gives an impression of immature charm and innocence, which does not require conventional symbols, such as sidelock or finger in the mouth, to lend conviction. It is in the Amarna age that figures of maidens holding fruit or birds or small animals make their appearance. When the royal family assembled to receive the tribute of the nations in Year 12, the younger daughters carried baby gazelles in their arms, and at the same ceremony Ankhesenpaaten was shown holding pomegranates, one of which she offered to Meketaten. The pomegranate, introduced into Egypt from Asia during the earlier New Kingdom, may have had deeper significance, suggesting the protection of a goddess of love and fertility. At Tell el Amarna, of course, no such goddesses were recognized, although the age spoke much of love, but perhaps it was the woman of the royal family who were regarded as natural substitutes for such deities."
Denys Miller Sutton (1917-1991) assumed the role of editor of the London-based arts magazine Apollo in 1962, and retained this position for about 25 years, during which he considerably expanded the scope of the publication, addressing sensitive art preservation issues, attracting new contributors among prominent art historians and writers, writing many articles himself, and devoting several issues to the collections of museums around the world. His strong and unrelenting interest in the visual arts was a lifelong pursuit: he served as secretary of the international commission for the restitution of cultural material after World War II, worked as an art critic for Country Life and the Financial Times, authored several books on painting, including works on Watteau, Toulouse-Lautrec, Matisse, Picasso, and Whistler, and organized several exhibitions abroad such as shows on Constable and Titian in Tokyo. The Oxford Dictionary of National Biography (vol. 53, Oxford, 2003, p. 382) describes him as an "astute collector of art."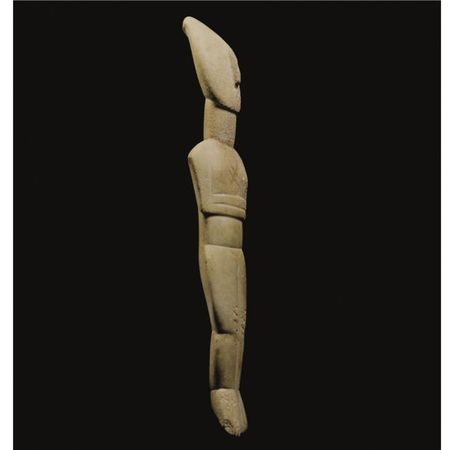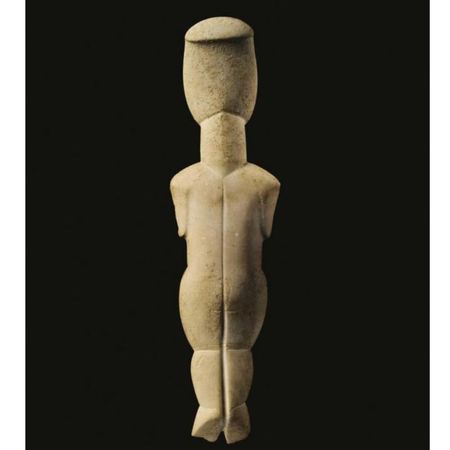 A Cycladic Marble Figure of a Goddess, Early Bronze Age II, circa 2500-2400 B.C.
of Spedos type, lying with her legs bent at the knees and forearms folded under the shallow breasts, with broad rounded thighs, strong neck of oval section, and lyre-shaped head, the back of the ankles and knees, spinal column, and other details grooved, remains of red-painted detail on the face and chest, the paint ghosts of the hair and eyes partially visible. Estimate $300,000 - 500,000 - Lot sold $1,022,500 (£689,063) to an European Trade.
PROVENANCE: Michel Dumez-Onof, Mount Street, London, October 1980
EXHIBITED: "Classical Antiquities from Private Collections in Great Britain. A Loan Exhibition in Aid of the Ashmole Archive," Sotheby's, London, January 15th to 31st, 1986
LITERATURE AND REFERENCES: Carlos A Picón, Classical Antiquities from Private Collections in Great Britain. A Loan Exhibition in Aid of the Ashmole Archive, catalogue of the exhibition, London, 1986, p. 16, no. 1, pl. I
Pat Getz-Preziosi, Early Cycladic Art in North American Private Collections, Richmond, Virginia, 1987, p. 207
E. Hendrix, The Paint Motifs on Early Cycladic Figures, PhD. diss., New York University, 2000, no. 34, illus.
NOTE: For an example attributed to the same hand and similar in scale in the Naxos Archaeological Museum (inv. no. 4673) see P. Zapheiropoulou, "Protokykladika Eidolia tis Naxou," in Stele: Tomos eis Mnemen Nikolaou Kontoleontos, Athens, 1979, p. 538, no. 10, pl. 242; the author names the sculptor the Master of Naxos 4673 and attributes to him two other figures, both in the Goulandris Collection, inv. nos. 252 and 282 (Chr. Doumas, Cycladic Art. Ancient Sculpture and Ceramics of the Aegean from the N.P. Goulandris Collection, Washington, D.C., 1979, no. 43 and 142), which might belong to a different period in the artist's production.
Similar painted details can be found on figures attributed to the Goulandris Master: see J. Thimme, Kunst und Kultur der Kykladeninseln im 3. Jahrtausend v. Chr., Karlsruhe, 1976, nos. 177 (vertical strokes above the nose), 167 (bangles), and 171 (dots on lower face). For painted motifs between the breasts see C. Zervos, L'art des Cyclades du début à la fin de l'âge du bronze, 2500-1000 avant notre ère, Paris, 1957, fig. 248 (circle), P. Getz-Preziosi, Early Cycladic Art in North American Private Collections, no. 57 (vertical stripes), and Thimme, op. cit., no. 155.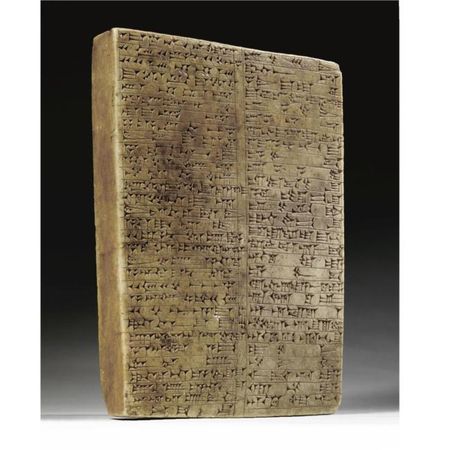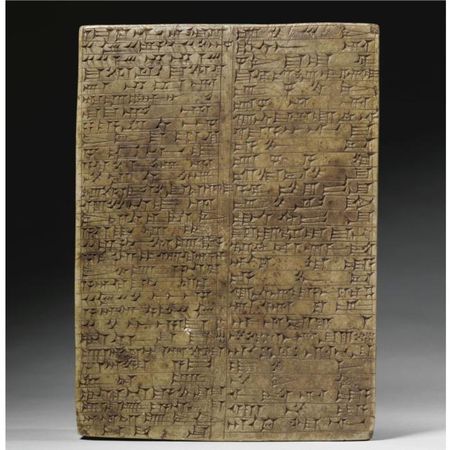 An Assyrian Gypsum Alabaster Foundation Plaque, reign of Tukulti-Ninurta I, circa 1243-1207 B.C.
of rectangular slightly convex form, finely engraved on one side with two columns of cuneiform inscription, the first of thirty-one lines, the second of twenty-eight lines, and on the reverse with a single column of six lines, the text translating:
"1-23) Tukulti-Ninurta, king of the universe, strong king, king of Assyria, king of kings, lord of lords, rulers of rulers, prince, lord of all, conqueror of the rebellious -- those who do not submit (to him and) who are hostile to Ashur --, defeater of the prince of the Qutu as far as the land Mehru, disperser of the forces of the land of the Shubaru and the remote lands Nairi as far as the border of Makan, strong king, capable in battle, the one who shepherds the four quarters at the heels of the god Shamash, I; son of Shalmaneser (I), king of the universe, king of Assyria; son of Adad-narari (I) (who was) also king of the universe and king of Assyria:
24-50) At that time the temple of the Assyrian Ishtar, my mistress, which Ilu-Shumma, my forefather, the prince, had previously built -- that temple had become dilapidated and I cleared away its debris. I changed its site. I founded (it) in another place. I made it more outstanding than ever before. As an addition I built the room of the Shahuru and lofty towers. I completed that temple from top to bottom. I built within a lofty dais (and) an awesome sanctuary for the abode of the goddess Ishtar, my mistress, and I deposited my monumental inscription.
51-55) May a later prince restore it (and) return my inscribed name to its place. (Then) the goddess Ishtar will listen to his prayers.
56-65) As for the one who removes my inscription and my name: May the goddess Ishtar, my mistress, extinguish his sovereignty, break his weapon, cause his manhood to dwindle away, (and) hand him over to his enemies."
14 5/8 by 10 5/8 in. 37 by 27 cm. Estimate $150,000 - 250,000 - Lot sold $932,500 (£628,412) to an American Private Collector.
PROVENANCE: from Tukulti-Ninurta's temple of Ishtar at Assur
Dr. Eddy Ch. Schacht, Baden Baden, acquired in the summer of 1917 from Sheikh Selim on a ride from Assur to Hatra
acquired by the present owner circa 1988
LITERATURE AND REFERENCES: Ernst Weidner, Die Inschriften Tukulti-Ninurtas I und seine Nachfolger (Archiv für Orientforschung, Beiheft 12), Graz, 1959, pp. IX and 18, no. 9, pls. IV and IX
Albert Kirk Grayson, Assyrian Royal Inscriptions, vol. 1 (Records of the Ancient Near East, I), Wiesbaden, 1972, LXXVIII 9
Albert Kirk Grayson, Assyrian Rulers of the Third and Second Millennia B.C.(to 1115 B.C.), Toronto, 1987, pp. 257-258, no. 13 (T-N I A.O.78.13)
NOTE: On the Ishtar Temple of Tukulti-Ninurta I at Assur, which was excavated during the first two decades of the 20th Century, see W. Andrae, Die jüngeren Ischtar-Tempel in Assur (Ausgrabungen der Deutschen Orient-Gesellschaft in Assur. A, Baudenkmäler aus Assyrischer Zeit ; 5.; Wissenschaftliche Veröffentlichung der Deutschen Orient-Gesellschaft ; Heft 58), Osnabrück, 1935. Also see H. Frankfort, The Art and Architecture of the Ancient Orient, Baltimore, 1955, p. 69, figs. 25-26.
Dr. Eddy Schacht is known to have practised medicine in Aswan in Egypt before World War I. He was mayor of Baden-Baden from January 14th until September 1946.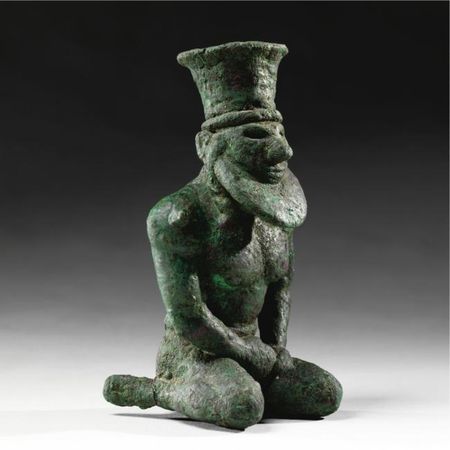 A Sumerian Copper Figure of a Deity, Uruk IV, circa 3300-3100 B.C.
seated on the ground with his legs folded assymetrically beneath him, and holding his clasped hands on his left thigh, his powerful body with narrow waist, deep chest, and broad shoulders, and wearing a belt, bracelet on the left wrist, and remains of ornaments on the shoulders, his face with long spade-shaped beard, smiling mouth, prominent aquiline nose, and wide-set eyes recessed for inlay, the long wavy hair falling over his shoulders in back, and in front of his ears and onto his chest in front, and crowned by a cylindrical diadem supporting a high flaring vessel with remains of sunk relief decoration. height 6 3/4 in. 17.2 cm. Estimate $200,000 - 300,000 - Lot sold $782,500 (£527,327) to an American Private Collector.
PROVENANCE: Boustros Collection, Beirut and Paris, acquired in 1954
Sleiman Aboutaam, acquired in the mid 1970s
acquired by the present owner in the early 1980s
EXHIBITED: The Metropolitan Museum of Art, New York, 1986-2008 (inv. no. L1986.30)
LITERATURE AND REFERENCES: Edith Porada, "A Male Figure in the Style of the Uruk Period," Near Eastern Studies. Dedicated to H.I.H. Prince Takahito Mikasa On the Occasion of His Seventy-Fifth Birthday, Wiesbaden, 1991, pp. 335-346, figs. 1-9
In Pursuit of the Absolute. Art of the Ancient World from the George Ortiz Collection, London, 1994, no. 14 and note 5
NOTE: For a related figure identified as a lahmu, or "hairy one," based on its athletic body and long curly hair, see the hero holding a lion in each arm on a vessel with relief decoration in the British Museum: A. Parrot, Sumer: The Dawn of Art, New York, 1961, fig. 96; Porada, op. cit., fig. 7.
For a ruler figure from Uruk with similarly developed arms and upper torso see Porada, op. cit., fig. 6 (Art of the First Cities, J. Aruz., ed., New York, 2003, p. 25, fig. 11b).
Regarding the possible function of the present figure Edith Porada writes (op. cit., pp. 337-338): "Figures that are connected with such small containers as the vessel on the head of our figure or the basin let into a socle on which sits the emaciated figure of Fig. 9 [cf. E. Porada, "An Emaciated Figure in Cincinnati," Studies Presented to A. Leo Oppenheim, Chicago, 1964, figs. 1-3, 6, 7], which belong to a group made a thousand years later than the male figure under discussion, may have served one or two purposes: as a base for a light or to hold incense. In both cases the metal from which the early figure and the later ones with small containers were made would have been a safeguard against accidental fire."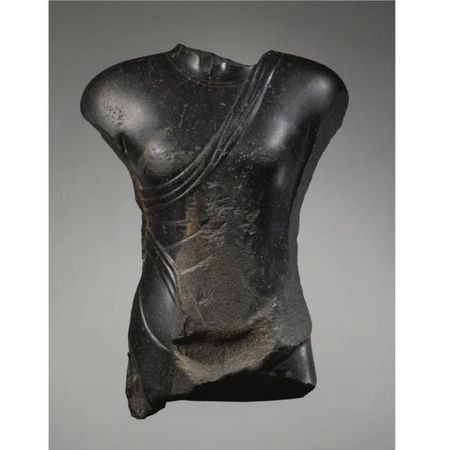 A Black Diorite Torso of a Man, Ptolemaic Period, circa 305-30 B.C.
from a lifesize striding figure, wearing a garment comprising a round-necked shirt and a long cloak falling from the left shoulder and held by the left hand (now missing) before him, the inscription on the back pillar erased in antiquity. height 22 1/2 in. 57.1 cm. Estimate $15000 - 20,000 - Lot sold $662,500 (£446,459) to an American Private Collector.
PROVENANCE: acquired between 1957 and 1972
NOTE: For related examples see the early Ptolemaic granite statue of Horsitutu in Berlin (F. von Bissing, Denkmäler ägyptischer Skulptur, Munich, 1914, pl. 108B, and R.S. Bianchi and R.A. Fazzini, Cleopatra's Egypt: Age of the Ptolemies, Brooklyn, New York, 1988, p. 125, cat. 31, and color pl. V), and the late Ptolemaic basalt figure of Horsihor in Cairo (L. Borchhardt, Statuen und Statuetten von Königen und Privatleuten im Museum von Cairo, Berlin, 1930, pp. 39-40, pl. 128, and Cleopatra of Egypt, from History to Myth, S. Walker and P. Higgs, eds, London, 2001, pp. 182-183, no. 190). Also compare the granite statue of Herybastet, known as the Isis Casati, which may have been brought to Rome in antiquity (Bianchi and Fazzini, op cit., cat. 30, and Sotheby Parke Bernet, New York, December 11th, 1980, no. 306).
About the statue of Horsihor Edna R. Russmann writes: "Horsihor's long narrow body is wrapped in a cloak, which went round the hips and over the left shoulder and apparently had to be held in place with the left hand... The cloak resembles a toga. It was purely Egyptian, however, and had been worn since at least the beginning of the Ptolemaic Period. The T-shirtlike garment underneath goes back even further. With the costume of its day, the Greek-inspired texture of its hair, and its mesmeric gaze, Horsihor's figure is entirely a product of its time. Yet, being Egyptian, its time encompassed all that had gone before. So much in this statue... represents the living heritage, continually renewed and handed on, over thousands of years" (Egyptian Sculpture: Cairo and Luxor, Austin, Texas, 1989, p. 203).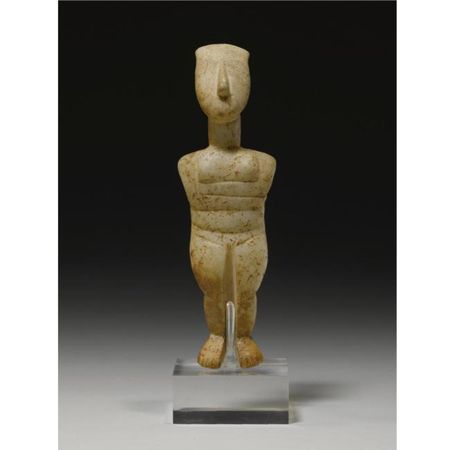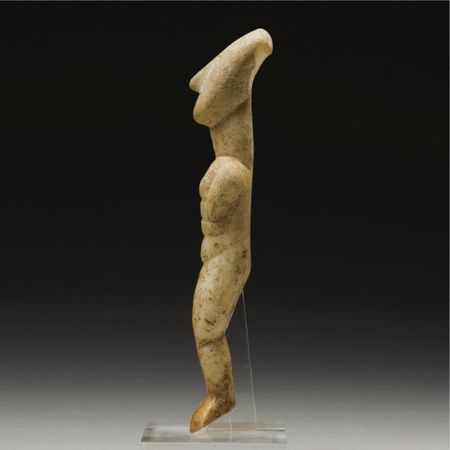 A Cycladic Marble Figure of a Goddess, early Bronze Age II, circa 2600-2500 B.C.
of Spedos type, lying with her arms folded beneath the prominent breasts, with grooved toes, rounded thighs, broad shoulders, and large lyre-shaped head with straight triangular nose, the broad spine and other details grooved, the ghost of her formerly painted hair falling in a long tapering plait over the back of the head, and in a long curl on each side of the head. height 6 3/4 in. 17.1 cm. Estimate $100,000 - 150000 - Lot sold $170,500 (£114,900) to an European Trade.
PROVENANCE: Heinz Weisz Collection, Geneva, acquired in the 1950s
by descent to the present owner
NOTE: For a related example in the Goulandris Collection (no. 104a) see Chr. Doumas, Cycladic Art: Ancient Sculpture and Ceramics from the N.P. Goulandris Collection, Washington, D.C., 1979, no. 36. For similar hair on a slightly later head see P. Getz-Preziosi, Early Cycladic Art in North American Collections, Richmond, Virginia, 1987, no. 46.
The style of this figure is related to that of the Fitzwilliam Master (see Pat Getz-Preziosi, Sculptors of the Cyclades, Individual and Tradition in the Third Millennium B.C., Ann Arbor, Mich., 1987, pls. 26-27).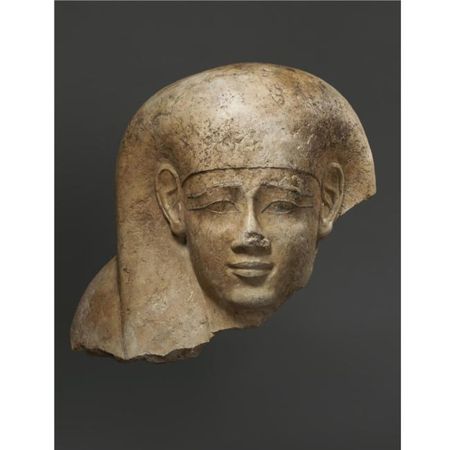 The Upper Part of a of an Indurated Limestone Sarcophagus, 30th Dynasty, 380-343 B.C.
wearing a broad tripartite wig, the idealized face with full outlined lips deeply indented at the corners, broad straight nose, and almond-shaped eyes with long finely contoured eyebrows and cosmetic lines in relief. height 21 1/4 in. 54 cm. Estimate $80,000 - 120,000 - Lot sold $134,500 (£90,460) to an American Private Collector.
PROVENANCE: German private collection, acquired between 1960 and 1980
acquired by the present owner in April 2002
EXHIBITED: Allard Pierson Museum, Archeological Museum of the University of Amsterdam, November 17th, 2006 – March 25th, 2007
LITERATURE AND REFERENCES: Objects for Eternity, Egyptian Antiquities from the W. Arnold Meijer Collection, Carol A.R. Andrews and Jacobus van Dijk, eds., Mainz, 2006, pp. 248-249, no. 3.58, illus.
NOTE: The author writes (Objects for Eternity, p. 248): "This transversely broken fragment of a face comes from an anthropoid stone sarcophagus and is of extraordinarily fine quality. The symmetrically modelled features of the face, which is intact except for the broken tip of the nose, resemble sculpture from the beginning of the 4th Century B.C. and can be compared with two idealizing statues, one of which depicts Nectanebo I while the other can be attributed to him as well (see J.A. Josephson, Egyptian Royal Sculpture of the Late Period, 400-246 B.C., Mainz am Rhein, 1997, p. 8, pl. 3b, and p. 26, pl. 9b). A line carved in fine shallow relief marks the upper eyelid and the elongated cosmetic line, while a gently raised edge under the sunken eyeball marks the lower eyelid. The eyebrows are carved in shallow relief. They slope slightly towards their outer ends, and their inner ends form an inverted triangle with the root of the nose (cf. The similarly shaped eyebrows in Josephson, op. cit., p. 7, pl. 2a). A fine sharp edge outlines the full lips. Drill holes at the corners of the mouth and an undercut lower lip characterize Egyptian sculpture from the 30th Dynasty on. The philtrum is indicated and the nostrils are drilled out. A voluminous, slightly projecting wig, only the lower part of which is preserved beneath the right shoulder, frames the face. The transverse break starts at the left ear and ends beneath the right shoulder (...).
Anthropoid stone sarcophagi contained the mummy, covered by body-cases of cartonnage or resting in an inner wooden anthropoid coffin. Some well-preserved examples suggest that facial details like eyelids, eyebrows and the iris were accentuated in colour. In the group of well-preserved sarcophagi, both uninscribed and inscribed examples can be found. In some cases the original texts of sarcophagi which now appear to be uninscribed may have been washed off. As far as the repertoire of texts on this type of sarcophagus is concerned, there is a clear preference for spells from the Book of the Dead, especially Spell 72 or the speeches of the Sons of Horus. The owners of Late Period limestone sarcophagi usually bear titles belonging to the higher ranks of the administration, the military or the clergy."
For related examples see M.L. Buhl, The Late Egyptian Anthropoid Sarcophagi, Copenhagen, 1959, pp. 70-71, 76-82; figs. 32, 38-39, 41-43; nos. Eb5, Eb10-11, Eb15, Eb17-18; cf. also Ny Carlsberg Glyptotek AEIN 1039: O. Koefoed-Petersen, Catalogue des sarcophages et cercueils égyptiens, Copenhagen, 1951, p. 38, pl. LXXXVI; M. Jorgensen, Ny Carlsberg Glyptotek Catalogue Egypt III, Copenhagen, 2001, pp. 254-255, pl. 12.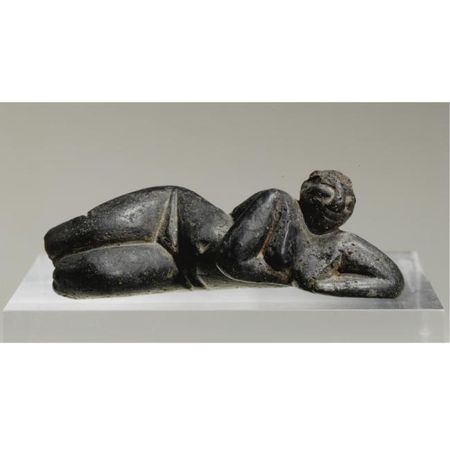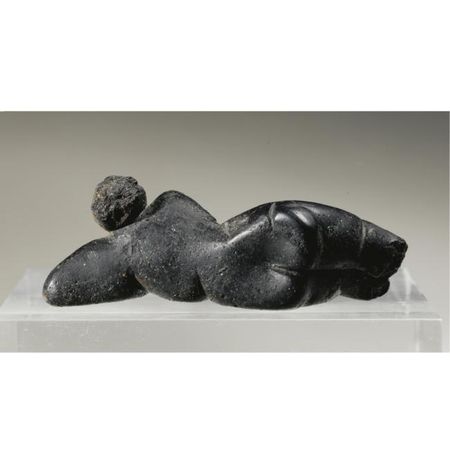 A Neolithic Stone Figure of a Woman, circa 1st half of the 6th Millennium B.C.
of steatopygous form, reclining in a graceful attitude on her left side and resting on her elbows, her oval face with wide mouth and nose and large prominent eyes; traces of red ochre. length 3 15/16 in. 8.4 cm. Estimate $30,000 - 50,000 - Lot sold $134,500 (£90,460) to an European Trade.
PROVENANCE: Elie Borowski, Basel, 1960s
Ben Heller, New York
California private collection (Sotheby's, New York, December 9th , 2003, no. 62, illus.)
NOTE: Analysis of the stone suggests that it is a dark porphyric lava (dacite or quart-andesite), a type of volcanic rock common in Anatolia.
For a very closely related example in terracotta see E. Godet et al., A Private Collection, a catalogue of the Henri Smeets Collection, Weert, The Netherlands, 1975, no. 1, illus. (J. Thimme, Kunst der Kykladen. Kunst und Kultur der Kykladeninseln im 3. Jahrtausend, Karlsruhe, 1976, no. 556, illus., and Sotheby's, London, The Smeets Collection of Antiquities, November 7th, 1977, no. 29, illus.).
Eric Godet (op. cit., no. 1) notes that similar figures in terracotta were found on the site of Hacilar "usually distributed round the hearths and never side by side with objects of everyday use, athough they were sometimes associated with grains. This feature, together with the exaggerated forms of the body and certain attitudes in some statuettes, weaning, holding their breasts, or trampling a leopard underfoot, have led some authorities ro regard them as fertility symbols, although there are no conclusive grounds for this interpretation." On the Hacilar examples see J. Mellaart, Excavations at Hacilar, 1 and 2, Edinburgh, vol. 2, 1970, pls. CXLIX and CL.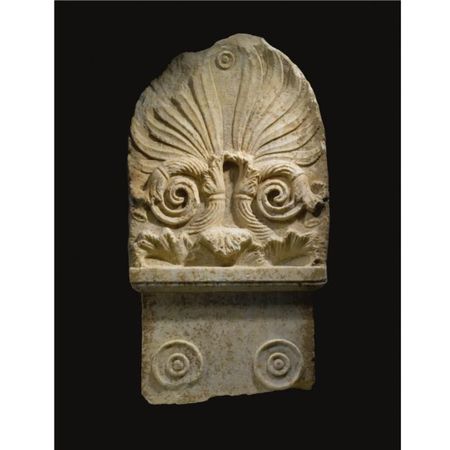 A Greek Marble Anthemion, 2nd quarter of the 4th Century B.C.
the tapering shaft carved in shallow relief with two rosettes above a fragmentary line of engraved Greek inscription reading Hesti[aios?], the architrave surmounted by a tall slightly concave anthemion composed of twin spirally-fluted acanthus stalks both emerging from a three-leaf calyx and terminating in addorsed downward-curving volutes, each with pendent bell flower, the half palmettes above flanking an omphalos. 43 by 22 3/4 in. 109.2 by 57.8 cm. Estimate $125,000 - 175,000 - Lot sold $116,500 (£78,509) to an European Trade.
Sotheby's. Antiquities. 10 Dec 08. New York. photos courtesy Sotheby's. www.sothebys.com