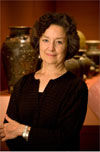 The Freer Gallery of Art and Arthur M. Sackler Gallery recently launched the first online catalogue of the museum's collection featuring Mainland Southeast Asian ceramics Dec. 13, SEAsianCeramics.asia.si.edu. Spanning 4,000 years, the museum's collection highlights historical ceramics made in or traded to Vietnam, Cambodia, Laos, Thailand and Burma. The catalogue includes multiple color images and detailed texts, a library of commissioned essays and translations, a bibliography of more than 1,300 citations and an introduction to ceramic sherds housed in the Freer Gallery Study Collection. An interactive component invites commentary from archaeologists, curators and collectors worldwide. The online catalogue will expand to include all 900 ceramics in the Freer and Sackler collections as well as new discoveries, essays and commentaries.
Unlike a printed book with a single linear order of information, the online catalogue allows Web users worldwide to learn about earthenware and stoneware vessels through the triple vantage points of materials, place of production and time.
Nearly 800 of the ceramics featured in the online catalogue are from the Hauge Collection in the Sackler Gallery. The collection was donated to the Sackler between 1996 and 2005 by brothers Osborne and Victor Hauge and their wives Gratia and Takako. Osborne and Gratia Hauge first collected ceramics in the late 1960s and early 1970s while living in Bangkok, Thailand, and Saigon (Ho Chi Minh City), Vietnam. During these years they were visited by Victor and Takako Hauge. In the late 1940s, Victor began collecting Japanese ceramics made in the "folk craft" style, or mingei. In 1978-79, Victor and Takako prepared the exhibition and book "Folk Traditions in Japanese Art," organized and circulated by the International Exhibitions Foundation in cooperation with The Japan Foundation. Their awareness and appreciation for unglazed stoneware vessels within the Japanese tea ceremony prepared them to respond with spontaneous sympathy to similar vessels in Thailand and Vietnam.
The online catalogue also features ceramics from the Freer Gallery collection of Southeast Asian ceramics. That collection includes three pieces acquired by founder Charles Lang Freer (1854-1919) during the first two decades of the 20th century as Japanese tea ceremony utensils. Only in recent years have they been reidentified as imports from Southeast Asia to Japan. This collection has grown to include more than 100 pieces through generous gifts by Dean Frasché, Dorothy Slak and other donors, as well as through purchases.
Entries and information for the online catalogue were written and compiled by Louise Cort, Curator of Ceramics at the Freer and Sackler Galleries, with assistance from George Ashley Williams IV, research assistant at the Freer and Sackler Galleries, and David P. Rehfuss, a volunteer for the galleries and president of the Washington Oriental Ceramic Group.
The Arthur M. Sackler Gallery, located at 1050 Independence Avenue S.W., and the adjacent Freer Gallery of Art, located at 12th Street and Independence Avenue S.W., are on the National Mall in Washington, D.C. Hours are 10 a.m. to 5:30 p.m. every day, except Dec. 25, and admission is free. The galleries are located near the Smithsonian Metrorail station on the National Mall. For more information about the Freer and Sackler galleries.
Above: Louise Cort, Curator of Ceramics for the Freer and Sackler Galleries