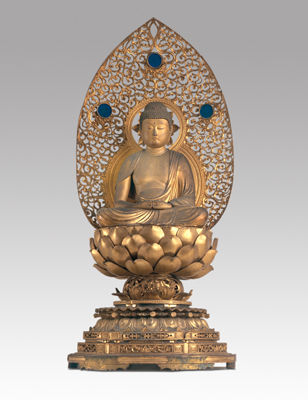 Japan, Edo Period 1615-1868. Amida Nyorai (Amitabha Buddha), c.1650, Kyoto - wood, lacquer, bronze, semi-precious stones, gold leaf, 101.0 cm high. Elizabeth and Tom Hunter Fund 1997. Art Gallery of South Australia, Adelaide
ADELAIDE.- Exclusive to the Art Gallery of South Australia, The Golden Journey is a stunning display of nearly 300 diverse objects revealing the astonishingly rich heritage of Japanese art held in Australia's major public and private collections. The exhibition, which is the first comprehensive survey of its kind in Australia, tells the story of Japanese art from prehistoric times until Japan opened its doors to the West in the late nineteenth century.

Incorporating painting, prints, sculpture, ceramics, metalware, textiles, lacquerware and furniture, The Golden Journey explores defining influences in the development of Japanes art, from the Yayoi period (400BC–250AD) until the end of the Meiji era (1868–1912).

Serene Buddhist sculptures, spectacular painted screens, miniature netsuke talismans, colourful Ukiyo-e images of the 'floating world', costumes, masks, armour and flamboyant export art created for Australia's late nineteenth century international exhibitions, are all on display, in celebration of the profound lyricism and sophisticated eloquence of Japanese aesthetics.

A focus for the exhibition is the many highlights from the Art Gallery of South Australia's own Japanese collection, established in 1904, which is now one of the most significant in the country. A major new work donated by the most generous benefactors to the Gallery's Japanese collection, Andrew and Hiroko Gwinnett, will be unveiled in the exhibition.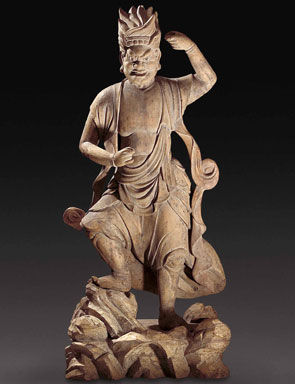 Jakugen, Japan, active early 18th century Zao Gongen 1704, Edo (Tokyo) wood, inlaid glass, traces of pigment 136.0 x 70.8 x 50.5 cm Gift of Andrew and Hiroko Gwinnett through the Art Gallery of South Australia Foundation 2007. Art Gallery of South Australia, Adelaide
Curator of the Exhibition and author of its accompanying book is James Bennett, the Art Gallery of South Australia's Curator of Asian Art. According to Bennett, this exhibition "is certain to lead to a major reassessment of the significant riches of Japanese art in Australian collections. It will re-evaluate Meiji works of art, many of which have languished in public and private collections around the country and whose aesthetic sensibilities are now only just beginning to be recognised again" he says.

The opening of The Golden Journey will coincide with a full-day symposium on Japanese art of the Meiji era on Saturday 7 March 2009, featuring Australian and international expert speakers, supported by the Australian Research Council, Asia Pacific Future Network, and the Japan Foundation.

Other exhibition-related events include expert talks and guided tours, an after-dark "depARTure" event for art-lovers aged 18-35, children's art and craft sessions, tours of Japanese gardens, Japanese flora trails through the Adelaide Botanic Garden and a day trip to Martindale Hall in the Clare Valley to view their excellent Japanese art collection.
Toshikatsu Endo, Japan, 1950 Allegory III 1988, Saitama, Japan wood, fire, air, water, tar 70.0 x 400.0 x 85.0 cm South Australian Government Grant 1991. Art Gallery of South Australia, Adelaide