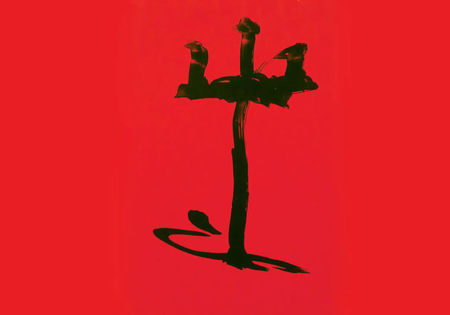 Robert Motherwell, Gypsy Curse, 1983, lithograph in colors
LEXINGTON, KY.- An exhibition of prints by Abstract Expressionist Robert Motherwell and Pop artist Jasper Johns opens at the Art Museum at the University of Kentucky on January 11, 2009. Robert Motherwell and Jasper Johns: Poetic Works As Metaphor explores the unique relationship between the visual arts and writing and focuses on these two artists—both major figures in twentieth-century American art—to the work of writers Rafael Alberti and Samuel Beckett, respectively.

Motherwell came to art through studies in philosophy and literature and was particularly interested in symbolist poetry. He was intrigued by the idea that visual artists could use abstracted forms and color to evoke the emotions associated with their chosen subject matter rather than creating a visual facsimile of the subject itself.

Like many writers and artists of his generation, Motherwell became politically engaged by the failed struggle against Fascism during the brutal Spanish Civil War in the late 1930s. He worked for three decades on a series of "elegies" or "laments" related to the struggle, drawing on colors and shapes suggested by the Spanish landscape, architecture, and culture. The nineteen lithographs in this exhibition focus specifically on the poem El Negro, Motherwell (Motherwell Black) written by the Spanish poet and playwright Rafael Alberti and dedicated to the artist. In it, Alberti celebrates Motherwell's metaphoric use of black in his work.

Jasper Johns was part of the generation that succeeded the Abstract Expressionists and rejected not only the angst of that movement, but the language of abstraction. He uses recognizable imagery––body parts (legs), numbers, flagstones, letters and words. He explores these everyday objects in formal terms, experimenting with repetition of form and a painterly use of gesture, color, and texture that does owe a debt to painters like Motherwell. However, he also plays intellectual games, looking for new relationships and associations with the images.

In this exhibition, Johns is well paired with the Irish-born, Nobel Prize-winning poet and playwright Samuel Beckett, who played with and reinvented language in much the same way that Johns approached imagery. The thirty-one etching and aquatint prints shown here were made by Johns, a master printmaker, for the 1976 publication Foirades/Fizzles, which featured a series of five essays in French and English by Beckett.

Both Motherwell and Johns incorporate words into their art. Words become images, and images express emotions and ideas. The final result becomes an intellectual exercise that plays an important role in the understanding and interpretation of this exhibition.
Jasper Johns, Hatching Pattern, 1976, aquatint and drypoint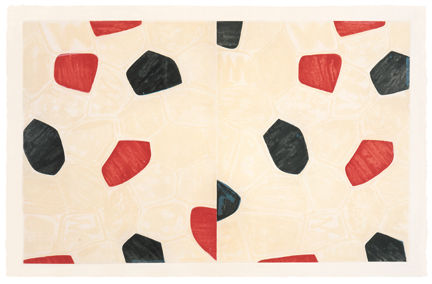 Jasper Johns, Flagstones, 1976, lift-ground aquatint and open-bite from three plates printed in red, black, and white