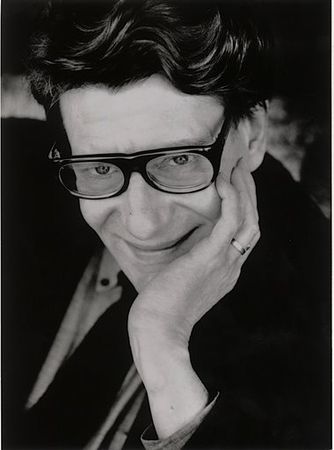 San Francisco, CA—Virtuoso. Visionary. Genius. These are just some of the words used to describe the late Yves Saint Laurent, master couturier and fashion pioneer. On November 1, 2008, the de Young opens the exclusive United States presentation of the special exhibition, Yves Saint Laurent, which celebrates the life of Yves Saint Laurent and showcases forty years of creativity by the Maison Haute Couture Yves Saint Laurent, whose unique style blends references to the world of art with allusions to pop culture and social revolutions. Structured around four themes, the exhibition develops the revolutionary nature of his body of work that presents a new definition of femininity and a signature that transcends fashion. The exhibition will include over 120 accessorized outfits belonging to the Foundation Pierre Bergé – Yves Saint Laurent as well as Saint Laurent's drawings, photographs and videos. This exhibition marks the first major retrospective of Saint Laurent's work in over 25 years.

Yves Saint Laurent was known for revolutionizing the haute couture tradition and laying the foundations of modern women's wear. The wardrobe basics he designed — pantsuit, pea coat, safari jacket, culotte skirt and tuxedo — became true timeless classics in every woman's wardrobe. His couture designs were equally groundbreaking reflecting wide-ranging sources of inspiration. In Saint Laurent's vocabulary, music, art, performance, literature and international cultures were just as significant as the new shapes he introduced.

The Exhibition
The exhibition, Yves Saint Laurent, will be divided into four themes:
Masterful Pencil Strokes — follows his work from sketch to final garment. Within this grouping are garments that emphasize the body through slits or draping as well as a look at his masterful use of silhouette through magnified volumes in garments that defied gravity such as bubble skirts, trapeze dresses and voluminous cloaks.

The YSL Revolution — explores how Saint Laurent's signature garments form the foundation of contemporary fashion design from which many of today's designers take their cues. Groupings include YSL's outfits inspired by men's tailoring; the repurposing of functional wear such as safari jackets and pea coats into haute couture, and what became his signature: "le smoking," a man's tuxedo adapted for a woman first presented in 1966. Also featured are pieces from his famous 1971 collection in which he reintroduced hyper-sophistication while the rest of the world was focused on the hippie and feminist movements.

The Palette — known for his palette of candy-colored hues, this section demonstrates how YSL dared to use color in a way that broke the rules of traditional fashion design. Groupings here illustrate his fascination with exotic cultures such as Morocco, Russia, Spain and China as well as his use of clashing color palettes, textures, geometry, embroidery and prints.

Lyrical Sources — features the most spectacular examples of the art of the haute couture and its many inspirations. Groupings here cite YSL's references to history; the art world including Mondrian, Fauvism, Pop Art, and artists Picasso and Braque, literary sources such as Shakespeare, Oscar Wilde and Jean Cocteau and finally YSL's fascination with flora and fauna through his use of prints, animal motifs, feathers, pelts, flowers and sumptuous embroidery.
Organization
The exhibition is organized by the Fine Arts Museums of San Francisco and the Montreal Museum of Fine Arts, in collaboration with the Pierre Bergé – Yves Saint Laurent Foundation. The exhibition is curated by Florence Müller, fashion historian and professor at the Institut Francais de la Mode a Paris, Dianne Charbonneau, curator of contemporary decorative arts at the Montreal Museum of Fine Arts and Jill D'Alessandro, associate curator of textiles at the Fine Arts Museums of San Francisco.

Catalogue
The exhibition is accompanied by a catalogue, Yves Saint Laurent: Style published in both English (Abrams, September, 2008) and French (La Martinière, 2008). The catalogue is written by Florence Müller with an introduction by Pierre Bergé and an essay by Hamish Bowles, European editor-at-large of VOGUE and is available in soft cover ($50.00)
Original sketch with notes and swatches, Evening Gown, Fall-Winter 1976. Foundation Pierre Bergé-Yves Saint Laurent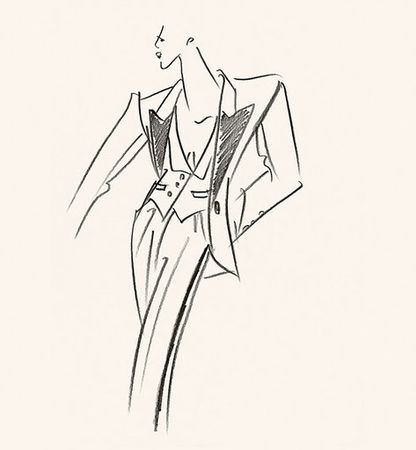 Original sketch of Tuxedo, Fall-Winter 1991. Foundation Pierre Bergé-Yves Saint Laurent