Pierre-Auguste Renoir, La Parisienne, 1874. Oil on canvas, 163.8 x 108.3 cm. National Museum Wales; Miss Gwendoline E. Davies Bequest, 1951 (NMWA 2495)
OKLAHOMA CITY, OK.- The National Museum Wales counts among its treasures the Davies Collection, an extraordinary group of nineteenth- and early twentieth-century paintings that is remarkable for its breadth and quality. Assembled between 1908 and 1923 by sisters Gwendoline and Margaret Davies, the collection is exceptionally strong in Realist and Impressionist works and includes masterpieces by, among others, Cézanne, Daumier, Manet, Millet, Monet, Pissarro, Renoir, and Van Gogh. Turner to Cézanne will feature approximately fifty-five extraordinary paintings—many of which are rarely exhibited outside of Wales—and five important Impressionist works on paper selected from the collection by Guest Curator Oliver Fairclough, Keeper at the National Museum Wales. The exhibition will explore the stylistic innovations that shaped the art of the nineteenth century, offering an exceptional survey of the evolution of modern art from its beginnings in the romantic naturalism of Turner through Post-Impressionism.

Compelling juxtapositions will illustrate the crosscurrents between approaches that prompted the century's revolutions in style, theme, and technique. In this way, the exhibition's stunning Turners, including the remarkable The Storm (undated), represent the kind of technical experimentation and stylistic innovation that would influence the late Monet in such works as the evocative Charing Cross Bridge (1902). Similarly, the naturalism and sense of fresh observation illustrated by Corot's The Pond (ca. 1860) and Distant View of Corbeil (ca. 1870) will offer a context for Manet's first Impressionist landscape, Effect of Snow at Petit-Montrouge (1871). The period's varying approaches to the human figure and to scenes of daily life will be illuminated by Millet's Peasant Family (1871), Daumier's A Third Class Carriage (ca. 1860–65), and Renoir's iconic La Parisienne, which appeared at the first Impressionist exhibition in 1874.

This rich overview of the period will be capped with the work of Cézanne, Van Gogh, and the School of Pont-Aven and will include examples of the influence of French modernism on progressive American and British art via such works as Whistler's Nocturne, Blue and Gold (1880) and Matthew Smith's Apples on a Wicker Chair (1915). Published by the AFA in association with Hudson Hills Press, the exhibition catalogue will include individual entries on each work, an essay on the Davies sisters and the evolution of their collection, and an essay on collecting French art in Britain during the nineteenth and early twentieth centuries.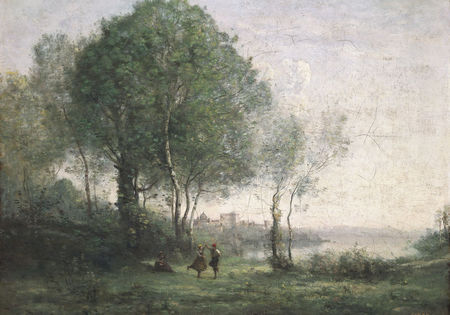 Jean-Baptiste Camille Corot, Castel Gandolfo, 1855–60. Oil on canvas, 49.2 x 65.5 cm. National Museum Wales; Miss Gwendoline E. Davies Bequest, 1951 (NMWA 2443)