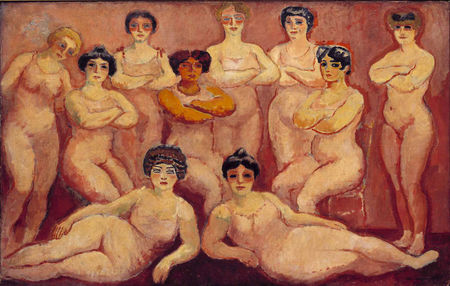 Kees Van Dongen (1877-1968), The Wrestlers or tabarin Wrestlers, 1907-08. Oil on canvas 105.5 X 164 cm. Noveau Musee National de Monaco. Photo Marcel Loli ⓒEstate of Kees Van Dongen / SODRAC (2008)
MONTREAL.- Organized by the Montreal Museum of Fine Arts and the Nouveau Musée National de Monaco, the first major retrospective of the art of Kees van Dongen (1877-1968) in North America will be presented from January 22 to April 19, 2009. It will bring together some 200 works, including over a hundred paintings, as well as forty rare drawings, prints and other archival documents and photographs, and, for the first time, a dozen Fauvist ceramics. From turn-of-the-century anarchist to the "interwar painter of elegant neurosis," it is the work of a moralist that will be shown here, an observer of society, from the bohemian world to the demimondaines of the cocktail era.

The exhibition Kees van Dongenwill illustrate the influential role Van Dongen played in early twentieth-century art and his unique position as the only portraitist among the Fauves. The exhibition will re-establish the place of a forgotten Fauve in North America. His caustic, urban, scandalous art is very different from the landscape Fauvism that is generally associated with this movement. His dazzling, shameless works, which have been described as "riots of light, heat and colour," attest to his distinctive style within modern art alongside his contemporaries Matisse and Picasso.

In the light of new research and previously little-known works, the artist's career will be traced from his early days in Holland to his move to Paris and his participation in the famous Salon d'Automne of 1905, which established Fauvism as a new movement in modern art. Arresting paintings of nudes and flirtatious women that retain the sumptuous colours and rich impasto of his Fauvist works will be examined through the themes of exoticism, spectacle and Orientalism. The show will also include an impressive selection of large society portraits of the most celebrated personalities of the Roaring Twenties, which will illustrate his mature period. After Monaco and Montreal, the exhibition will travel to Barcelona's Picasso Museum.

The Montreal presentation will present, for the first time in North America, the outstanding collection of works by Van Dongen recently acquired by the Nouveau Musée national de Monaco, including the magisterial Spotted Chimera (1895-1907) and the Tabarin Wrestlers (1907-1908), an astonishing canvas that has not been exhibited for over fifty years, and Tango of the Archangel (1922-1935). The Musée national d'art modern, the Centre Pompidou and the Musée d'art modern de la Ville de Paris have granted many outstanding loans for the exhibition, including the famous Tableau that created a scandal in 1913 and the Self-portrait as Neptune (1922). Many major loans have also been received from public and private collections in Europe and elsewhere, including a number of important works from the Nahmad family. The Montreal exhibition is also presenting works from American collections.

The themes of the exhibition will introduce visitors to Van Dongen's rich and varied oeuvre as they follow his career from Rotterdam to Paris, where he was an active player in the avant-garde scene of the early twentieth century. From North to South, from Symbolism to Neo-impressionism (1885-1904) presents early works executed in Holland, which reflect Van Dongen's inspiration, which ranged from Rembrandt to the Neo-Impressionists; Van Dongen Illustrator (1895-1904) reveals the key role his graphic work played in his art, which was defended by Van Dongen's first, most influential supporter, art critic Félix Fénéon; Van Dongen Fauve (1904-1912) shows his style evolving under the influence of artists of the avant-garde like Matisse and Picasso, as well as how he became notorious after his participation in the Salon d'Automne in 1905, and his growing interest in portraiture, the worlds of the cabaret and the circus and his obsession with women; Exoticism and Orientalism (1910-1917) reveals how his trips to Spain, Morocco and Egypt inspired him to create new harmonies of colours and to explore a new purity of line; The Artist's Studio: A Social Venue (1914-1930). During this period the now famous Van Dongen frequented Paris high society and painted a gallery of portraits that represent a chronicle of the Roaring Twenties; and Landscapes (the 1950s) the final section, presents works, as well as archival documents and photographs, that show the artist revisiting the themes and styles that characterized his early years.

Cornelius Theodorus Marie (Kees) van Dongen was born on January 26, 1877 in a suburb of Rotterdam. After studying at the city's Academy of Arts and Sciences he spent some time in Paris in 1897, where he took various odd jobs to earn a living. He returned briefly to Holland, and settled in Paris in 1899. His drawings of society's outcasts were published to acclaim in a number of satirical newspapers including L'Assiette au beurre and La Revue Blanche. In 1904, he met Picasso, Derain and Vlaminck, and the same year had his first solo exhibition at Galerie Ambroise Vollard, one of the leading galleries of the day. In 1905, he exhibited at the Salon d'Automne alongside Matisse, Derain and Vlaminck. It was here that the journalist Louis Vauxcelles coined the phrase "cage aux fauves", a cage of wild beasts, to describe the show. Fauvism was thereafter established as a new style in modern art. In 1906 Van Dongen moved to the Bateau-Lavoir in Montmartre where his friend Picasso lived. Picasso's mistress Fernande Olivier became his first model. In 1908 he was given a solo exhibition by Kahnweiler, one of the leading art dealers, not only in Paris but also in Düsseldorf and Moscow, which earned him an international reputation. He revisited Spain and Morocco in 1910 and 1911. In 1913 the Marquise Luisa Casati introduced him into high society, and he soon became its chief chronicler, the most sought after portrait painter in Paris. In 1919 Van Dongen took French citizenship. Following the slump of 1929, which marked the end of the Roaring Twenties, he had fewer commissions for portraits, but he was in demand again by 1936. When Paris was occupied in 1940 he accepted a trip to Nazi Germany organized by Arno Becker, with artists like Derain, Vlaminck and Dunoyer de Ségonzac. They were all strongly censured thereafter, and Van Dongen moved to Monaco in 1949. Numerous exhibitions and retrospectives were devoted to his work in other countries. In 1959 he took part in the major exhibition Le fauvisme français et les débuts de l'impressionisme. Van Dongen died in Monaco on May 28,1968.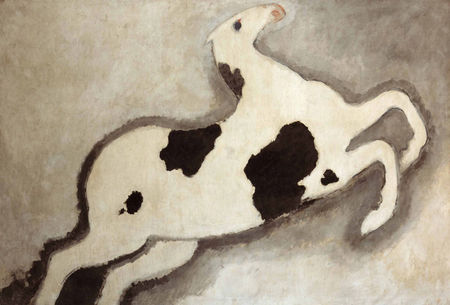 Kees Van Dongen (1877-1968), The Spotted Chimera, 1895-1907. Oil on canvas 201 X 293.3 cm. Nouveau Musee National Monaco. ⓒEstate of Kees Van Dongen / SODRAC (2008)