W..P. Frith, RA, Private View at the Royal Academy, 1881. Oil on canvas, 1883 (Collection: Pope Family Trust). Copyright Christies Image Limited
LONDON.- History painting was regarded as the pinnacle of High Art and strongly promoted by Sir Joshua Reynolds above other genres such as portraiture, landscape and still life. This new display includes major works given by early Members of the Royal Academy to the Collection including biblical subjects by Benjamin West, John Singleton Copley and John Francis Rigaud, as well as Henry Fuseli's fantastical Thor Battering the Midgard Serpent.

Seminal self-portraits by Sir Joshua Reynolds and Benjamin West are also displayed. These allude to the knowledge and learning required to pursue history painting, with casts of antique statues, a bust of Michelangelo and books on history included as props to enhance the image of the artist. While these portraits elevate the individual artist, Henry Singleton's painting elevates the Academy as a whole. In his huge painting of The Royal Academicians in General Assembly, finished in 1795, he depicts the Academicians in their grand rooms at Somerset House surrounded by antique casts, and some of the paintings included in this display. It is a masterly composition which emphasises the importance the promotion of history painting played in establishing the Royal Academy as an institution of high standing. The second part of the exhibition focuses on the loan of W.P. Frith's Private View at the Royal Academy, 1881 (Collection: Pope Family Trust). Painted in 1883, this is Frith's last major panoramic painting and shows the Victorian elite seeing and being seen at the Royal Academy Summer Exhibition of 1881. Frith includes a host of notable figures from Oscar Wilde and Lily Langtry to the Prime Minister; William Gladstone, and from the actress Ellen Terry to the illustrator John Tenniel.

Frith's painting was not just a sophisticated group portrait, it also had a satirical edge to it. The artist wished to ridicule the Aesthetic Movement which flourished in the 1870s and 1880s in both the fine and applied arts. The movement promoted 'art for art's sake' and rejected the need for narrative or moral content in order to concentrate solely on the beauty of the work itself. Oscar Wilde with a lily in his buttonhole, and the woman with flowing robes and a sunflower pinned to her dress both epitomise aesthetes.

Hung alongside this picture are subject paintings by Lawrence Alma-Tadema, Briton Riviere, a portrait of Lord Leighton by G.F. Watts and H.H. Armstead's marble relief of The Ever Reigning Queen which was first seen by the public in the very exhibition that Frith depicts.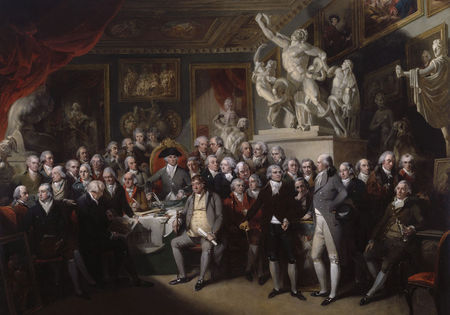 Henry Singleton, The Royal Academicians in General Assembly, 1795. Oil on canvas. Copyright Royal Academy of Arts. Photography John Hammond