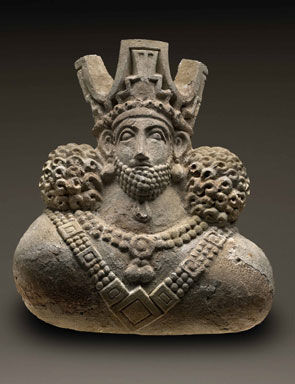 Bust of a King, Kish East, Sasanian Period (AD 224 - 637). Photograph by John Weinstein © The Field Museum.
CHICAGO, IL.- A rich array of jewelry from the ancient Near East, Masterpieces of Ancient Jewelry: Exquisite Objects from the Cradle of Civilization, will be featured in The Field Museum's new T. Kimball and Nancy N. Brooker Gallery this spring. Since ancient times, jewelry has been worn as adornment, memento, and a sign of status. The exquisite artifacts presented in this exhibition, some more than 7,000 years old, illuminate the culture and customs of ancient Mesopotamia, Egypt, the Levant, Persia and the Islamic Middle East.

The Field Museum is pleased to partner once again with the National Jewelry Institute, organizers of Masterpieces of Ancient Jewelry. This prestigious exhibition features artifacts from renowned collections of the Metropolitan Museum of Art, the Princeton University Art Museum and the Israel Museum. In addition to the breathtaking jewelry, the exhibition features maps and illustrations that place the jewelry in historical and cultural context.

Additionally, several key pieces from The Field Museum's collection will be on display complementing the exhibition. The Field Museum's remarkable collection of 23,000 artifacts from the 5,000-year-old city of Kish, Iraq has been viewed and studied by scholars worldwide. These pieces were excavated between 1923 and 1933 by scientists from both The Field Museum and Oxford University. From at least 3200 BC through the 7th century AD, Kish held an extraordinary position in Mesopotamian history.
Gold necklace elements, with turquoise, gray chalcedony, glass. Iran, late 14th to early 15th century C.E. Photograph © 1989 The Metropolitan Museum of Art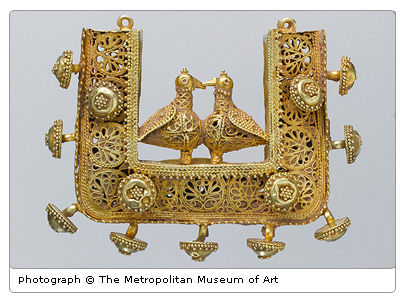 Gold pendant with pair of birds, Greater Iran, 11th to 12th century C.E.
The Garden of Eden plays an important part in Islamic jewelry, with birds being the central theme. Here we see a pair of birds touching at their beaks and chests as they stand on their tiny feet in the middle of this pendant.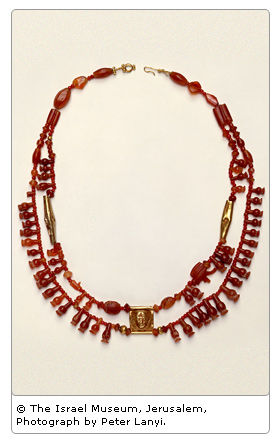 Carnelian and gold necklace, Deir el-Balah, 13th century B.C.E.
This necklace consists of 244 carnelian and gold beads and wedjat eye amulets. The center gold spacer is decorated in the repoussé technique; it depicts an image of the goddess Hathor, the goddess of love and joy.