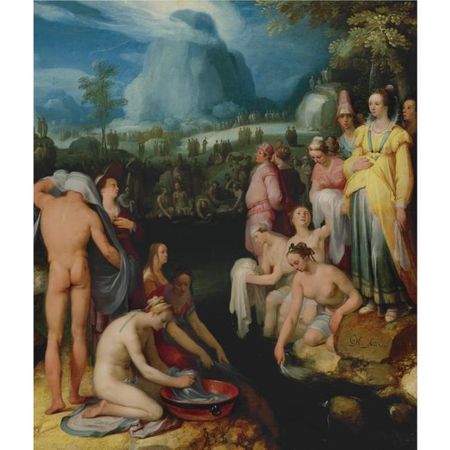 Cornelis Cornelisz. van Haarlem (Haarlem 1562 - 1638), The Purification of the Israelites at Mount Sinai
signed and dated lower right CH. Ao. 1600 - oil on panel - 26 by 22 1/2 in.; 66 by 57.2 cm. Estimate 700,000—900,000 USD
PROVENANCE: Melchior Wyntgis, Middleburg, by 1604;
Lucas Merens, Burgomeester of Hoorn and Director of the Dutch East India Company;
His sale, Amsterdam, Ploos, April 15, 1778, lot 36, ("...alles zo schoon van koloriet, als uitmuntend van Teekening, zijnde dot een kabinetsuk van deeze groote Meester, in den jaare 1600 geschlderd"), for 80 guilders to Fouquet;
Ulrike von Levetzow;
Her deceased sale, Berlin, Lepke, November 20-22, 1900, lot 51, for 200 Reichsmarks;
O. Eyszler;
His sale, Berlin, May 19, 1930, lot 428;
With S. & G. Gump, San Francisco, 1936-7;
With J.H. Weitzner, London, 1949;
With Hallsborough Gallery, London;
From whom acquired by Günter and Anne Liese Henle, Duisburg, in 1968;
Their deceased sale, London, Sotheby's, December 3, 1997, lot 31;
There purchased by the present collector.
EXHIBITED: San Diego, The Palace of Fine Arts, California Pacific International Exposition, February 12-September 9, 1936, no. 409;
Los Angeles, Los Angeles Art Association Loan Exhibition of International Art, 1937 (as "Before Sinai"), cat. no. 43, reproduced.
LITERATURE AND REFERENCES: K. van Mander, Het Schilderboeck, 1604, folio 293 recto: (Tot Melchior Wijntigis, te Middel borgh is...oock een zeer fraey stuck van de reyninghe der kindere Israels in de Jordane'; "With Melchior Wyntgis at Middelburg is... a very clever piece with the washing of the children of Israel in the Jordan");
N. Pevsner, "Some notes on Abraham Jannsens", in The Burlington Magazine, vol. xxix, 1936, p. 123. note 5;
California Pacific International Exposition, exhibition catalogue, San Diego 1936, cat. no. 409;
W. Bernt, Die Niederländischen Maler und Zeichner des 17. Jahrhunderts, Munich 1980 ed., vol. I, reproduced fig. 157;
P.J.J. van Thiel in, Dawn of the Golden Age, exhibition catalogue, Amsterdam 1993, pp. 341-2, under cat. no. 10;
K. van Mander, ed. H. Miedema, The Lives of the Illustrious Netherlandish and German Painters, 1994, vol. I, pp. 430-1;
P.J.J. van Thiel, Cornelis Cornelisz. van Haarlem, Doornspijk 1999, p. 297, cat. no. 17, reproduced Plate XXI and figure 162 (as cut on the left-hand side).
CATALOGUE NOTE: Painted when Cornelis van Haarlem was at the peak of his powers, this painting has the singular distinction of having entered the art historical record only four years after it was painted: in 1604, when Van Mander (see Literature) recorded it in the collection of Melchior Wyntgis in Middelburg. Wyntgis seems to have been a collector of some stature since Van Mander mentions him often.1 He was mintmaster of Zeeland from 1601 to 1612, after which he was appointed adviser and master extraordinary of the Auditor General of the Duchy of Luxembourg at Brussels. In 1618, he was imprisoned for debt and an inventory of his possessions drawn up at the time did not list the present painting.
A drawing by Cornelis van Haarlem relating to the male figure disrobing at the left in the present painting is in the Kupferstichkabinett at Darmstadt, Hessisches Landesmuseum (see fig. 1). Pieter van Thiel (see Literature, 1999) believes this drawing to be a ricordo of a figure that was originally depicted at the right-hand side of Cornelis' The Baptism of Christ, of circa 1594, in the collection of the Landesmuseum, Mainz, before that painting was cropped. Van Thiel theorizes that Cornelis made documentary drawings of what he considered to be his most successful painted figures in order to create a répertoire for future use.2
The presence of some isolated leaves at upper left in the present painting indicates that the panel was cut down on the left-hand side. Van Thiel believes the original format to have been horizontal and speculates the original size to have been approximately 66 by 85 cm.
The subject, which is rarely depicted, is taken from Exodus, chapter 20, verse 14: And Moses went down from the mount [Sinai] unto the people, and sanctified the people, and they washed their clothes.
1. In addition to the present painting, Van Mander recorded in his possession a Lucretia by Albrecht Dürer, a Saint Jerome by Hieronymus Bosch, three "outstanding pieces" by Joachim Patenir, three landscapes, also "most outstanding" and a Lot by Herri met de Bles, another Lucretia by Jan Gossaert, a Virgin by Joos van Cleve (with the landscape by Patenir), three pictures by Jacob de Backer, two by Joachim Beuckelaer, one by Frans Floris, a Bacchanal by Marten van Heemskerck, a work by Gillis Mostaert, one by Joos van Winghe, three by Gillis van Coninxloo, one by Otto van Veen, a Mars and Venus by Joachim Wtewael, an Adam and Eve and a cycle of twelve pictures of the Passion by Cornelis van Haarlem.
2. See P.J.J. van Thiel, op.cit., 1999, p. 445, under cat. no. D12, for a listing of other paintings by Cornelis with figures related to the Darmstadt drawing.
Sotheby's. Important Old Master Paintings, Including European Works of Art. 29 Jan 09. New York www.sothebys.com photo courtesy Sotheby's