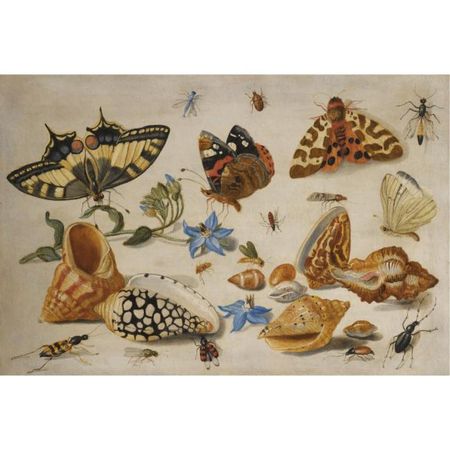 Jan van Kessel the Elder (Antwerp 1626 - 1679), A Swallowtail (Papilio machaon), Red Admiral (Vanessa atalanta) and other insects with shells and a sprig of borage (Borago officinalis)
oil on copper. 6 1/4 by 9 1/4 in.; 15.9 by 23.5 cm. Estimate 300,000—400,000 USD
CATALOGUE NOTE: Jan van Kessel the Elder's delightful painting on copper of butterflies, insects and flowers was probably made to decorate a collector's cabinet which contained naturalia. Sets of such paintings were produced, making up an even number and arranged round a central painting. Perhaps influenced by Joris Hoefnagel's (1542-1601) exquisite gouache studies of insects, van Kessel started to paint this type of composition in the first half of the 1650s; the earliest dated examples are from 1653 (a set of five with Richard Green in 1975). He produced them well into the 1660s, but most dated examples are from the 1650s.
Kessel's work is inspired by collections of naturalia - including insects pinned to boards - which were very popular items of display in the seventeenth century. Here each insect, shell or flower is studied individually, each with its different angle and shadow. The use of a white background, typical of van Kessel's insect studies, allows for a sharp focus on the shape and textures of the creatures and throws their brilliant colours into relief. It is particularly successful here in the depiction of the flamboyant Swallowtail butterfly and of the intense blue of the borage flowers.
Jacob Weyerman, who was taught by van Kessel's son Ferdinand, records that Jan frequently worked from nature, as well making use of illustrated scientific texts. The present painting reflects the seventeenth century fascination with natural science and also praises the variety of "God's Creation," which is drawn together in a decorative ensemble. The wide choice of elements in the present painting belongs to the later development of this type of work by van Kessel: in earlier examples the emphasis is placed on insects and butterflies alone.
Another version on copper of this composition, of the same size, signed and dated 1659, was with Richard Green in 1997. An unsigned version of the composition, probably a studio work with some help from the master, is in the Frits Lugt Collection (Fondation Custodia), Paris. A copy of the lower left part of the present composition was at Christie's, London, 24 February 1984, lot 15.
Sotheby's. Important Old Master Paintings, Including European Works of Art. 29 Jan 09. New York www.sothebys.com photo courtesy Sotheby's