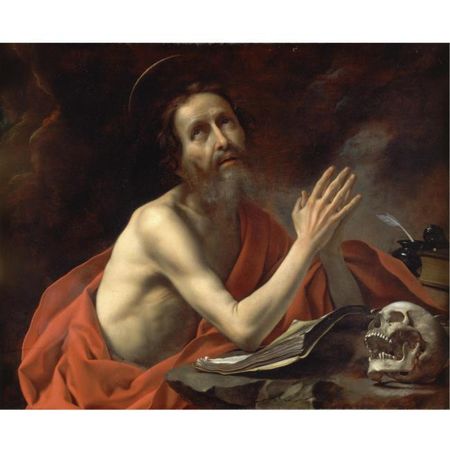 Carlo Dolci (Florence 1616 - 1687), Saint Jerome in prayer
dated lower centre: 1655 - oil on panel - 17 by 21 1/4 in.; 43 by 54 cm. Estimate 250,000—350,000 USD
PROVENANCE: Probably in the collection of the Marchesi Capponi, Florence, from at least 1767 until at least 1842, when it hung in the picture gallery;
Gertrude Herbert Institute of Art, Augusta, Georgia;
Their sale, New York, Sotheby's, January 14, 1994, lot 35;
There purchased by Jean Luc Baroni, for Colnaghi, London;
From whom acquired by the present owner.
EXHIBITED: Maastricht, Colnaghi, 11-19 March 1995;
New York and London, Colnaghi, Master Paintings, 7-30 May, 10 June - 11 July 1998, no 13, reproduced.
LITERATURE AND REFERENCES: F. Fantozzi, Nuova guida, ovvero descrizione storico-artistico-critica della città e contorni di Firenze, Florence 1842, p. 398;
F. Borroni Salvadori, 'Le esposizioni d'arte a Firenze dal 1764 al 1767', in Mitteilungen des Kunsthistorischen Institutes in Florenz, vol. XVIII, no. 1, 1974, pp. 80-1;
Advertisement in The Burlington Magazine, vol. CXXXVII, no. 1103, February 1995, p. VIII, reproduced in colour;
F. Baldassari, Carlo Dolci, Turin 1995, pp. 128-129, no. 101, reproduced in colour pl. XXVIII and fig. 101;
M. Gregori, M. Voena (eds.), Pittura Fiorentina Secolo XVII, (Koelliker collection catalogue), 2003, pp. 128-9, reproduced fig. 101.
CATALOGUE NOTE: Isolated in the wilderness, half naked and in silent prayer, Saint Jerome is depicted here with his usual attributes of the open book, the minutely observed skull, and the lion, here included in the shape of a dark stone ornament or paperweight. Dated 1655, it is a painting entirely consistent with Dolci's output in the 1650s, notably in the highly polished surfaces of the fleshtones and still life elements. Baldassari cites two other depictions of St. Jerome by Dolci, both of them earlier in date. One of these, in a private collection, New York, she dates to circa 1635, and the other, in a different New York collection, she dates to circa 1647-48.1
A note on the Provenance:
In his Notizie... Filippo Baldinucci, a contemporary biographer of Dolci, mentions four paintings of St. Jerome by Dolci. Of these Francesca Baldassari has identified two, one painted for Agnolo Teri and another for Antonio Lorenzi.2 From further archival research she has identified several other references to paintings of St. Jerome, including one for the Abbot Eschini, one for the Bartolomei family and another for the Marchese Capponi. Baldassari identifies the present work with the Capponi picture, described by Fantozzi in 1842 as "san Girolamo in orazione, opera insigne e del più finito stile, di C. Dolci,"3 it being apparently the only treatment of the subject 'insigne'.4 The painting is first recorded in the Capponi collection in 1767, when it was exhibited in the Accademia di San Luca, and is last documented there by Fantozzi in 1842, where it is cited as hanging in the 'quadreria'.
1. Baldassari, under Literature, p. 52, no. 21, reproduced and pp. 101, 103, no. 72, reproduced p. 103.
2. F. Baldinucci, Notizie de' professori del disegno da Cimabue in qua, vol. V, Florence 1846 edition, p. 351.
3. "St. Jerome in Prayer, an outstanding work and in the highly finished style of Carlo Dolci."
4. See under Literature.
Sotheby's. Important Old Master Paintings, Including European Works of Art. 29 Jan 09. New York www.sothebys.com photo courtesy Sotheby's