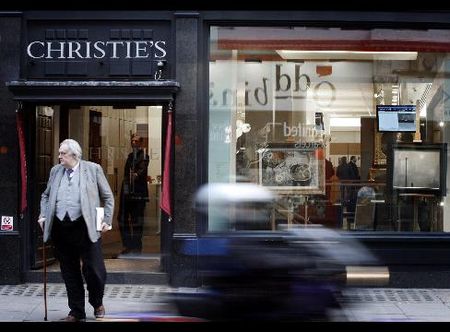 NEW YORK (ETATS-UNIS) [13.01.09] – Christie's International vient d'annoncer d'importantes réductions budgétaires pour l'année 2009 qui devraient surtout affecter ses employés.
Christie's International entame 2009 par une grande réorganisation pour faire face à la crise, rapporte Bloomberg. La maison de vente aux enchères, basée à Londres, vient d'annoncer une « restructuration de toute l'entreprise qui comprend des réductions de personnel significatives ». En effet, Christie's ne renouvellera pas les contrats de bon nombre de ses consultants cette année. La révision de son budget à la baisse devrait lui « assurer de rester compétitif et profitable en 2009 ». Ces réductions du personnel devraient s'étaler sur les trois ou quatre prochains mois, selon Jussi Pylkkanen, le président exécutif de Christie's Europe.

Le taux d'objets vendus, ainsi que leur prix, ont considérablement chuté lors des ventes de fin d'année à Londres chez Christie's, mais également chez Sotheby's et Bonham's. Lors des ventes de novembre à New-York, c'est presque un tiers des lots mis à la vente qui n'ont pas trouvé d'acheteur. Le 4 décembre 2008, Sotheby's a annoncé avoir approuvé des réductions budgétaires qui affecteraient principalement les salaires des employés pour un total de 7 millions de dollars en 2009, soit environ 5,2 millions d'euros.

Christie's avait déjà annoncé que les résultats décevants de ses ventes d'automne ainsi que la récession financière et économique l'obligeraient à une révision de sa stratégie. La maison de ventes aux enchères a déjà réduit les départements des livres et vins de Londres, ainsi que fermé son département d'armes, ce qui a causé le départ de 5 de ses employés. www.artclair.com
Jan. 12 (Bloomberg) -- Christie's International will cut jobs as the financial crisis damps demand for art.
The London-based auction house plans "a companywide reorganization which includes significant staff reductions," Christie's said in an e-mailed statement today.
"There's a consultation process going on at the moment, so we're not in a position to comment on numbers," Alexandra Buxton, Christie's European head of public relations, said in a telephone interview. She said that Christie's employs about 2,100 people worldwide.
The proportion of lots selling at auction -- and prices -- dropped at Christie's, as well as at Sotheby's and Bonhams's pre-Christmas events in London. November sales in New York ended with almost a third of the lots failing to sell. Sotheby's on Dec. 4 said that its board approved job cuts that will reduce salaries and other related costs by $7 million in 2009.
"We'll be doing this restructuring over the next three to four months," Jussi Pylkkanen, president of Christie's European operations, said in an interview. "We are not going to revise our auction schedules for any of the main markets."
Christie's won't be renewing many consultants' contracts and will make other cost cuts to "ensure we remain competitive and profitable in 2009," the company said in the email. The staff reductions will be global.
Christie's had said in December it was reviewing its strategic plans because of economic weakness and the results at its autumn auctions. It has already shrunk its London-based wine and book departments, and closed its modern and sporting-gun section, resulting in five employees leaving the company.
Sale Speculation
The auction house hasn't commented on speculation in the ft.com/alphaville blog and London Evening Standard that owner Francois Pinault was considering selling the company. Pinault's holding company, Artemis SA, bought Christie's in May 1998 for $1.2 billion.
"We are not considering selling the company," said Anne- France Malrieu, of the Image Sept public-relations company, in an email on behalf of Artemis.
In November in New York, 12 guaranteed works with a combined low estimate of $48 million failed to sell at Christie's contemporary-art auction. As a result of these and other unsuccessful guarantees Christie's has said it will no longer be offering minimum prices to sellers.
Sotheby's in London declined to release details of its own restructuring plans, according to Matthew Weigman, a spokesman, contacted this morning by telephone.
"Bonhams are looking at this area as well," Julian Roup, head of that London-based auction house's press office, said today in a telephone interview. He wouldn't confirm or deny that the company had made job cuts.
(Scott Reyburn writes about the art market for Bloomberg News. Opinions expressed are his own.) To contact the reporter on this story: Scott Reyburn in London at sreyburn@hotmail.com.