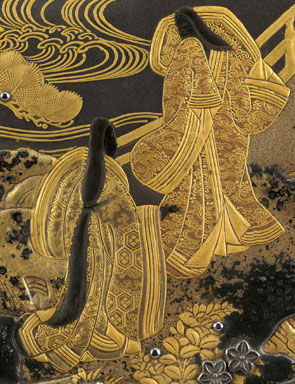 Unknown maker, Japanese, The Mazarin Chest, about 1640. Wood covered in black lacquer with gold and silver hiramakie and takamakie lacquer; inlaid with gold, silver and shibuichi alloy; and mother-of-pearl shell; gilded copper fittings. Object: H: 59 X W: 101.5 X D: 63.9 cm. EX 2009.2.1. Victoria and Albert Museum, London, England, 412(1-2)-1882@ V&A Images.
LOS ANGELES, CA.- Sometime around 1640, Japanese craftsmen at a lacquer workshop in Kyoto finished what was to become one of their country's most beautiful historical treasures: a masterpiece of black and gold lacquer known today as the Mazarin Chest. Lavishly decorated with scenes from Japanese literature including the Tale of Genji and the Tale of the Soga Brothers, the chest is among the finest examples of a type of lacquer decoration perfected by the Japanese for European consumers.

Made for export, the chest was shipped to Europe and was owned by a series of prominent collectors during the next 200 years. In 1882, it was purchased by the Victoria and Albert Museum in London , becoming a star attraction in that museum's collection of Japanese art. However, centuries of cumulative exposure to light and changes in humidity and temperature caused a gradual deterioration in the chest's condition, rendering it too fragile for display or transport by 2004. A Getty grant made its restoration possible.

Now, thanks to a collaboration between the Victoria and Albert Museum, the Japanese government, the Getty Foundation, and the J. Paul Getty Museum, the recently restored chest will be on view along with other lacquer pieces as part of the exhibition Tales in Sprinkled Gold: Japanese Lacquer for European Collectors from March 3–May 24, 2009, at the J. Paul Getty Museum at the Getty Center.

"This exhibition will mark the first and possibly only time that these rare objects will travel to the United States , giving local audiences an unprecedented opportunity to view these extraordinary masterpieces," said Michael Brand, director of the J. Paul Getty Museum. "Funded by the Getty Foundation, the conservation of the Mazarin Chest was a major international undertaking and we are pleased to be able to showcase the results of this work here at the Getty Center ."

Added Deborah Marrow, Director of the Getty Foundation, "We are thrilled that a Getty grant was the catalyst for this wonderful project, helping to bring a truly magical object back to life for future generations to enjoy, and facilitating an international collaboration that will advance the practice of conservation."

Tales in Sprinkled Gold will bring to the Getty Center both the Mazarin Chest (so named because of the coat of arms of the Mazarin-La Meilleraye family on its French steel key, suggesting it was once in their possession), and the Van Diemen Box (which bears an inscription to Maria Van Diemen, wife of one of the first governor-generals of the Dutch East Indies)—two of the most important and beautiful examples of Japanese export lacquer to have survived to the present day. They are decorated in a traditional Japanese lacquer technique called makie, literally "sprinkled picture." The decoration is achieved by sprinkling gold or silver powder and flakes over successive layers of lacquer before it dries. It is an extremely difficult technique that requires great skill to build up the necessary layers and complete the design.

Both the Mazarin Chest and the Van Diemen Box mark the beginning of the trade in Japanese lacquer of the "Fine Period" that had a great influence on the decorative arts in Europe for more than 200 years. The Japanese works were recognized as superior in quality and beauty to other Asian lacquer and prompted European collectors to compete with each other in assembling collections of such pieces. The Van Diemen Box eventually entered the collection of Madame de Pompadour in the 18th century where it was a prized possession displayed in an elaborate glass case. It later entered the collection of the groundbreaking English collector William Beckford, who also acquired the Mazarin Chest for his famous collection.

Objects coated with lacquer are recognizable by an extremely durable and glossy finish. Made from toxic sap (urushi) cultivated from the lacquer tree (Toxicodendron vernicifluum or formerly Rhus verniciflua), which grows in Southeast Asia, the material first became available to Europe through Portuguese missionaries in the 1500s and then via Dutch merchants who had a monopoly on European trade with Japan after 1640.

Because raw urushi is extremely toxic—leaving burn marks on the skin and allergic reactions similar to poison ivy—and is difficult to obtain in the West, Western craftsmen and conservators have in past years unsuccessfully used Western-based materials, such as waxes and natural and synthetic varnishes, in attempting to preserve urushi objects and restore their magical luster. In Japan , however, urushi objects are still restored by urushi masters, using the same materials that were originally employed to make the object. Frequent use of raw urushi can build up an immunity in some craftsmen, though not all.

The upcoming exhibition at the Getty marks the completion of a major research and conservation project on the Mazarin Chest at the Victoria and Albert Museum funded by the Getty Foundation, in which a Japanese conservation expert worked together with V&A staff. This international collaboration marks the first time a Japanese urushi conservator has traveled outside Japan to treat an object and to train another institution's staff in the restoration process, bridging a gap between two very different cultures and conservation protocols.

Other objects on display from the Victoria and Albert Museum are smaller lacquer items decorated in less elaborate styles and shapes. These smaller items were never intended to be exported, however throughout the 17th and 18th centuries the Dutch bought these items on the open market in Japan and shipped them to Europe where they were eagerly acquired by prominent members of society, such as Queen Marie-Antoinette. The exhibition demonstrates the high esteem with which these items have been held by collectors, conservators, and historians since the time they were made.

These objects will also be part of a larger exhibition: Export Lacquer: Reflection of the West in Black and Gold Makie that will be held at the Kyoto National Museum , Kyoto , Japan (October 18, 2008 to December 7, 2008) and the Suntory Museum , Tokyo , Japan (December 23, 2008 to January 26, 2009). This will be the first exhibition to present an extensive overview of makie work exported from Japan . A dual language catalogue will be published for this larger exhibition and will be available at the Getty venue.

Tales in Sprinkled Gold: Japanese Lacquer for European Collectors is curated by Jeffrey Weaver, associate curator of sculpture and decorative arts at the Getty Museum , and Antoine Wilmering, conservator and program officer at the Getty Foundation.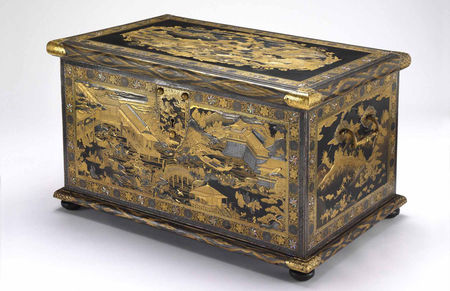 Unknown maker, Japanese, The Mazarin Chest, about 1640. Wood covered in black lacquer with gold and silver hiramakie and takamakie lacquer; inlaid with gold, silver and shibuichi alloy; and mother-of-pearl shell; gilded copper fittings. Object: H: 59 X W: 101.5 X D: 63.9 cm. EX 2009.2.1. Victoria and Albert Museum, London, England, 412(1-2)-1882@ V&A Images