Julius Held was one of the pre-eminent art historians of the 20th century, best known for his seminal works on Rubens and Rembrandt. In the tradition of the scholar-collector, Professor Held, with his refined eye and insatiable curiosity, amassed a diverse collection of paintings, drawings, prints and sculpture. With eclectic taste Professor Held collected beyond his scholarly field of Flemish and Dutch art, and acquired works by French, Italian, British and American artists from the 16th to 20th centuries. Highlights includes :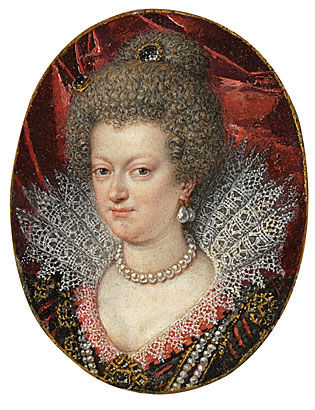 Frans Pourbus II (Antwerp 1569-1622 Paris), Portrait of Maria de'Medici, oil on copper, oval, 2 3/4 x 2 in. (7 x 5.1 cm.). Estimate: $20,000 – 30,000
Provenance: with Siegfried Rosenau, New York, from where purchased by Prof. Julius S. Held, 1962.
Exhibited: Northampton, Smith College Museum of Art, Paintings and Sculpture from the Collection of Mr. and Mrs. Julius S. Held, 1 - 27 October 1968, no. 41.
Williamstown, Sterling and Francine Clark Art Institute, Between the Lines: Ladies and Letters at the Clark, 20 March - 25 April 1982.
Worcester, Worcester Art Museum, The Collector's Cabinet: Flemish Paintings from New England Private Collections, 6 November 1983 - 29 January 1984, no. 26.
Notes: Frans Pourbus the Younger was born into a family of artists, with his father Frans the Elder and grandfather, Peter, both widely respected portraitists. He was made a master in the Antwerp Guild of Saint Luke in 1591 and moved to Brussels several years later, entering the service of the Archdukes Albert and Isabella at court. In 1600 Pourbus traveled to Mantua in the employ of Vincenzo Gonzaga I, 4th Duke of Mantua, who had appointed him chief portrait painter. In 1609 Pourbus moved to Paris, summoned by Marie de'Medici, the sister of Eleanora Gonzaga, wife of King Henry IV, and subject of the present jewel-like portrait miniature.

Pourbus painted a number of portraits of the Queen, both full-length and in miniature, during his tenure in Paris, which lasted from 1609 until his death in 1622. The present version relates most closely to a full-length portrait formerly in the Rothan Collection, Paris (present location unknown). Ludwig Burchard suggested that both were executed during the artist's first visit to Paris, in August and September of 1606, when he was called upon to record the French Royal Family at the baptism of the Dauphin. Marie would have been 34 at the time and Queen for six years; four years later, when her husband was assassinated, she was named Regent for her son, Louis XIII.

Marie, though entirely lacking in political acumen and ultimately a weak ruler, was an enthusiastic and devoted patron of the arts. In addition to Pourbus, she employed Sir Peter Paul Rubens, from whom she commissioned an extensive decorative cycle glorifying herself and her husband (Louvre, Paris). An oil sketch for one of these grand compositions, The Marriage by Proxy of Marie de'Medici and King Henry IV of France, was sold at Christie's in London in 1994 (£1,600,000=$2,498,050).

The present portrait is characteristic of Pourbus' finest work and sits within the late Mannerist tradition of rigid poses and extremely fine surface decoration. From his father and grandfather he inherited an incredibly ornate, decorative style, and the ability to depict the various textures of skin, hair, fabric, lace and pearl with admirable precision.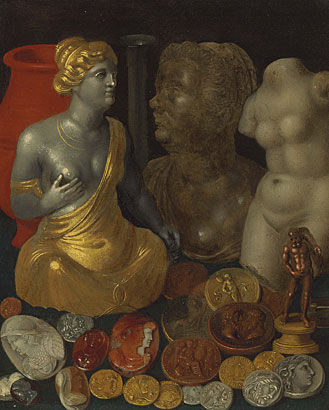 Hendrik van der Borcht, A Collection of Ancient Objects, signed 'HVBorcht' (lower right), oil on copper, 10 x 8 3/8 in. (25.4 x 21.3 cm.). Estimate: $30,000 – 50,000
Provenance: with D.H. Cevat, London, circa 1958.
Exhibited; Raleigh, North Carolina Museum of Art, Age of the Marvellous, 25 January 1992 - 22 March 1992, No. 12.
Worcester, Worcester Art Museum, The Collector's Cabinet: Flemish Paintings from New England Private Collections, 6 November 1983 - 29 January 1984, no. 5.
Notes: This remarkable still life of antique objects and coins is, despite the unmistakable signature 'HVBorcht', impossible to attribute with certainty. The artist is either Hendrik van der Borcht the Elder (1583-1660) or the Younger (1614-1665), a father and son who shared both a passion for antiquities and a patron, Thomas Howard, Earl of Arundel, whose extensive art collection was widely admired.

We know of only two other extant still lifes attributed to either van der Borcht, both representing antiquities and painted on copper. One, a large composition of circular format, features an ornate arrangement of statues, coins and medals, together with vases and a bowl, against a dark green ground (Hermitage, Leningrad). The second, of horizontal format, is closer in composition to the Held still life (Historisches Museum, Frankfurt). Interestingly, several items appear in more than one still life, such as the late sixteenth/early seventeenth century seated female figurine (seen in the present work and the Frankfurt painting), the bust of a scowling man (featured in both the Frankfurt and Leningrad paintings), and several of the classically-styled cameos grouped at lower left; this would suggest that they come from an actual collection, perhaps once belonging to the artist himself.

Thanks to van der Borcht's incredibly detailed depictions of the various antique coins and medals in the present still life, all are recognizable to contemporary scholars. All but two are genuine Greek and Roman artifacts: the bronze sestertius from the reign of Tiberius and the bronze medallion from the reign of Marcus Aurelius are both, in fact, Renaissance copies attributed to Giovanni da Cavino (1500-1570). Though not originally intended as forgeries, these and other works by the Paduan artist were so skillfully cast as to be nearly indistinguishable from originals, and were frequently sold to unsuspecting collectors as authentic.

The other objects in the present compositional group include a statuette of a urinating Hercules, likely also a Renaissance replica of a classical bronze, based on the shiny patina of the metal. The marble torso of Aphrodite is probably an antique, as is the bronze female bust, which would have functioned as a furniture mount. Both the narrow glass vase and the terra-cotta urn are of a characteristically Roman type.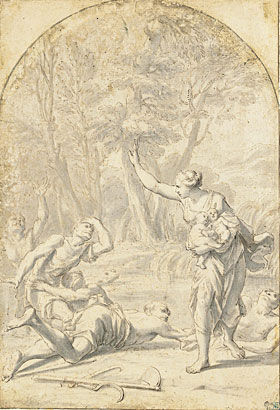 Marcantonio Franceschini (Bologna 1648-1729), Latona turning the Lycian peasants into frogs, pen and brown ink, grey wash, brown ink framing lines, the top arched and partly made up, 14 7/8 x 10 in. (378 x 254 mm.). Estimate: $4,000 – 6,000
Provenance: Baron Dominique-Vivant Denon (L. 779).
François Alziari, Baron de Malaussena (L. 1887).
Anonymous sale; Christie's, London, 1 July 1969, lot 16 (180 gns. to O. Klein).
Literature: D. Miller, Franceschini and the Liechtensteins; Prince Johann Adam Andreas and the Decoration of the Garden Palace at Rossau-Vienna, Cambridge, 1991, no. 1, pl. 8.
D. Miller, Marcantonio Franceschini, Turin, 2001, pp. 283-4, no. D.3.
Notes: A developed study for the painting in the Liechtenstein Gallery, Vaduz, one of the cycle of mythological subjects commissioned by the Prince of Liechtenstein and painted between 1690 and 1710 (fig. 1). The painting is of regular rectangular format and does not have the same semicircular shaped top as the drawing. The composition is also known through a nineteenth century lithograph, where it was mistakely attributed to Simon Vouet.
The subject derives from Ovid's Metamorphoses (Book VI, lines 314-81). Latona, who had two of Jupiter's children, Apollo and Diana, was forced into exile by Jupiter's jealous wife Juno. While in the kingdom of Lycia she stopped to drink water from a pond and a group of peasants muddied the waters so she could not. Invoking the power of Jupiter, she punished them by transforming them into frogs.
Dwight Miller lists six other drawings related to the painting, all of which are in two sketchbooks in Genoa and Bergamo (D. Miller, Franceschini and the Liechtensteins, p. 68).
Pierre-Paul Prud'hon (Saône-et-Loire 1758-1823 Paris), L'Innocence: A woman and a sleeping cupid, black chalk with stumping, heightened with white, 2 1/4 x 3 3/8 in. (57 x 86 mm.). Estimate: $6,000 – 8,000
Provenance: D.H. Rothenstein; Sotheby's, London, 9 April 1970, lot 108.
Anonymous sale; Sotheby's, London, 26 November 1970, lot 95.
Exhibited: Hartford, Wadsworth Atheneum and elsewhere, One Hundred Master Drawings from New England Private Collections, 1973, no. 46.
Williamstown, The Sterling and Francine Clark Art Institute and elsewhere, Master Drawings from the Collection of Ingrid and Julius S. Held, 1979, no. 37.
Notes: This small-scale drawing is similar in composition to Constance Mayer's L'heureuse mère exhibited, along with its pendant La mère infortunée at the Salon of 1810 (Paris, Musée du Louvre, inv. 6584). Prud'hon often made drawings and oil sketches for paintings that were made by Mayer (his pupil and mistress) to be exhibited at the Salon. Prud'hon's drawing has a more classical flavor than Mayer's painting which exhibits the moralizing influence of her first teacher, Jean-Baptiste Greuze. Prud'hon made similarly small-scale preparatory drawings for his own paintings such as the overdoor decorations of Evening and Night for the Hôtel Lanois in 1796 (J. Guiffrey, Pierre-Paul Prud'hon, peintures, pastels et dessins, Paris, 1924, nos. 822-25).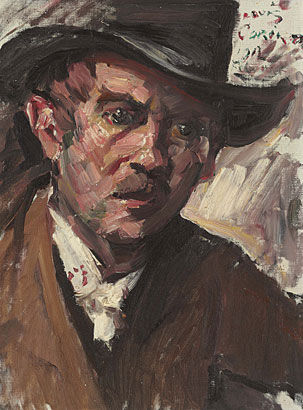 Lovis Corinth (Tapiau 1858-1925 Zandvoort), Self Portrait with a Black Hat, signed and dated 'Lovis Corinth, 1912, February' (upper right), oil on canvas, 19 3/4 x 14 3/4 in. (50.2 x 37.5 cm.). Estimate: $40,000 – 60,000
Provenance: Mrs. Charlotte Berend-Corinth, by whom gifted to Prof. Julius S. Held, 1950.
Literature: A. Kuhn, Lovis Corinth, Berlin, 1925, p. 107, pl. v.
l. Justi, Lovis Corinth, in Kunstwanderer, X, July 1928, pp. 465-468, illustrated.
B. Werner, 'Lovis Corinth (1858-1925)', Die Grossen Deutschen 4, Berlin, 1934, pp. 427-28.
G. van der Osten, Lovis Corinth, Munich, 1955, p. 158, illustrated p. 112.
C. Berend-Corinth, Die Gemälde von Lovis Corinth, Munich, 1958, p. 124-5, no. 546, ill. p. 583.
M. Frick, Lovis Corinth, Berlin, 1976, p. 15.
The Bulletin of the Cleveland Museum of Art, December 1983, p. 424.
H. Uhr, Lovis Corinth, Berkeley, 1990. p. 195, fig. 115.
Exhibited: Berlin, Berliner Sezession, Lovis Corinth: Katalog der Aussetellung des Lebenswerkes, 19 January - 2 February 1913, no. 224
Berlin, Nationalgalerie, Lovis Corinth, 1923, no. 111.
Zurich, Kunsthaus, Ausstellung Lovis Corinth, 10 May - 29 June 1924, no. 26.
Bern, Kunsthaus, September - October 1924, no. 14.
Frankfurt, Kunstverein, 1926, no. 36.
Dusseldorf, Kunstverein fur das Rheinland und Westfalen, 1926, no. 29.
Kunstverein Kassel, 1926, no. 39.
Berlin, Nationalgalerie, Lovis Corinth: Austellung Gemalden und Aquarellen von Seinem Gedächtnts, January - February 1926, no. 212, pl. 1.
Weisbaden, Nass. Kunstverein, 1926, no. 16.
Mülhausen, September - October 1927, no. 1.
Dresden, Sächs. Kunstverein, 1927, no. 68.
Zurich, Kunsthaus, 1933, no. 16.
Basel, Kunsthalle, Lovis Corinth, 14 March - 13 April 1936, no. 31.
New York, Galerie St. Etienne, Lovis Corinth: Paintings, Drawings, Prints, 26 May - 3 July 1943, no. 1.
Boston, Museum of Fine Arts, European Masters of Our Time, 10 October - 17 November 1957, no. 27, ill. p. 45.
Wolfsburg, Stadhalle, Lovis Corinth: Gedächtnisausstellung zur Frier des Kundertsten Geburts Jahres, 4 May - 15 June 1958, no. 108, pl. 14.
Munich, Galerie Wolfgang Gurlitt, Lovis Corinth: Zur Feierschines hundertsten Geburtstages, 7 July - 17 August 1958.
London, Tate Gallery, Lovis Corinth: an exhibition of paintings, 9 January - 15 February 1959, no. 36, pl. 14.
New York, Allan Framkin Gallery, Portraits by Lovis Corinth, December 1963.
New York, Gallery of Modern Art, Lovis Corinth: A retrospective exhibition, 22 September - 1 November 1964, no. 34.
Williamstown, Sterling and Francine Clark Art Museum, on extended loan. Metropolitan Museum, on extended loan.
Providence, Rhode Island school of Design Museum, on extended loan.
New York, Salander O'Reilly Galleries, Barnard Collects: The Educated Eye, 28 September - 31 October 1989, pl. 7.
St. Louis, St. Louis Museum of Art, Lovis Corinth, 14 November 1996 - 26 January 1997; also Tate Gallery, London, 20 February - 4 May 1997.
Hamburg, Hamburger Kunsthalle, Ich, Lovis Corinth: die Selbstbildnisse, 19 November 2004 - 6 March 2005, no. 17.
Notes: This incisive self-portrait was painted at one of the darkest moments of Lovis Corinth's career. In 1911, Corinth suffered a severe stroke which partially paralyzed the left half of his body. This is the first work he painted upon his return to the studio. Corinth's struggle to regain his mastery of his artistic tools is palpable, as is both the mental and physical pain he struggled with. The confidence and polish that exude from his works of the first decade of the twentieth century is somewhat lost in the wake of his stroke and the viewer senses the artist's struggle with his brush; brush strokes loaded with heavy paint fill the canvas and lend a sense of immediacy to this self-portrait. It was in the years after his stroke that Corinth created many of his masterpieces. He died in 1925 in Zaandvoort, The Netherlands. Having recognized his own failing health, he was en route to a final view of Rembrandt and Frans Hals' masterpieces, artists who he felt reflected and influenced his own style.

In December 1948, Julius Held sent a letter to a number of the well-respected curators in the United States, pleading the case of Lovis Corinth. As a contemporary of Emile Nolde and Max Beckmann, he had been granted a memorial exhibition in almost every major German city after his death; almost 25 years later and after the horrors of World War II, not a single American institution owned a work by him. Held had met Corinth's widow and son, who had moved to the United States in 1939, and were storing his amazing Crucifixions and Walchensee landscapes in a small storage site 'in a dingy warehouse in Harlem'. Held received the support of such luminaries as Erwin Panofsky and Fiske Kimbell, and created a sponsoring committee including Meyer Schapiro and Alfred Einstein. The retrospective was held in 1950 at ten institutions from Boston to San Francisco, and the catalogue to the exhibit included a forward by Held. It was the same year of this, Corinth's first major American retrospective, that Mrs. Corinth gifted this intense and moving self-portrait to Professor Held.