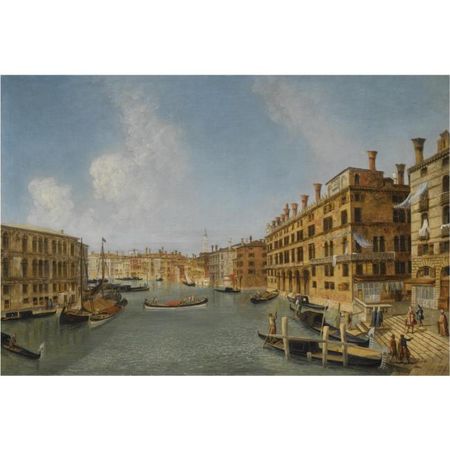 Michele Marieschi (Venice 1710 - 1743), View of the Grand Canal, Venice, with the Fondaco dei Tedeschi
oil on canvas. 22 5/8 by 33 5/8 in., 57.5 by 85.5 cm. Estimate 300,000—400,000 USD
PROVENANCE: Private Collection, France.
CATALOGUE NOTE: This beautifully preserved veduta painting of the Grand Canal can be dated to 1736-1738, based on key similarities with another painting by Marieschi with the same dimensions and of a comparable view. This comparative picture (see F. Montecuccoli degli Erri and F. Pedrocco, Marieschi, Milan 1999, p. 294, cat. no. 74, reproduced, [as with Leonard Koetser, London]), differs from the present composition only slightly in that it includes an additional boat in the foreground, as well as slightly adjusted foreground figures. Despite these subtle variances, a chronological similarity is evident, according to Succi, due to the appearance of the palace belonging to the Balbi Valmarana family, near the Santi Apostolo, visible in both pictures behind the boats. The façade of this building was, in fact, completely rebuilt (designed by Antonio Vicentini), in 1740. Given that the two paintings depict views of the palazzo prior to its 1740 restoration, this date can be considered a valid terminus ante quem date for both pictures.
Ralph Toledano published another comparable version of the present painting in his 1988 monograph on Marieschi, in which he also mentions the Koetser version. Both paintings discussed in that monograph (and also the present painting) are related to the etching bearing number 20 in the second edition of the famed Magnificentiores Selectioresque Urbis Venetiarum Prospectus, published in Venice by Marieschi in 1741.
In a 2005 certificate, Toledano also comments on the beautiful quality of the present composition, stating, "In this painting, Marieschi has described the façades of the imposing palaces with subtle and delicately layered brushstrokes of beige, brown, greyish and pink hues, suggesting by his clever touches the ever changing effects of the Venetian light upon the stones. The peculiarly intelligent way the impastos are mixed, melting their exuberance into a harmonious togetherness is to be considered his hallmark."
Sotheby's. Important Old Master Paintings, Including European Works of Art. 29 Jan 09. New York www.sothebys.com photo courtesy Sotheby's