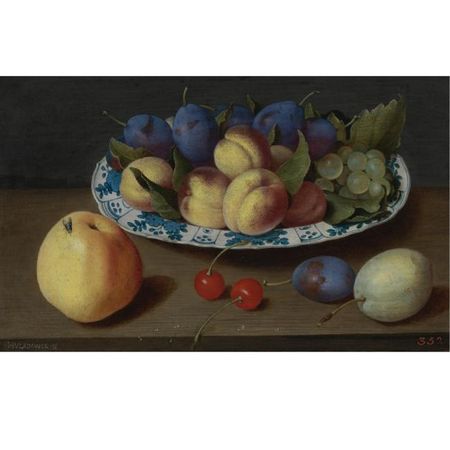 Jacob van Hulsdonck (Antwerp 1582 - 1647), Still Life with Fruit
signed at lower left on table edge: IVHULSDOCK FE (IVH in ligature). oil on panel. 7 7/8 x 12 7/8 in.; 20 by 31.4 cm. Estimate 100,000—150,000 USD
PROVENANCE: With Jacques Goudstikker, Amsterdam, 1933;
With Kunsthandel de Boer, Amsterdam, 1934-35;
Mrs. Lillian Henkel Haass [Mrs. Julius H. Haass] (1879-1969) Detroit, Michigan, circa 1935-1947;
With Newhouse Galleries, New York;
Mr. and Mrs. F. Howard Walsh, Fort Worth, TX;
Walsh Family Art Trust.
EXHIBITED: Amsterdam, Kunsthandel J. Goudstikker NV, Het Stilleven, February 18-March 8, 1933, no.152;
Amsterdam, Kunsthandel De Boer, Jongere Brueghels, February 10-April 5, 1934, no. 288;
Vienna, organized by Kunsthandel De Boer and Galerie Sanct Lucas, Vienna, Palais Pallavicini, Die jüngeren Brueghel und ihr Kreis, March-April 1935, no. 102, illustrated.
LITERATURE AND REFERENCES: Het Stilleven, exhibition catalogue, Amsterdam 1933, cat. no.152;
Die jüngeren Brueghel und ihr Kreis, Vienna 1935, cat. no. 102, illustrated;
Ingvar Bergström, Studier I holländskt stillbenmåleri under 1600-talet. Göteborg, 1947, p. 94, fig. 73 ill., (as collection of Mrs. L. Henkel Haass, and in the 1956 English edition, London, 1959).
NOTE: Jacob van Hulsdonck was born in Antwerp, but raised in Middelburg, the town where Ambrosius Bosschaert the Elder and his circle had pioneered the genre of still life painting in Holland. Hulsdonck did, most likely, train in Bosschaert's studio, and the elder artist's influence is evident in Hulsdonck's oeuvre, both in his choice of subject matter and in his meticulous style. Hulsdonck, did, however, develop his own distinctive style, which is easily recognized by his use of a single, centrally placed basket or bowl of fruit that dominates his strongly symmetrical designs, as it does in the present work. In his restrained spare paintings, Hulsdonck focuses on the interplay of vivid color and varied textures. In a technique often seen in his work, Hulsdonck here contrasts the soft yellow skins of apricots with the polished hazy deep blue of the smoother plums. He further reveals his illusionistic skills in the realistic depiction of the dew drops on the very edge of the table and the fly resting on the yellow apple or quince.
When the present painting was published by Bergström in his important book on Dutch still-life painting in 1947 (see Literature), it was in the collection of Mrs. Lillian Henkel Haass (1879-1961), of Detroit Michigan. She and her banker husband, Julius H. Haass (1856-1931), were early supporters of the Detroit Institute of Art during William R. Valentiner's directorship (1925-1945). Before his tenure at Detroit, Valentiner had worked with the great cataloguer, Cornelis Hofstede de Groot, in The Hague, and as assistant to Dr. Wilhelm Bode, the director general of the Prussian State Art Collection in Berlin. His great familiarity with European private collections was instrumental in his ability to convince the Haasses to purchase Jacob van Ruisdael's brilliant "Jewish Cemetery" for the museum's collection in 1926, as well as other important works. After the death of her husband, Lillian Haass continued collecting for herself and donating to the museum. It is possible that Lillian Haass purchased this painting by Hulsdonck in Europe circa 1934 with the advice of Valentiner.
Sotheby's. Important Old Master Paintings, Including European Works of Art. 29 Jan 09. New York www.sothebys.com photo courtesy Sotheby's