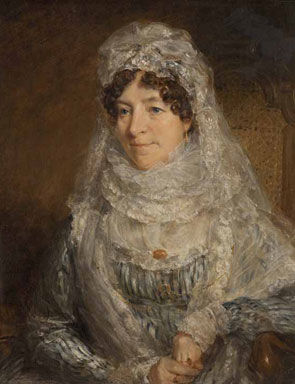 Mrs Edwards, circa 1818 by John Constable © Museum of Art, Rhode Island School of Design. Corporate Membership Fund.
LONDON.- John Constable (1776-1837) is recognised as a landscape painter of profound originality and popularity and yet his portraits are often overlooked. Constable Portraits: The Painter and His Circle, opening 5 March 2009 at the National Portrait Gallery, will be the first exhibition dedicated to Constable's portraits and the insights they bring to Constable's art, life and relationships.

Exhibited works will be on loan from institutions such as Tate, the Metropolitan Museum of Art, V & A, Royal Academy and Yale Center for British Art, alongside works from private collections, many of which have not been on public display for many years. Remarkably, considering Constable's reputation and output of approximately 100 portraits, this body of work is not well-known. Constable Portraits will offer the opportunity to re-evaluate and rediscover the previously marginalised work of this important artist.

Broadly chronological, the exhibition will open with images of the artist himself alongside portraits of his friends and family created when he was a young man, interspersed with a few landscape paintings of noteworthy places from his youth. Other early portraits, whether of single sitters or groups, will shed light on the range of the artist's social network as well as his circle of contemporaries. Constable once observed that 'painting is but another word for feeling', an attitude unsuited to a jobbing portrait painter, but this did lead him to invest great significance in the portraits of people to whom he was close. His portraits, like the landscapes in his oil studies, are direct, freshly observed and truthful.

The exhibition will include the touching and intimate portraits of Constable's wife, Maria Bicknell, produced in the early years of their romance and marriage. Portraiture, like letter writing, played an important part in their courtship because they were frequently parted for long periods. Many of their conversations took place on paper while they gazed not on each other but on painted images. The exhibition will include a portrait of Maria painted in 1816 which featured in Constable's correspondence. 'I am sitting before your portrait', he wrote on 28 July, 'which when I took off the paper, is so extremely like that I can hardly help going up to it. I never had an idea before the real pleasure that a portrait could offer. '

Celebrated primarily as a landscape artist rather than a portraitist the exhibition will show how Constable excelled in capturing likenesses and personalities. It was only in the middle of the eighteenth century that the commissioning of portraits had expanded beyond the aristocracy to middle-class clients who would sit for portraits by local artists. Constable, through economic necessity often took on portrait commissions, travelling from London to the area of his birth to exploit local connections. This section includes three portraits, Mrs Pulham, Mrs Tuder and Mrs Edwards, who seem like female characters from a Jane Austen or George Eliot novel. Constable's portraits are a window into the middle and upper ranks of early nineteenth-century provincial society; clergymen, landed gentry and families wealthy from trade.

The exhibition will close with images of the artist, this time in later life. Maria Constable died in the November of 1828, a few months after the birth of their seventh child and this loss clouded the remainder of Constable's years. During the last decade of his life he produced fewer portraits as the financial need was less. The exhibition will include the last significant portrait he painted which was of his son, Charles, before he went to sea at the age of 14. Although in the midst of anxiety while he worked on this painting, Constable noted that he made a 'good portrait' heightened by the prospect of absence, much like the one of Maria in 1816.

The exhibition is co-curated by two authorities on the work of Constable. Martin Gayford is a writer and critic who is currently writing a biography of the artist, Constable in Love to be published by Penguin in late February. Anne Lyles is a Tate curator and a leading authority on the art of John Constable and curated Constable: The Great Landscapes at Tate Britain in 2006.
Ann and Mary Constable, 1814 by John Constable. Trustees of the Portsmouth Estates © Reproduced by permission of the Wallop Family