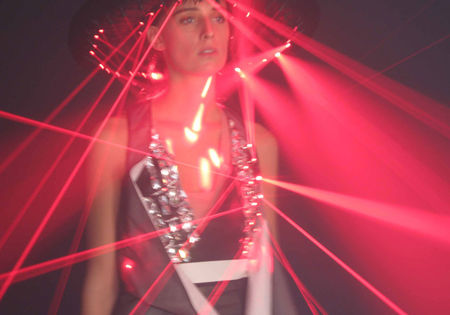 Hussein Chalayan, Readings Spring-Summer 2008. Photo: Chris Moore
LONDON.- Fully established at the forefront of contemporary fashion design, the twice named "British Designer of the Year," Hussein Chalayan, the Creative Director of Sport Fashion for PUMA, is renowned for his innovative use of materials, meticulous pattern cutting and progressive attitudes to new technology.

This exhibition will be the first comprehensive presentation of Hussein Chalayan's work in the UK. Spanning fifteen years of experimental projects, the exhibition explores Hussein Chalayan's creative approach, his inspirations and the many themes which influence his work such as cultural identity, displacement and migration.

Exhibits will include 'Afterwords' which explores the notion of 'wearable, portable architecture' in which furniture literally transforms itself into garments; 'Airborne' bringing the latest LED technology to fashion design with a spectacular dress consisting of dazzling crystals and over 15,000 flickering LED lights and 'Readings' a dress comprising of over 200 moving lasers presenting an extraordinary spectacle of light.

Presenting fashion as a site of exploration and as expressions of concepts, Hussein Chalayan challenges preconceived notions of what clothing can mean, rather than as garments with only functionality in mind. Motivated by ideas and disciplines not readily associated with fashion, Hussein Chalayan's pioneering work crosses between architecture, design, philosophy, anthropology, science and technology.

Since 2003, Hussein Chalayan has also directed art projects, including the short films "Temporal Meditations", "Place to Passage" and "Anaesthetics". In 2005, he represented Turkey at the 51st Venice Biennale with Absent Presence, featuring Tilda Swinton.

Hussein Chalayan's presentations demonstrate his unique ability to combine beautiful and wearable clothes for today with an intriguing vision of the future.

Hussein Chalayan was born in Nicosia, Cyprus. At the age of 12, he came to England to study and later graduated from Central St Martin's College of Art and Design, London in 1993. His highly inventive graduate collection, The Tangent Flows was bought in full by the London retailer, Browns. Chalayan set up his own label in 1994 and his debut collection was shown at London Fashion Week in 1995 and won critical acclaim. He participated in numerous exhibitions worldwide including Radical Fashion at the V&A, London (1997), Fashion at the Kyoto Costume Institute in Japan (1999), Airmail Clothing at the Musee de la Mode, Paris (1999), Century City at Tate Modern (2001), Godess: The Classical Mode at Moma, New York (2003) and Skin + Bones: Parallel Practices in Fashion and Architecture at Somerset House, London (2008). His first solo exhibition took place at the Groninger Museum, The Netherlands in 2005. In the same year, he represented Turkey at the 51st Art Biennale in Venice. He now sells internationally and shows bi-annually in Paris. He has succeeded in working simultaneously in a commercial and conceptual vein, designing costumes for opera and dance performances and developing his ideas in film and installation work as well as in the fashion industry. He has routinely collaborated across disciplines with industrial designers, musicians, jewellers and textile designers. In 2006 Chalayan was awarded an MBE for services to the fashion industry. Hussein Chalayan won a prestigious Brit Insurance Designs of the Year Award 2008 for his Airborne, Autumn/Winter collection.