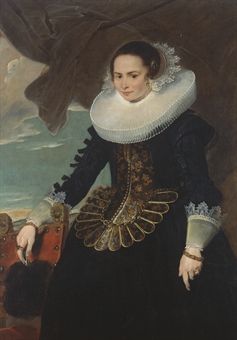 Cornelis De Vos (Hulst 1584-1651 Anvers), Portrait de dame
huile sur toile. 134 x 94,5 cm. (52¾ x 37¼ in.). Estimate €50,000 - €70,000
Provenance: Comte de Spiard, Paris.
Collection William van Gelder, Château Zeecrabbe, Bruxelles; Christie's, Londres, 14 mai 1971, lot 87 (proposé avec un certificat du Dr. W. Bode du 18 août 1928, invendu).
Galerie Alain Tarica, Paris; d'où acquis en 1986 par Yves Saint Laurent et Pierre Bergé.
Literature: L'art flamand du XVè au XXè siècle, catalogue d'exposition, Bruxelles, 1934, no. 34.
E. Greindl, Corneille de Vos, portraitiste flamand, Bruxelles, 1944, p. 81, ill. pl. 28.
Notes: Edith Greindl date ce Portrait de dame dans les années 1621-1631, qui correspondent à l'apogée stylistique de Cornelis de Vos. Son art est alors caractérisé par l'aisance de la composition, la virtuosité de la technique, la variété du coloris et une facture que Greindl qualifie de 'déjà impressionniste'.
Portrait of a lady
oil on canvas

Edith Greindl dates this Portrait of a lady to the period between 1621 and 1631, placing it at the peak of Cornelis de Vos' career. His art, at that time, was characterised by a fluency of composition, complete mastery of technique, a varied palette of colours and a brushwork which Greindl describes as 'already impressionistic'.
Christie's. collection Yves Saint Laurent et Pierre Bergé. 23 - 25 February 2009. Paris www.christies.com Image Christie's Ltd 2009