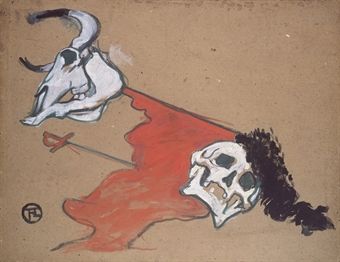 Henri de Toulouse-Lautrec (1864-1901) , La Tauromachie
signé du monogramme 'HTL' (en bas à gauche; Lugt 1338). huile sur carton. 55.5 x 72 cm. (21 7/8 x 28 3/8 in.). Peint en 1894. Estimé €300,000 - €500,000
Provenance: Collection Nathan, Paris.
Jean Davray, Paris.
Antoine Nikles, Genève.
Acquis auprès de celui-ci par Yves Saint Laurent et Pierre Bergé, janvier 1986.
Literature: F. Jourdain et J. Adhémar, T-Lautrec: Essai sur Toulouse-Lautrec. Lautrec, peintre-graveur, Paris, 1952, p. 50.
T. Charpentier, "Quelques lettres et un dessin inédit de Toulouse-Lautrec conservés au Musée Lorrain", in Annales de l'Est, 5e série, 13e année, no. 3, 1962, p. 216.
M.G. Dortu, Toulouse-Lautrec et son oeuvre, New York, 1971, vol. III, p. 344, no. P.561 (illustré, p. 345).
C. Frèches-Thory, Toulouse-Lautrec, catalogue d'exposition, Londres, Hayward Gallery, 1991, p. 396.
"Les chefs-d'oeuvre de la collection Yves Saint Laurent Pierre Bergé", in Connaissance des Arts, h.s., no. 271, janvier 2006 (illustré en couleur).
Notes: Cette huile sur carton, réalisée par Henri de Toulouse-Lautrec en 1894, est une étude préparatoire pour la reliure du recueil de gravures de Francisco de Goya, Goya - La Taureaumachie [sic] (fig. 1). Cette reliure fut exécutée en 1894 en mosaïque de cuirs par le maître relieur nancéien René Wiéner et fut présentée la même année à l'Exposition des Arts Décoratifs de Nancy, puis, sans doute, au Salon du Champ-de-Mars à Paris l'année suivante.

Cette collaboration inhabituelle du peintre à la réalisation d'une reliure d'art avait été encouragée par le critique influent de l'époque Claude Roger-Marx, grand admirateur de Lautrec, intéressé par le renouveau de cette discipline associée aux arts décoratifs1. Bien que submergé de commandes, l'artiste albigeois avait accepté cette commission touchant à un domaine qui ne lui était pas familier. Grand admirateur de Francisco de Goya, sans aucun doute sensible au regard critique, voire cynique, que ce dernier jetait, comme lui, sur la comédie humaine, il avait déjà illustré par une lithographie un autre recueil de gravures du maître espagnol, Los Desastres de la Guerra (1893). En outre, Toulouse-Lautrec était très intéressé par les combats de taureaux, ayant assisté à plusieurs tauromachies dans l'arène de la rue Pergolèse.

Pour l'élaboration de cette reliure, l'artiste choisit d'employer un répertoire iconographique symboliste pour évoquer l'univers tragique de la tauromachie placé sous le signe de la mort. Au lieu de représenter l'action du combat, l'artiste peint un crâne de taureau et un crâne humain dont les restes d'une perruque noire macabre révèlent l'identité d'un torero. Ceux-ci son reliés par une ligne diagonale rouge formée par la cape et par l'épée de la victime. Cette mise en scène crée une tension dramatique, plongeant le lecteur dans un combat à mort. Cette véritable allégorie de la mort évoque l'art des vanitas cher aux maîtres flamands du XVIIe siècle. Exemple singulier du génie spontané de Toulouse-Lautrec et de sa grande liberté picturale, cette oeuvre rappelle aussi qu'il fut l'un des plus brillants affichistes parisiens durant la Belle Epoque.

Notes :
1 T. Charpentier, "Un aspect peu connu de l'activité de Lautrec: sa collaboration à la reliure d'art", in Gazette des Beaux-Arts, septembre 1960, pp. 165-177.

(fig. 1) Henri de Toulouse-Lautrec, couverture de l'ouvrage de René Wiener Goya - La Taureaumachie [sic], 1894.
Musée Historique Lorrain, Nancy.
'THE BULL-FIGHT'; SIGNED WITH MONOGRAM LOWER LEFT; OIL ON BOARD.

La Tauromachie, painted by Henri de Toulouse-Lautrec in 1894, is a preparatory study for the cover of a collection of etchings by Francisco de Goya entitled Goya - La Taureaumachie ([sic]; fig. 1). The cover was produced in 1894 in a leather inlay by the master binder from Nancy, René Wiéner, and was included in the Exposition des Arts Décoratifs at Nancy, east of France, in the same year, and most likely at the Salon du Champ-de-Mars in Paris the following year.

This rare involvement of Toulouse-Lautrec in covers for artistic publications was encouraged by the influential critic of the time, Claude Roger-Marx, a great admirer of the artist, who was also interested in the revival of a discipline associated with the decorative arts1. A great admirer of Francisco de Goya and doubtless aware of the critical, and even cynical, eye that the Spanish painter cast on the human condition much like himself, Toulouse-Lautrec willingly agreed to work on this project. He had already produced a lithograph illustration for another collection of the Spanish master's etchings, Los Desastres de la Guerra (The Disasters of War; 1893), and he was also fascinated by bullfights, having attended a number of them at the bullring on the rue Pergolèse.

To decorate this cover, the artist employed a symbolist vocabulary to evoke the tragic world of the bullfight, and its omnipresent shadow of death. Rather than representing the action of the bullfight, Toulouse-Lautrec depicted two skulls -- with that of the bullfighter macabrely still donning its wig -- visually linked by the diagonal red line created by the bullfighter's cape and sword. The dramatic tension of this composition immerses the viewer in a fight to the death. The symbolism of this clear allegory for death is reminiscent of the vanitas genre so beloved by the great Flemish masters of the 17th century. A unique example of the spontaneous genius of Toulouse-Lautrec and his great pictorial freedom, this work also reaffirms that he was one of the most brilliant and innovative Parisian poster artists of the Belle Epoque.

Notes:

1 T. Charpentier, "Un aspect peu connu de l'activité de Lautrec: sa collaboration à la reliure d'art", in Gazette des Beaux-Arts, September 1960, pp. 165-177.
Christie's. collection Yves Saint Laurent et Pierre Bergé. 23 - 25 February 2009. Paris www.christies.com Image Christie's Ltd 2009