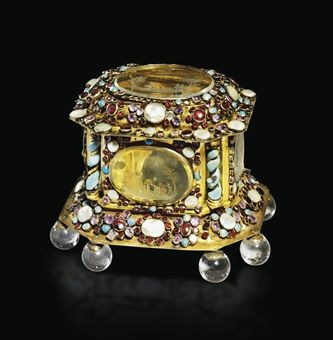 Coffret en vermeil, pierres semi-précieuses et cristal de roche par Johann Eisler, Nuremberg, 1680-1685, la gravure attribuèe à Hermann Schwinger
Octogonal reposant sur huit pieds-boules en cristal de roche, chaque panneau et le couvercle sertis d'une plaque en cristal taillé d'une scène de genre ou d'un putto, les angles appliqués d'une colonne torsadée en émail turquoise, le corps et le couvercle parsemés de cabochons en pierres semi-précieuses, poinçons sous le fond et striche, étiquette et marque au feutre noir ST.E.1503. Longueur: 15 cm. (5 7/8 in.). Estimate €20,000 - €30,000
Provenance: Vente Sotheby's, Die Fürstliche Sammlung Thurn und Taxis, Regensburg, 12-21 Octobre 1993, lot 1557.
Galerie J. Kugel, Paris.
Notes: Johann Eissler était spécialisé en objets montés, tout particulièrement en ivoire. Bien qu'on ne lui connaisse aucun autre coffret, plusieurs, par d'autres orfèvres comme Jonas Laminit ou Balthasar Gelb, sont répertoriés; ainsi que des coupes, couvercles et plats exécutés à Augsbourg (voir H. Seling, Die Kunst der Augsburger Goldschmiede, 1529-1868, Munich, 1980, illustr. 551 et 552). La gravure sur cristal est attribuée à Hermann Schwinger (1640-1683), probablement un élève de Georg Schwanhardt (1601-1657). Schwanhardt hérite de Caspar Lehman, graveur de l'empereur Rodolphe II à Prague, non seulement sa licence impériale mais également ses techniques qu'il continue à développer créant une école de graveurs dont fera partie Schwinger, caractérisée par de délicats paysages miniatures encadrés par de gros rinceaux.
A German Silver-Gilt Mounted, Semi-Precious Stone And Rock Crystal Casket, Maker's Mark Of Johann Eissler, , 1680-1685, The Engraving Of The Crystal Attributed To Hermann Schwinger
Octagonal resting on eight rock crystal ball feet, each side and cover inset with oval crystal panels variously engraved with courting couples, children playing and a soldier firing a canon in landscape, the angles with swirling turquoise enamelled columns, the overall body applied with semi-precious stones and mother-of pearls cabochons, marked underneath and with assay scrape, with label with ink inscription ST.E.1503
Johann Eissler specialized in mounted objects particularly those in ivory. Although no other casket by this maker appears to have been recorded, several by makers such as Jonas Laminit or Balthasar Gelb of Augsburg are known as well as cups, covers and dishes with similar decoration made in Augsburg (see H. Seling, Die Kunst der Augsburger Goldschmiede, 1529-1868, Munich, 1980, fig. 551 et 552). The rock crystal engraving is attributed to Hermann Schwinger (1640-1683), a follower and possibly a pupil of Georg Schwanhardt (1601-1657). Schwanhardt inherited from Caspar Lehman, engraver to the Emperor Rudolf II in Prague, his imperial licence as well as his techniques which he further developed, creating a school in Nuremberg which is characterised by delicate tiny landscapes framed by bold scrollwork.
Christie's. Collection Yves Saint Laurent et Pierre Bergé. 23 - 25 February 2009. Paris www.christies.com Image Christie's Ltd 2009