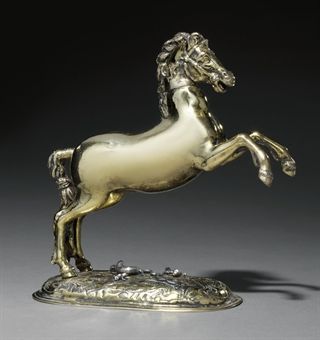 Cheval en vermeil par Wolf Christoph Ritter, Nuremberg, vers 1640
La base oblongue repoussée d'un paysage, appliquée de deux grenouilles, deux escargots, un serpent et une salamandre, le cheval cabré, la tête amovible, poinçons sur le bord et striche au revers. Longueur: 14 cm. (5½ in.). 404 gr. (14.25 oz.). Estimate €30,000 - €50,000
Literature: V. Laloux et P. Cruysmans, Le bestiaire des orfèvres, L'oeil du hibou, Suisse, 1994, illustr. p.70.
A German Silver-Gilt Cup Formed As A Horse Maker's Mark Of Wolf Christoph Ritter, Nuremberg, Circa 1640
The oblong base chased with landscapes and applied with two frogs, two snails, a snake and a salamander, the prancing horse with detachable head, marked on rim, assay scrape beneath base.
Christie's. Collection Yves Saint Laurent et Pierre Bergé. 23 - 25 February 2009. Paris www.christies.com Image Christie's Ltd 2009