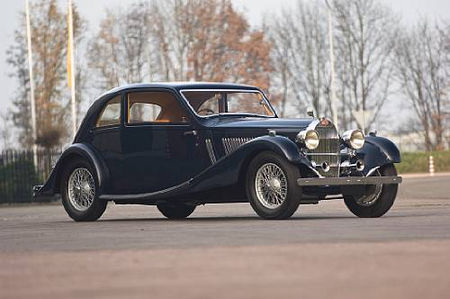 1934 Bugatti Type 57 Sports Saloon. Coachwork by James Young
Chassis no. 57158. Engine no. 6692/71. Sold for €306,700
Dotée d'une direction à droite comme toutes les grandes routières françaises de l'époque, le châssis n° 57158 du premier millésime fut facturé à l'agent Bugatti de Londres, Sorel, le 7 août 1934. L'usine Bugatti n'ayant pas le temps, dit-on, de carrosser la voiture pour le salon de Londres, James Young fut chargé de réaliser cette élégante et unique carrosserie qu'elle possède toujours aujourd'hui. La Bugatti fut immatriculée « HLH 302 » au Royaume-Uni et son premier propriétaire aurait été M. Cookson. Le deuxième fut M. Ripley et le troisième le très connu collectionneur de Bugatti (et ancien président du Bugatti Owners Club), le Colonel G. M. Giles, qui acheta la voiture en 1942 et l'utilisa beaucoup après 1945. Il a décrit cette voiture dans « Bugantics » comme sa « Bugatti XVII » (probablement sa 17e Bugatti) en l'appelant Frieda. La Type 57 partit ensuite aux Etats-Unis où elle eut plusieurs propriétaires (liste sur demande) avant d'être achetée par Desmond G. Fitzgerald de Washington DC à la fin des années 1980. Desmond Fitzgerald est noté comme propriétaire sur l'ancien titre américain (émis en juillet 1989) qui a été retamponné par la DVLA (en date de juillet 2002 pour l'immatriculation ancienne « JAS 950 ») précisant que la voiture était au Royaume-Uni à l'époque.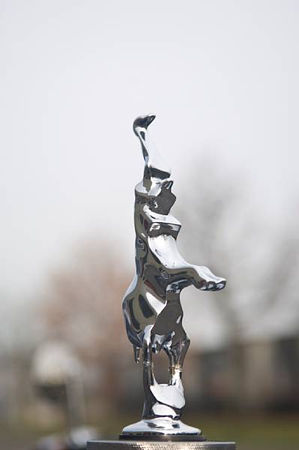 Après cet achat, M. Fitzgerald fit restaurer totalement la voiture. La carrosserie fut confiée à Niko de Niko-Michael Coachwork, Port Washington, New York, tandis que l'intérieur était regarni par Johann Merkhofer de Vantage Auto Interiors à Stamford (Connecticut). Le moteur fut totalement reconstruit à grands frais par Vintage Restorations et la boîte de vitesses, le pont arrière et les freins par Motive à Port Washington. Après cette restauration, la Bugatti remporta sa classe et fut classée deuxième du trophée « Best of Show » aux Greenwich Concours. Achetée par feu Bob Lalement en 2002, elle avait parcouru moins de 3 200 km depuis sa restauration. La Bugatti resta dans l'importante collection de Bob Lalement en Belgique et, après son décès, fut achetée par l'actuel propriétaire en 2006.
Cette unique Type 57 qui se présente en parfaite condition de fonctionnement possède son outillage d'origine et ses papiers d'immatriculation aux Pays-Bas.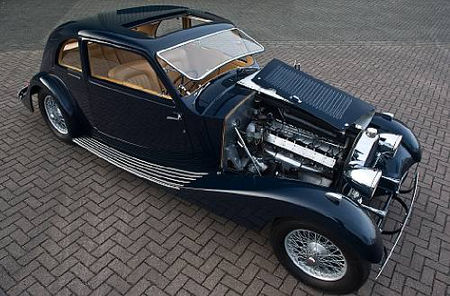 'The car sped along at 80mph with the comfort and quietness one associates with the Type 57... We were quite willing to believe that Jean Bugatti has achieved the 435 kilometres to Paris in just under 1½ hours in the Type 57 - an average of 77mph...' - Motor Sport, May 1939.
By the early 1930s Ettore Bugatti had established an unrivalled reputation for building cars with outstanding performance on road or track; the world's greatest racing drivers enjoying countless successes aboard the Molsheim factory's products and often choosing them for their everyday transport. Although Bugatti is best remembered for its racing models, most of the 6,000-or-so cars produced at the Molsheim factory were touring cars of sporting character. Produced from 1934 to 1940, the Type 57 exemplified Bugatti's policy of building fast and exciting touring cars possessing excellent handling and brakes. The Type 57 was powered by a twin-cam engine derived from that of the Type 51 Grand Prix car, and was the firm's most popular model.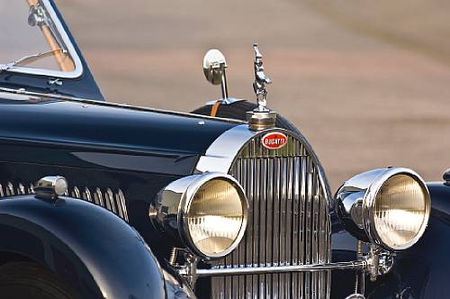 Because of its lengthy run of success, Ettore Bugatti had remained stubbornly committed to his single-cam engine, only adopting the more advanced double-overhead-camshaft method of valve actuation, after much prompting by his eldest son Jean, on the Type 50 of 1930. From then on Jean Bugatti took greater responsibility for design, his first car being the exquisite Type 55 roadster, a model ranking among the finest sports cars of the 1930s. He followed that with a design of equal stature, the Type 57. A larger car than the Type 55, the Type 57 was powered by a 3.3-litre, double-overhead-camshaft straight eight of modern design housed in Bugatti's familiar vintage-style chassis. The range showed the strong influence of Jean Bugatti and at last gave the marque a civilised grande routière to match those of rivals Delage and Delahaye.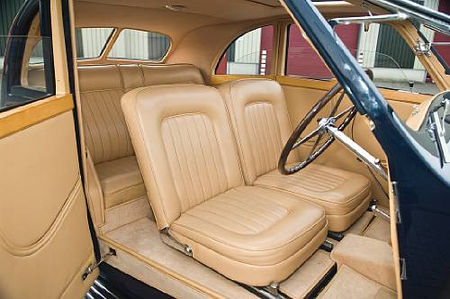 The Type 57 attracted coachwork of the finest quality executed in a startling variety of styles but was no mere rich man's plaything, as evidenced by two outright wins at Le Mans. Proof, if it were needed, that ancestral virtues had not been abandoned when creating a car fit to rank alongside Rolls-Royce or Bentley. Its success is revealed by the production figures: some 630 examples of all Type 57 models were produced between 1934 and 1940, and the post-war Type 101 was based on its chassis. However, although many Type 57s were fitted with bespoke bodies, the most popular coachwork was built to Jean Bugatti's designs by the marque's preferred carrossier, Gangloff of Colmar, just a few miles from the Bugatti works at Molsheim.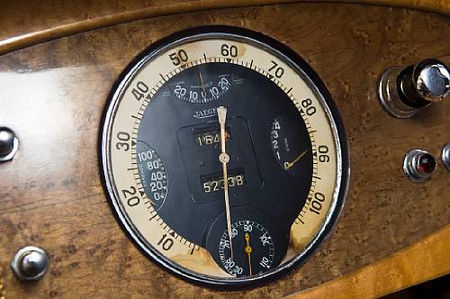 This Bugatti Type 57 sports saloon, chassis number '57158', was built for the 1934 London Motor Show and exhibited on the stand of coachbuilder, James Young. One of the handful of British firms that would resume coachbuilding after WW2, the Bromley-based carriage-maker had bodied its first automobile in 1908, affiliating itself with a succession of quality marques throughout the 1920s and 1930s before being acquired by the Jack Barclay group in 1937. Of the approximately 630 Type 57s made, James Young was responsible for bodying 12, only two of which were two-door models like this one. Reflecting the contemporary interest in streamlining, James Young's coachwork is beautifully proportioned and must surely be one of the most successful British-built bodies on the Type 57 chassis.
Right-hand drive, like most quality French cars of the period, chassis number '57158' was one of the first Type 57s to leave the factory and was invoiced to London Bugatti agent Sorel on 7th August 1934. Reputedly, the Bugatti factory did not have time to build a body for the car in time for the London Motor Show so James Young was commissioned to supply the handsome one-off coachwork it retains today. The Bugatti was registered 'HLH 302' in the UK and its first owner is believed to have been a Mr Cookson. Its next owner was a Mr Ripley, followed by the well-known Bugatti collector (and past President of the Bugatti Owners Club) Colonel G M Giles, MC who acquired the car in 1942 and used it extensively after the war. He described the car in 'Bugantics' as his 'Bugatti XVII' (presumably his 17th Bugatti), calling her 'Frieda'. The Type 57 subsequently went to the USA, passing through a number of hands in that country (list available) before being acquired by Desmond G Fitzgerald, of Washington, DC in the late 1980s. Desmond Fitzgerald is recorded as owner on the accompanying old US title deed (issued July 1989), which has been over-stamped by the DVLA (dated July 2002 for the age-related registration mark 'JAS 950') indicating that the car was in the UK at that time.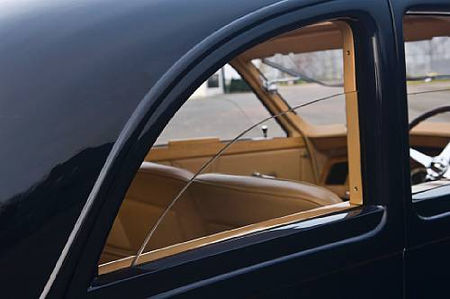 Following its acquisition, Mr Fitzgerald commissioned an extensive restoration. The coachwork was entrusted to Niko of Niko-Michael Coachworks, Port Washington, NY while the interior was re-trimmed by Johann Merkhofer of Vantage Auto Interiors in Stamford, Connecticut. The engine was completely rebuilt at great expense by Vintage Restorations of Connecticut, and the gearbox, back axle and brakes by Motive in Port Washington. Post-restoration the Bugatti won top honours in its class at the Greenwich Concours and was a runner up for 'Best of Show'. Acquired by the late Bob Lalement in 2002, at that time it had covered fewer than 2,000 miles since the restoration's completion. The Bugatti remained within Mr Lalemant's important private collection in Belgium, and after his death was acquired by the current owner in 2006.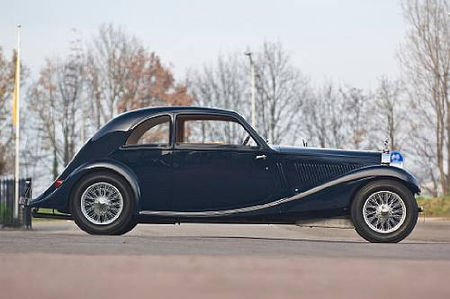 This unique Type 57 is presented in superb driveable condition and comes complete with its original tool kit and Netherlands registration papers. A rare opportunity to acquire a coachbuilt Type 57 representing the crème de la crème of Bugatti sports cars.
Bonhams. Automobiles d'Exception à Retromobile, Paris, 7 Feb 2009. Paris Expo, Porte de Versailles (Copyright © 2002-2009 Bonhams 1793 Ltd., Images and Text All Rights Reserved)