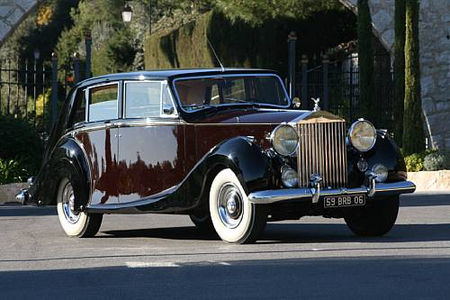 Ex-Pierre Bergé/ Yves Saint-Laurent. c.1953 Rolls-Royce Silver Wraith 4½-Litre Limousine. Coachwork by Hooper & Co
Chassis no. LWVH87. Engine no. W86H. Sold for €138,000
Sommet du luxe automobile en son temps, la Rolls-Royce Silver Wraith, plus longue que la Silver Dawn, était destinée à recevoir des carrosseries traditionnelles construites à l'unité. Celle-ci fut la propriété de l'industriel français Pierre Bergé, associé du styliste de haute couture Yves Saint-Laurent.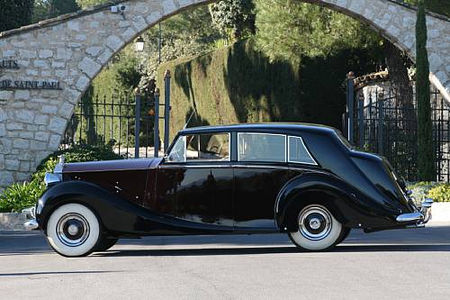 Le châssis n° LWVH87 achevé en juin 1953 fut vendu neuf en Floride à un certain Josiah K. Lilly. La voiture fut livrée carrossée en limousine « Teviot III » (dessin n° 8283, caisse n° 9820) par Hooper & Co., carrosserie londonienne fournisseur de la reine Victoria et du roi Edouard VII et considérée comme la plus compétente dans sa spécialité.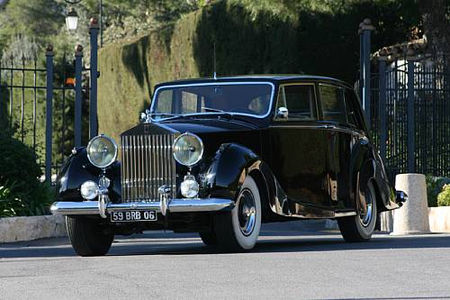 Bel exemple du style Empress Line à angles vifs ou « razor edge », c'est une des cinquante limousines Teviot III construites sur un total de 468 Silver Wraith sorties de chez Hooper. Rare dans cette version à conduite à gauche, la voiture est peinte en noir et bordeaux avec intérieur en cuir beige et moquettes rouge, séparation et bar dans le compartiment arrière.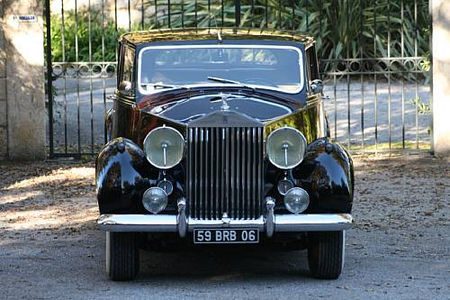 La Silver Wraith revint en Europe par la suite pour être achetée en France par Pierre Bergé pour Yves Saint-Laurent. La Rolls fut remisée en Normandie au château des deux associés où elle fut utilisée pour des déplacements personnels ainsi que pour des manifestations de mode et des séances photos. En 1998 la voiture fut acquise par M Secordel – avant-dernier propriétaire et membre bien connu du Rolls-Royce Enthusiasts' Club – qui conserva la précédente immatriculation dans le département du Calvados « 11 SH 14 ». Le dossier de son historique contient des factures de 1994 à 2005 pour un total de plus de 35 000 euros émanant principalement du spécialiste français de la marque Sauzeau Automobiles.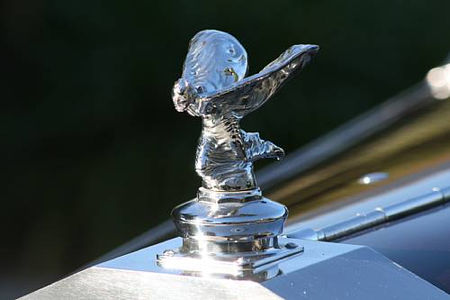 L'actuel propriétaire, un des plus renommés collectionneurs français d'automobile classiques, acheta auprès d'Etude de Provence en juin 2005 cette Silver Wraith qui a été régulièrement entretenue et mise en route par son mécanicien personnel. Au cours de cette période, le radiateur a été refait et un ventilateur électrique a été installé pour améliorer le refroidissement en circulation urbaine. On note aussi des factures Sauzeau pour la réfection du boîtier de direction (3 600 euros), la révision des suspensions et le montage d'amortisseurs neufs (9 800 euros) et le remplacement du collecteur d'échappement (1 500 euros).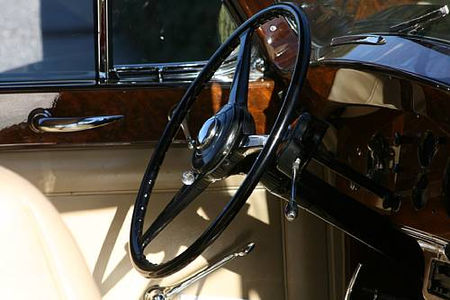 Offerte avec sa carte grise française, cette prestigieuse Rolls-Royce habillée d'une carrosserie unique est une candidate naturelle aux plus renommés concours d'élégance.
'In a world of shattered monetary values and yet much-improved cars, the Rolls-Royce still stands alone. Perhaps the most striking general thought in considering this supreme machine today is that it has a name more universally honoured as a symbol of quality than that of any manufactured product.' – The Autocar, 9th December 1949.
Rolls-Royce's first post-war model, the Silver Wraith debuted in late 1946 and employed a chassis similar to that of the Silver Dawn and MkVI Bentley, though with a 7" longer wheelbase at 10' 7". The 'Wraith however, was only intended for traditional coachbuilt bodies rather than the MkVI's pioneering 'standard steel' bodywork. Powering Rolls-Royce's post-war range was a new 4,257cc six-cylinder engine of cast-iron, monobloc construction with aluminium cylinder head featuring overhead inlet and side exhaust valves. Only the bore and stroke dimensions were shared with the pre-war overhead-valve Wraith engine, the major advantage of this 'F-head' layout being its large valves and generous water jacketing around the valve seats. A four-speed manual gearbox with synchromesh was standard initially, an automatic option (for export models only at first) not becoming available until 1952, at which time the engine was enlarged to 4,566cc and a long-wheelbase (11' 1") version introduced. Manufacture of the short-wheelbase 'Wraith ceased in 1952, with a total production of 1,144; the long-wheelbase version continued, latterly with a 4.9-litre engine, until the introduction of the Phantom V in 1959, by which time 639 chassis had been completed.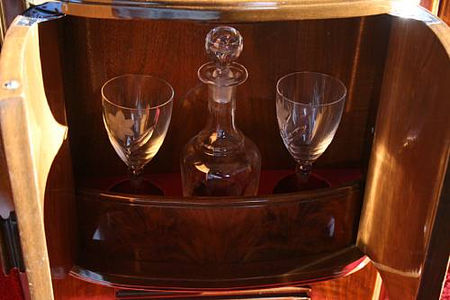 The last word in motoring luxury in its day, this wonderful Silver Wraith was previously owned by French industrialist, Pierre Bergé, the lifelong partner of celebrated haute couturier, Yves Saint-Laurent. Chassis number 'LWVH87' was manufactured in June 1953 and sold new in Florida, USA to a Mr Josiah K Lilly. The car was delivered with 'Teviot III' limousine coachwork (design number '8283', body number '9820') by Hooper & Co, London-based carriage makers to Queen Victoria and King Edward VII and arguably the finest of all British coachbuilders. An example of the then fashionable 'Empress Line', razor-edge style, it is one of only 50 Teviot III limousines out of a total of 468 Silver Wraiths bodied by Hooper. A rare left-hand drive model, the car is finished in black/Bordeaux with red-carpeted beige leather interior, the latter featuring an internal division and cocktail bar to the rear compartment.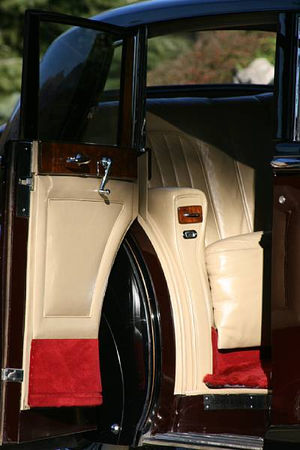 Eventually the Silver Wraith returned to Europe and was purchased in France by Pierre Bergé for Yves Saint-Laurent. The Rolls was kept at the partners' Normandy chateaux, where it served as their personal transportation and was also used for fashion shows and photo shoots. In 1998 the car passed to Mr Secordel - the immediately preceding owner - a well known member of the Rolls-Royce Enthusiasts' Club, who retained the previous Calvados-region registration '11 SH 14' that it had been given while resident at Saint-Laurent and Bergé's chateaux. The accompanying history file contains bills dating from 1994 to 2005 totalling more than 35,000 euros, mainly from recognised marque specialists Sauzeau Automobiles in France.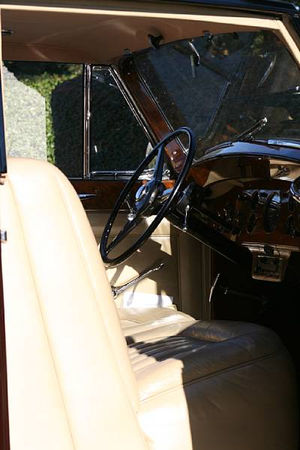 The present owner, one of France's most celebrated classic car collectors, bought the Silver Wraith through Etude de Provence in June 2005, since when it has been regularly serviced and exercised by the his personal mechanic. While the car has been in the vendor's care, the radiator has been rebuilt and an electric cooling fan fitted to prevent overheating in traffic, while there are Sauzeau invoices on file for rebuilding the steering box (3,600 euros), overhauling the suspension and fitting new shock absorbers (9,800 euros), and replacing the exhaust collector (1,500 euros).
Offered with French Carte Grise, this celebrity-owned Rolls-Royce Silver Wraith possesses unique coachbuilt style and is a guaranteed concours invitee.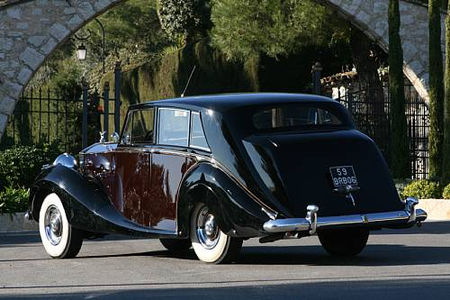 Bonhams. Automobiles d'Exception à Retromobile, Paris, 7 Feb 2009. Paris Expo, Porte de Versailles (Copyright © 2002-2009 Bonhams 1793 Ltd., Images and Text All Rights Reserved)