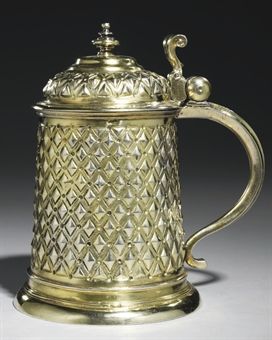 Chope en vermeil par Philipp Pepfenhauser, Augsbourg, vers 1612
Sur piédouche uni, le corps tronconique et le couvercle décorés en petites pointes de diamant et points sur fond amati, la prise en toupie, poinçons sur le fond et sur le couvercle et striche sur le fond et dans le couvercle. Hauteur: 15 cm. (5 7/8 in.). 534 gr. (18.85 oz.). Estimate €10,000 - €15,000
Drinking vessels are both the most used and the most commissioned pieces of silver. They came, however, in many different shapes and sizes from goblets to tankards to standing cups. Germany, which has always respected drinking formality, has developed many shapes. As a beer producing country, the tankard is the most commonly used form in Germany; though the shape varies from region to region, being stout in the South and slender in the North. On the other hand, wine drinking countries such as France or Hungary, developed the beaker, distinguished by its decoration, such as the sheep's-wool engraving typical of Hungarian and Transylvanian beakers.
If the shapes have varied very little over time, it is the decoration that differentiates the centres of production as well as the talents of the goldsmiths, who found inspiration in the existing iconographic sources, creating very elaborate compositions such as on the tankard attributed to Hans Ment.
In addition to this utilitarian function, drinking vessels, such as standing cups, also assume a representative role, when they would be displayed on the buffet in order to impress visitors and confirm the owner's importance.
Provenance: Galerie Neuse, Brême.
A German Silver-Gilt Tankard, Maker's Mark Of Philipp Pepfenhauser, Augsburg, Circa 1612
Tapering cylindrical on spreading foot, the body and cover with hob-nail ornament divided by matting and circles, with baluster finial, bifurcated thumbpiece and scroll handle, marked on base and cover, assay scrape beneath base and on cover.
Christie's. Collection Yves Saint Laurent et Pierre Bergé. 23 - 25 February 2009. Paris www.christies.com Image Christie's Ltd 2009