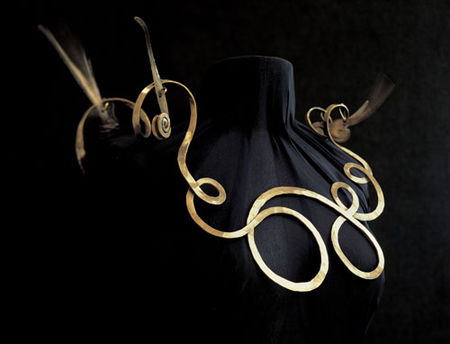 Alexander Calder (American, 1898–1976), The Jealous Husband, ca. 1940. Brass wire; 14 x 16 in. The Metropolitan Museum of Art, New York, The Muriel Kallis Steinberg Newman Collection, Gift of Muriel Kallis Newman, 2006 (2006.32.6) © 2008 Calder Foundation, New York / Artists Rights Society (ARS), New York
American-born artist Alexander Calder (1898–1976) is celebrated for his mobiles, stabiles, paintings, and objets d'art. This landmark exhibition will be the first museum presentation dedicated solely to his extensive output of inventive jewelry. During his lifetime Calder produced approximately 1,800 pieces of brass, silver, and gold body ornaments, often embellished with found objects such as beach glass, ceramic shards, and wood. Calder Jewelry will feature approximately 90 works—bracelets, necklaces, earrings, brooches, and tiaras—many of which were made as personal gifts for the artist's family and friends. While Calder's more diminutive avant-garde creations converged closely with the aesthetics of the modern age, they always remained personal and unmistakably Calder.
Accompanied by a catalogue.


The exhibition was organized by the Norton Museum of Art, West Palm Beach, Florida and the Calder Foundation, New York.
Alexander Calder (American, 1898–1976), Brooch, 1958. Gold and steel wire; 2 1/2 x 5 1/4 in. Courtesy Calder Foundation, New York © 2008 Calder Foundation, New York / Artists Rights Society (ARS), New York (Inscription: "XIX - II - LVIII" For Louisa on her fifty-third birthday, February 19, 1958)
Alexander Calder (American, 1898–1976), Necklace, ca. 1943. Silver wire, cord, and ribbon; Loop: 15 3/4 in.; element length: 5 1/4 in. Courtesy Calder Foundation, New York © 2008 Calder Foundation, New York / Artists Rights Society (ARS), New York (Inscription: "Calder" )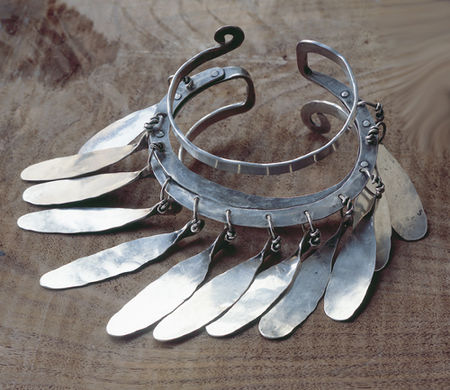 Alexander Calder (American, 1898–1976), Bracelet, ca. 1948. Silver wire; 2 3/4 x 6 x 4 in. Courtesy Calder Foundation, New York © 2008 Calder Foundation, New York / Artists Rights Society (ARS), New York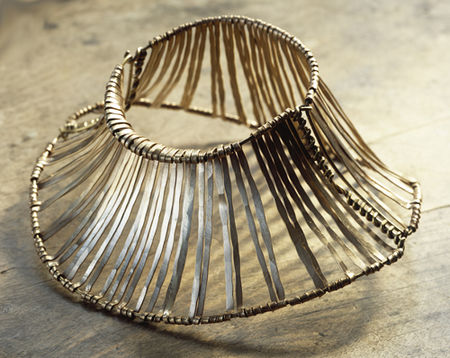 Alexander Calder (American, 1898–1976), Necklace, ca. 1940 . Brass wire; 8 1/8 x 6 3/4 x 4 1/2 in. Courtesy Calder Foundation, New York © 2008 Calder Foundation, New York / Artists Rights Society (ARS), New York
Alexander Calder (American, 1898–1976), Two Bracelets, ca. 1945 (silver) and ca. 1940 (brass). Silver wire; 4 9/16 x 2 3/4 x 2 5/16 in. Inscription: "Calder"; and brass wire; 4 3/4 x 5 x 2 1/8 in. Courtesy Calder Foundation, New York © 2008 Calder Foundation, New York / Artists Rights Society (ARS), New York
Alexander Calder (American, 1898–1976), Necklace, ca. 1938. Brass wire, glass, and mirror; Loop: 35 1/2 in.; flower: 8 x 8 in. Courtesy Calder Foundation, New York © 2008 Calder Foundation, New York / Artists Rights Society (ARS), New York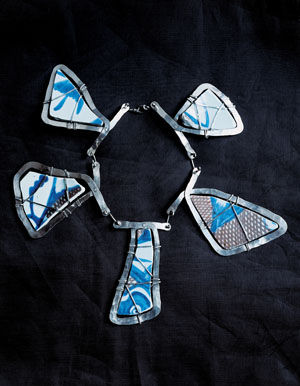 Alexander Calder (American, 1898–1976), Caged Crockery, ca. 1945. Silver wire and ceramic; Loop: 18 3/4 in.; element: 5 x 2 3/4 in.. Collection Harold and Emily Starr© 2008 Calder Foundation, New York / Artists Rights Society (ARS), New York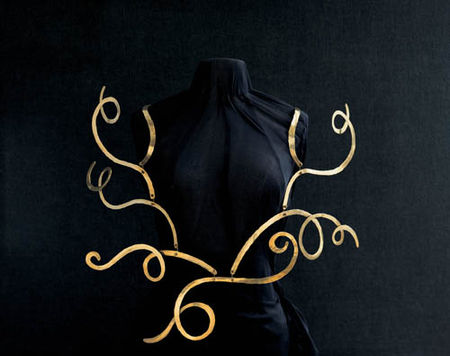 Alexander Calder (American, 1898–1976), Necklace, ca. 1940. Brass wire; 23 1/4 x 29 3/4 in. The Metropolitan Museum of Art, New York, The Muriel Kallis Steinberg Newman Collection, Gift of Muriel Kallis Newman, 2006 (2006.32.5) © 2008 Calder Foundation, New York / Artists Rights Society (ARS), New York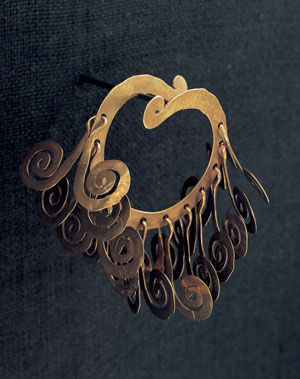 Alexander Calder (American, 1898–1976), Bracelet, 1940. Brass wire; 2 x 3 1/4 x 3 1/4 in. The Metropolitan Museum of Art, New York, The Muriel Kallis Steinberg Newman Collection, Gift of Muriel Kallis Newman, 2006 (2006.32.7) © 2008 Calder Foundation, New York / Artists Rights Society (ARS), New York
Alexander Calder (American, 1898–1976), Display Head for Jewelry, 1940, and Earrings, ca. 1942. Display Head: sheet metal, wood, paint; Earrings: Silver and steel wire; 3 x 4 5/8 in. each. Display Head: Miani Johnson, New York; Earrings: Private Collection © 2008 Calder Foundation, New York / Artists Rights Society (ARS), New York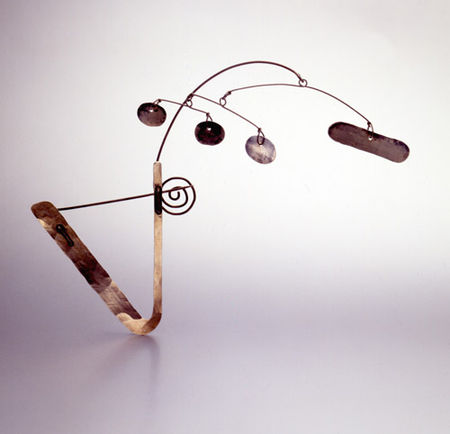 Alexander Calder (American, 1898–1976), "V for Victory" Brooch, 1944. Silver, Private Collection © 2008 Calder Foundation, New York / Artists Rights Society (ARS), New York