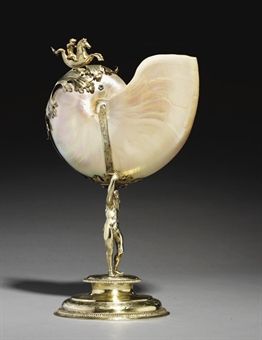 Nautile à monture en vermeil par Elias Adam, Augsbourg, 1711-1715
La base ovale à bordure godronnée et décorée d'arabesques, le fût en forme de Neptune (trident manquant) soutenant le large coquillage, les montants à charnière gravés de fleurons et se terminant sur la spirale par de larges feuilles d'acanthe, surmonté d'un triton, poinçons sur le pied et striche. Hauteur: 29 cm. (11 3/8 in.). Estimate €10,000 - €15,000
Provenance: Collection Nicolas Landau.
Galerie J. Kugel, Paris.
Literature: Connaissance des Arts, janvier 1960, p.50-59.
H-U Mette, Der Nautiluspokal, wie Kunst and Natur miteinander spielen, Munich, 1995, p.170, no 159.
Notes: Il existe un autre nautile présenté chez Sotheby's Genève le 18 mai 1992, lot 100, daté 1720 qui possède le même fût en Neptune et la même prise. La seule différence, au niveau de la base et de la monture du coquillage, nous amène à déduire que le nautile de notre coupe a sans doute était remplacé et la monture adaptée au nouveau coquillage.
A German Silver-Gilt Mounted Nautilus Cup, Maker's Mark Of Elias Adam, Augsburg, 1711-1715
On spreading oval gadrooned foot with a band of foliage and scrolls on matted ground, the stem formed as Neptune (trident missing) holding the nautilus, the straps engraved with flower heads and terminating on the spiral with a large acanthus leaf, capped with a triton, marked on foot and with assay scrape
A similar nautilus shell dated 1720 with the same stem and mounts was sold, Sotheby's Geneva, 18th May 1992, lot 100. The mounts on that example indicate that the present nautilus shell is probably a replacement and the mounts adapted to fit.
Christie's. Collection Yves Saint Laurent et Pierre Bergé. 23 - 25 February 2009. Paris www.christies.com Image Christie's Ltd 2009