Joan Miró, Painting (Spanish Dancer), 1957. Oil on canvas, 146 x 114. Gift of Sylvia and Joseph Slifka, New York, to American Friends of the Israel Museum-
CINCINNATI, OH.- The Cincinnati Art Museum will be the sole U.S. venue for an exhibition that features works by the greatest masters of Dada and Surrealist art, including Salvador Dalí, Marcel Duchamp, Pablo Picasso, Max Ernst, René Magritte, Joan Miró, Jean (Hans) Arp, Man Ray, Kurt Schwitters, Hannah Höch and Paul Delvaux. Surrealism and Beyond: In the Israel Museum, Jerusalem provides a comprehensive survey of Surrealist art from its roots in the beginnings of the Dada movement in 1916, through recent manifestations in international contemporary art. The exhibition—on view from February 15 through May 17, 2009—will showcase over 200 works.

Organized thematically, Surrealism and Beyond offers an in-depth look at the Dada and Surrealist legacy across a full range of artistic strategies and mediums, including painting, sculpture, assemblage, readymade, photomontage, collage and film. All major practitioners are represented, along with contemporary artists influenced by them.

"These are very exciting works drawn from one of the finest collections of Surrealist art in the world," said Art Museum director Aaron Betsky. "Surrealism and Beyond will present exceptional works known across the world by such noted artists as Dalí, Magritte, Miró and Picasso, as well as significant pieces by lesser known artists such as Paul Delvaux and André Masson."

The exhibition presents the finest examples of the Surrealist and Dada movements culled from the more than 1,200 works in the Dada and Surrealist holdings of the Israel Museum, Jerusalem. The Israel Museum is recognized as a leading international repository for research and display in these important modernist movements—most notably through the 1998 gift to the Museum of the Vera and Arturo Schwarz Collection of Dada and Surrealist Art.

Curated by Adina Kamien-Kazhdan, David Rockefeller Curator of Modern Art at the Israel Museum, and at the Cincinnati Art Museum by Benedict Leca, Curator of European Painting, Sculpture and Drawings, Surrealism and Beyond is organized in five themes: Marvelous Juxtapositions, Automatism and Its Evolution, Biomorphism and Metamorphosis, Illusion and Dreamscape, and Desire.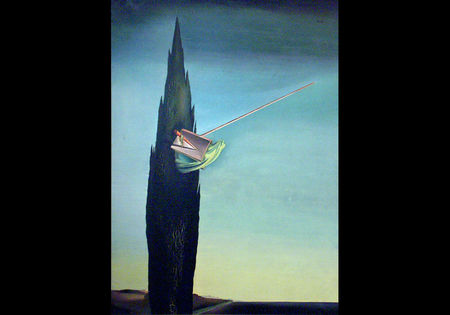 Salvador Dali, Surrealist Essay, 1934. Oil on canvas, 110 x 80. Bequest of Katherine Sonneborn Falk, Jerusalem