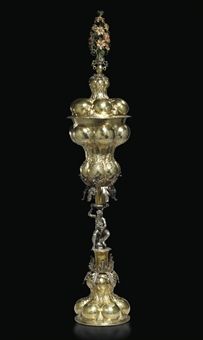 La coupe d'Altenstadt. Coupe en argent et vermeil par Hinrich Ohmssen, Hambourg, datée 1649
Décorée de cupules repoussées de motifs auriculaires sur fond amati, le fût en Flore et appliqué de feuillages stylisés, gravée sur le bord, le couvercle en large bouquet polychrome, poinçons sur le bord. Hauteur : 80,5 cm. (31. in.) 1806 gr. (63.70 oz.) (2). Estimate €50,000 - €80,000
Provenance: Cadeau de la ville d'Altenstadt pour Georg-Wilhelm duc de Calenberg puis de Lunebourg-Celle (1624-1705) suite à son accession à la tête du duché en 1648.
Par descendance dans la famille royale de Hanovre.
Galerie J. Kugel, Paris.
Literature: Dans l'inventaire des Hanovre de 1747, p. 125, référencée sous le titre:
13 Drinking cups of different sizes, all with lids
No 5 On the lid, hallmark of Oldenstadt
Gift of homage 11 sept. 1649
4 (marks) 12 (ounces) 1/8 (lot)
Répertoriée dans le M. Rosenberg, op.cit., vol. II, no. 2412 a-b), dans les collections du Herzog von Cumberland à Vienne.
Répertoriée dans le Scheffler, Goldschmiede Niedersachsen I, Berlin, 1965, p. 449, no. 874 d).
H. Grandsart, " Les Coupes des Hanovre ", Connaissance des Arts, 2006, numéro 634, illustr. p. 8.
Engraved: L'inscription sur le bord est "AMBTS ALTENSTADT HULDINGUNGS PRAESENT 11 SEPTEM : ANNO 1649" qui signifie cadeau fait par le district d'Altenstadt à l'occasion de l'hommage 11 septembre: année 1649.
Notes: Une ville du nom d'Altenstadt se trouve à l'ouest de Kassel. Cette ville faisait partie au milieu du XVIIème siècle du duché de Calenberg-Göttingen dont Georg-Wilhelm prit la tête en 1648.
The Altenstadt Cup. A Large German Parcel-Gilt Cup and Cover, Maker's Mark Of Hinrich Ohmssen, Hamburg, Dated 1649
On circular lobed foot chased with foliage and auricular ornament, the stem with scroll calyx and formed as the seated figure of Flora holding a cornucopia, the waisted lobed bowl similarly chased, the plain rim engraved with inscription, with elaborate two-handled vase with cold painted flower finial, marked on border
The inscription reads 'AMBTS ALTENSTADT HULDINGUNGS PRAESENT 11 SEPTEM :ANNO 1649' which translates as A present made by the District of Altenstadt as Homage 11 September: Year 1649.
A city named Altenstadt is located close to the town of Kassel. During the 17th century this city was part of the duchy of Calenberg-Göttingen of which Georg-Wilhelm became Duke in 1648.
Christie's. Collection Yves Saint Laurent et Pierre Bergé. 23 - 25 February 2009. Paris www.christies.com Image Christie's Ltd 2009