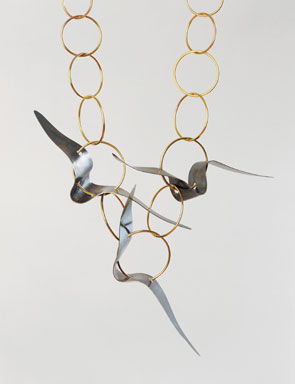 Dorothea Prühl, "Birds in the Air", 2007, stainless steel, length of one shape 18 cm | Photo: Helga Schulze-Brinkop
MUNICH.- Dorothea Prühl is a leading exponent of the current art jewellery scene. Her aesthetic stance is informed by abstract impressions from nature, concentration on essentials, eminent sensitivity and sculptural power. She makes basic statements in gold and silver – but also in wood, aluminium, titanium and stainless steel – impressions manifest in generously proportioned, clear entities. Starting with what is there, she tracks it down to its inmost core, applying to its quintessence a new aesthetic idiom – it might be a flower, the wind, a house, birds in flight.

Born in Breslau (now Wrocław, Poland) in 1937, Dorothea Prühl studied art at Burg Giebichenstein in Halle (1956 – 1962) before working in industry as a designer of manufactured jewellery. In 1966 she returned to Burg Giebichenstein as an instructor in jewellery-making. From 1991 head of the jewellery class at Burg Giebichenstein University of Art and Design Halle, Dorothea Prühl held a chair there from 1994, until she retired in 2002. Hence she has exerted a formative influence on the German jewellery scene both through her work and her teaching.

'Dorothea Prühl's works are great in every sense of the word … With her jewellery she has set standards, importantly and memorably so. Her necklaces are empowering – for wearers and viewers alike." (Florian Hufnagl, Die Neue Sammlung)

In close collaboration with the artist, Die Neue Sammlung –The International Design Museum Munich – is showing a selection of Dorothea Pruehl's necklaces in the light-filled rotunda of the Pinakothek der Moderne.