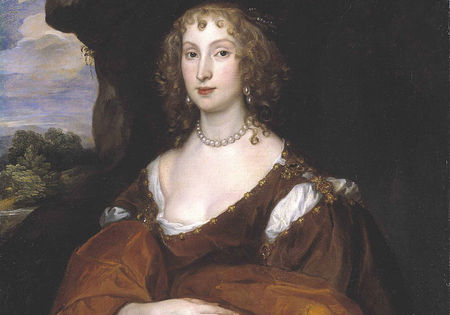 Anthony Van Dyck, Portrait of Mary Hill, Lady Killigrew 1638. Tate © Tate.Oil on canvas 1065 x 833 mm frame: 1274 x 1039 x 85 mm.
LONDON.- Sir Anthony van Dyck (1599-1641) was the greatest painter in seventeenth-century Britain. Van Dyck and Britain will reveal the Flemish artist's unique impact on British cultural life, from the reign of Charles I onwards. This visually sumptuous exhibition will bring together some of the finest and most magnificent paintings that van Dyck produced during his years in Britain. It will also demonstrate his continuing visual legacy through portraits by artists from the eighteenth to the twentieth centuries, including Sir Joshua Reynolds and John Singer Sargent.

Van Dyck was born and trained in the major art centre of Antwerp. He made a brief initial visit to London in 1620-21 before returning in 1632 to become the outstanding painter at the art-enthusiastic court of King Charles I. Intensely ambitious and hugely productive, he re-invented portrait painting in Britain, retaining his pre-eminence until his premature death at his house in Blackfriars in 1641, at the age of 42. Working in a period of intense political ferment during the run-up to the British Civil Warthat was to result in the execution of Charles I, his principal patron, van Dyck portrayed many of the main protagonists of the period. His iconic portraits of King Charles I have shaped our view of the Stuart monarchy while the compositions he used were to influence subsequent generations of British painters.

The exhibition will explore the context of van Dyck's principal English works, examining his innovative approach to painting the British elite – a creative synthesis of his Antwerp baroque training and his intensive study of Italian, and especially Venetian, painting. It will look at van Dyck's use of costume and his luscious, sparkling depiction of the rich fabrics of the period. It will also look at the ways in which he was influenced by the types of portrait that he found in Britain already.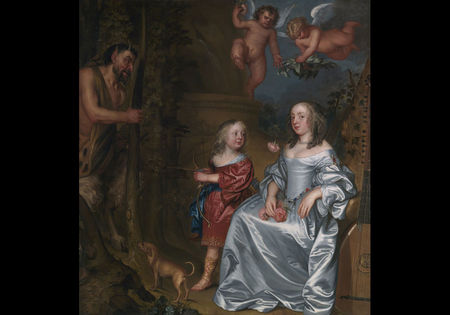 John Hayls, Portrait of a Lady and a Boy, with Pan AFTER CLEANING 1655-9 Tate © Tate.