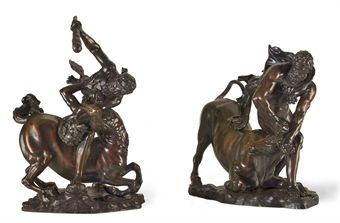 Paire de groupes en bronze représentant Hercule et un centaure ainsi qu'Hercule terrassant Achelous sous la forme d'un taureau, d'après Giambologna (1529-1608) et Pietro Tacca (1577-1640), travail probablement français, première moitié du XVIIIème siècle
En bronze, le premier groupe représentant Hercule, debout, attaquant le centaure, une massue dans sa main droite; le second représente Hercule terrassant le taureau, chaque groupe sur une base entièrement moulée de style naturaliste; patine brun rouge à rehauts brun clair ; restaurations. Hauteur: 70.5 et 57.5 cm. (27½ et 22½ in.) (2) Estimate €300,000 - €500,000
LITTERATURE COMPAREE: C. Avery, Giambologna - The Complete Sculpture, Oxford, 1987, pp. 141-143.
Florence, Museo Nazionale del Bargello, Giambologna: gli dei, gli eroi, 2 mars - 15 juin 2006, B. Paolozzi Strozzi et D. Zikos eds., pp. 175-187.
Notes: Ces deux importants groupes en bronze font partie d'une série des Douze Travaux d'Hercule, inspirée des compositions en argent de Giambologna, réalisée dans les années 1570 et 1580, et ayant été commandée pour la décoration de la Tribuna du Grand Duc Francesco I de' Medicis à Florence. Bien que les six exemplaires originaux en argent aient aujourd'hui disparu, il existe cependant des documents prouvant que Pietro Tacca, héritier de l'atelier de Giambologna au Borgo Pinti, travaillait en effet lui-même sur une série des Travaux coulée en bronze entre 1612 et 1633. Conçus à une plus grande échelle que les compositions originales, les modèles exécutés par Tacca s'inspiraient de ceux créés par Giambologna. Cependant, il n'est pas exclu que Tacca ait ajouté aux oeuvres originales de Giambologna ses propres compositions afin de compléter la série. Ces derniers modèles jouissèrent d'une telle popularité que certains exemples entrèrent dans les collections les plus prestigieuses; parmi ceux-ci sept Travaux, dont un version d'Hercule et Acheloüs, correspondant aux numéros 301 à 308, anciennement dans la collection de Louis XIV.
Il s'avère que certains des modèles créés par Giambologna et Tacca ne correspondaient pas véritablement aux Travaux d'Hercule; cette remarque valant pour les deux groupes dont il est ici question. Parce que les Travaux canoniques comprenaient un certain nombre d'histoires ne pouvaient être transposés en termes sculpturaux, de nouvelles histoires et prouesses ayant trait à la vie du héros furent crées afin de compléter la série de douze travaux. Les groupes que nous offrons ici représentent Hercule et un Centaure, auquel on donne parfois le nom de Nessus ou de Hercule et Acheloüs sous la forme d'un taureau. Hercule vainquit Nessus alors que celui-ci essayait d'enlever sa femme Déjanire. Acheloüs, dieu du fleuve et prétendant de Déjanire, lui-même métamorphosé en taureau, combattit Hercule qui le vainquit en lui arrachant sa corne. Ces deux groupes exploitent le contraste entre les formes humaines et animales, créant ainsi une composition dynamique. Les formes et silhouettes audacieuses de chaque groupe sont admirablement complétées dans les moindres détails de la ciselure et du poinçonnage.
A Pair Of Bronze Groups Of Hercules And A Centaur And Hercules And Achelous In The Form Of A Bull, After Giambologna (1529-1608) And Pietro Tacca (1577-1640), Probably French, First Half 18th Century
The former depicting Hercules standing astride and attacking the centaur with his club in his right hand, the latter depicting Hercules wrestling the bull to the ground, each on an integral naturalistic bronze plinth; warm brown patina with lighter high points; restorations
These superb bronze groups are thought to be derived from a series of the Twelve Labours of Hercules originally created by Giambologna in silver in the 1570s and 1580s as part of a commission to decorate the Tribuna of the Grand Duke Francesco I de' Medici in Florence. Although the original six silver examples are all now lost, documents exist which show that Pietro Tacca, who inherited Giambologna's workshop in the Borgo Pinti, was working, himself, on a series of Labours to be cast in bronze between at least 1612 and 1633. On a larger scale than the original compositions, it is thought that the models executed by Tacca were based upon those created by Giambologna, but may also have included original compositions to complete the series. The popularity of the models ensured that examples entered some of the most prestigious collections; seven Labours, including an example of Hercules and Achelous were numbers 301 to 308 of the collection of Louis XIV.
In fact, several of the models created by Giambologna and Tacca were not true Labours of Hercules, including the two here. Because the canonical Labours included stories that were virtually impossible to convey in sculptural terms, some other histories surrounding the life of the hero were conscripted to complete the traditional number of twelve. The present groups depict Hercules and a Centaur, sometimes referred to as Nessus, and Hercules and Achelous in the form of a Bull. Nessus was killed by Hercules when he tried to abduct the latter's wife Deianira. Achelous was a river god and suitor of Deianira who battled with Hercules in the form of a bull. Hercules defeated him by breaking off his horn. Both groups exploit the contrast between the human and animal forms to create a dynamic composition. The bold forms and silhouettes of each are beautifully complemented by the minute attention to the detail of chiselling and punching.
Christie's. Collection Yves Saint Laurent et Pierre Bergé. 23 - 25 February 2009. Paris www.christies.com Image Christie's Ltd 2009