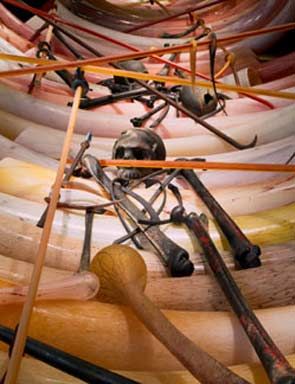 Cache Installation, 1996, Medium: Blown Glass, metal, wood, Size: 5' x 6' x 36' (60" x 72" x 432"), Photo Credit: Rob Vinnedge. From collection of George R. Stroemple
DAYTON, OH.- The Dayton Art Institute presents William Morris - Myth, Object and the Animal. William Morris's mastery of glass and exploration of man's relationship to nature and culture are celebrated in Myth, Object and the Animal. The exhibition, which shares compelling works dating from 1993 to the present, attests to the artist's technical prowess and success in using glass as a medium of expression. Among the highlights are three monumental installations. These are complemented by exquisitely-crafted individual pieces that are displayed individually or in groups, reflecting Morris's practice of exploring ideas and forms in series.

Visitors to the exhibition will be welcomed by Morris's Canopic Jar: Eland of 1995. This elegant object provides an introduction to Morris's interest in addressing our humanity, use of animal forms as metaphors and ongoing references to ancient cultures, here Egypt. In this work, the alert gaze of the dexterous African antelope topping the vessel contrasts with its traditional function as a burial container.

Mazorca, or "ear of corn," reflects Morris's abiding interest in early civilizations. An inveterate traveler, he has spent extended time exposed to indigenous cultures in Central and South America. And, while his work is informed by his understanding of non-western traditions, Morris avoids replicating past forms in favor of developing a personal response attuned to his sources. Mazorca references the role of corn in sustaining native American cultures and the process of regeneration through harvest and reseeding. His cobs, suspended alongside rings, animal forms, skulls, and small figures that function as talismans, appear to have emerged from an archaeological site. All are described by Morris as "objects of offering and abundance," and he notes that abundance is countered by famine in the cycles that define our experience.

In his work, William Morris has drawn upon his passion for wilderness experiences, ranging from scaling rocky precipices to spear hunting fish and stalking large game with bow and arrow, which have taken him to remote areas of the world. He references stimuli from his immersion in Indonesian culture as well as his experiences in remote parts of Mexico's Baja California peninsula in the figures that comprise his Idola installation, a sculptural grouping that attests to the importance of myth to Morris. Artifact Wall, comprised of forms suspended across an extended surface, shows Morris working with diminutive components, inviting the viewer to come into intimate contact with its small objects. These elements include animal forms and a multitude of vessels that appear to have been unearthed from a variety of ancient sites. In their functions as containers for food or lotions, implements for hunting, and decorative or votive pieces, each references activities or ceremonies common to cultures worldwide. The elements of Artifact Wall create an allover pattern and the shadows cast by the forms, likewise become part of the composition.

Birds, notably crows and ravens common in Washington State, where he has long resided, are another prominent motif in Morris's work. Both species hold symbolic meaning: Northwest Coast native cultures credit ravens with bringing light to the world, while crows are associated with asceticism in Christianity. As with much of his work, Morris creates his birds in glass that is first blown and then sculpted with a variety of tools. And, while stylized, they are also endowed with characteristics identifying their species and suggesting a variety of emotions. Raven with Skull, with the large bird perched on a translucent skull that holds an identical vessel in its eye socket, is a particularly stunning example.

Cache, of 1993, represents one of Morris's first efforts to combine objects into large-scale installations. In this work, over 75 tusks, cradling skulls, bones, weapons, and tools, rise from the floor to waist-height and extending in length more than thirty-six feet. By bringing together numerous discrete elements, the artist transcends the physical limitations of his medium to create an impressive environment.

With his Man Adorned series of 2001, Morris first addressed the human form in his work. As he mastered sculpting objects and animals, he undertook to model visages, seeing the face as an element of adornment, "a manifestation of nature coming through us." Morris's investigation of this theme was informed by his interest in both Africa and in the hunter/gatherer experience. In creating these pieces, Morris seeks to honor cultures he admires. These include the Inuit and Native American, as well as ones spanning Asia, the Middle East, and Africa. For some of these pieces Morris worked from models posed in his studio; for others he drew upon anthropological and ethnographic research. As often in his work, Morris's Man Adorned sculptures are opaque, mimicking stone, clay, leather, skin, or metal. His ability to use glass to represent such different surfaces testifies to the artist's impressive technical skills.

William Morris was born in Carmel, California, in 1957. He started working with glass after he was hired as a driver at the Pilchuck Glass School outside of Seattle soon after its founding. There he met and became friends with many of the artists responsible for bringing studio glass to significant attention in contemporary art, among them Dale Chihuly. In the early 1980s, prior to establishing his own practice, Morris served as Chihuly's chief gaffer, or master glass blower. The artist, who has been accorded recognition worldwide for his powerful sculptures and installations exploring the human experience, recently retired from working in glass. Myth, Object and the Animal thus offers a special opportunity to view outstanding pieces from his studio and to view fifteen years of work side by side.