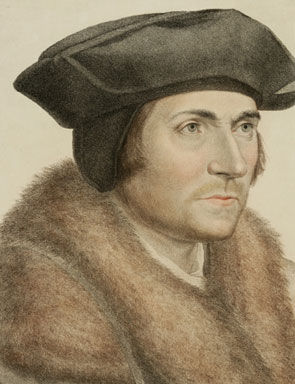 Thomas More, lord chancellor of England, in a 1793 color stipple engraving by Francesco Bartolozzi after a (1525-26) drawing by Hans Holbein the Younger (cat. 88). Photo credit: Robert Lorenzson for The Grolier Club
NEW YORK, NY.- The magisterial and tyrannical reign of King Henry VIII will be the subject of a major exhibition, Vivat Rex! An Exhibition Commemorating the 500th Anniversary of the Accession of Henry VIII, to be held in New York City at The Grolier Club from March 4 to May 2, 2009. The exhibition will travel, in modified form, to the Folger Shakespeare Library, Washington, DC, in 2010.

Henry's dramatic personality and reign – visionary or tyrant, masterful monarch or ruthless bully, defender of the faith or imperious destroyer of monasteries, lover of women or libertine – have been immortalized (and fictionalized) in literature, on stage, and in film by leading writers of their generations. Vivat Rex! brings the real Henry and the machinations of his court and times to life through books, manuscripts, handwritten letters, and prints. Among them are works that are unique or belonged to Henry himself, to his family, or to members of his court, including the monarch's schoolboy copy of Cicero, which he emphatically inscribed, "Thys Boke Is Myne Prynce Henry."

Henry's rule, which began 500 years ago on his accession on April 21, 1509 and with his death on January 28, 1547, saw the beginnings of the Reformation and the Protestant Church of England, the English Renaissance, and a state that within generations of his death would become a world power.

Vivat Rex! takes its title from the phrase "Long live the King!," which appears in a woodblock print in the first sanctioned English Bible (1539). This work is among the 140 items that shed light on Henry VIII as man and monarch – his education, character, and unrelenting efforts to ensure his legacy by fathering male heirs. The themes of power, marriage, and religion run throughout the exhibition. Its subjects include Henry's children, his six wives (two of whom were executed), and his advisors, confidantes, and opponents, many of whom met grisly fates.

Works relating to his ongoing battles over religion include The Defense of the Seven Sacraments against Martin Luther (1521), Henry's attack on Martin Luther, which the king wrote in defense of the Roman Catholic Church. The book earned him the title "Defender of the Faith" from Pope Leo X. Also included are many books and documents relating to Henry's irrevocable break with the Church, which was triggered by Pope Clement VII's refusal to annul Henry's marriage to Catherine of Aragon, who had failed to produce a male heir.

Another highlight is a manuscript letter from Catherine of Aragon to her nephew, the Holy Roman Emperor, Charles V, in which she complains of Henry's slanderous allegations in the "abominable litigation between the King my Lord and myself" and asserting that she "was a maid . . . when [she] came unto the King."

While much of the material is historically significant, some of it baldly presents the common side of royalty. All too human are a series of inquiries by Henry VIII's father, Henry VII, about the attractiveness of a prospective wife and responses by his ambassadors, a dialogue that, in today's culture, might be found in a string of text messages.

Visually arresting exhibits include fine prints of Henry and his wives, children, and advisors based onpaintings by court artist Hans Holbein, hand-colored aquatints of several royal palaces, elaborately – illustrated frontispieces of the earliest printed English Bibles, a magnificent 10th-century illuminated manuscript presented to Henry by Pope Leo X, and a lengthy New Year's Gift Roll (1539) listing gifts made both to and by the king.

This exhibition is an exceptional collaboration between The Grolier Club and three major American libraries: the Folger Shakespeare Library of Washington, DC; the Houghton Library of the Harvard College Library of Cambridge, MA; and The Morgan Library & Museum of New York, NY. Books and prints from the collection of Arthur L. Schwarz (see separate bio), organizer and curator of the exhibition, as well as items from the collections of six other institutions and private collectors, will be included in the exhibition.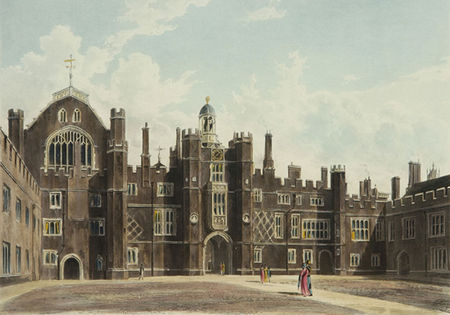 A view of Hampton Court Palace from W.H. Pyne's History of the Royal Residences (1819). Built by Henry's advisor Cardinal Wolsey, the cardinal later gave it to Henry in an attempt to remain in the king's favor. Four years later, he died in disgrace (cat. 36). Photo credit: Robert Lorenzson for The Grolier Club.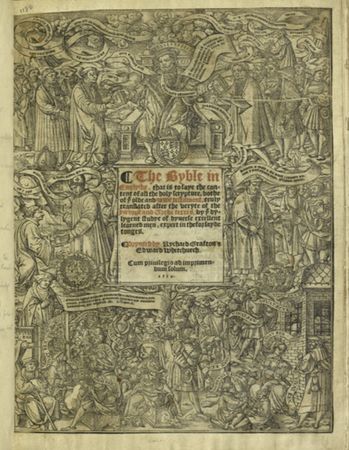 The Great Bible, the first sanctioned Bible in English translation (1539). On the title page, Henry VIII, now head of the English Church, distributes the Word of God to clergy and laity, while a grateful populace shouts "Vivat Rex" and "God Save the Kinge" (cat. 109). Photo credit: The Rare Books Division, The New York Public Library, Astor, Lenox and Tilden Foundations.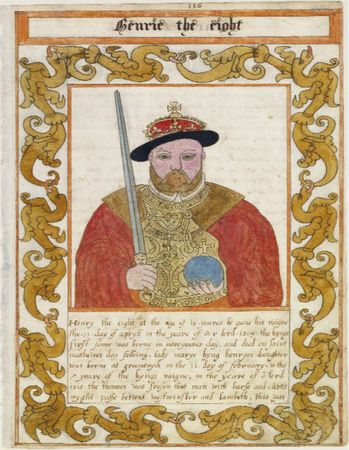 Henry VIII sporting a red beard, in a facsimile of a 1608 manuscript history of England, Trevelyon's Miscellany (cat. 17). Photo credit: By permission of the Folger Shakespeare Library.,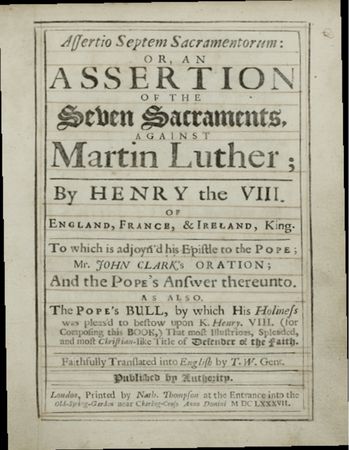 Henry's defense of Catholicism against the attacks of Martin Luther, An Assertion of the Seven Sacraments, Against Martin Luther, for which the pope named him "Defender of the Faith." This copy, from the first edition in English (1687), is from the library of Mary of Modena, wife of King James II. (Cat. 58.) Photo credit: Robert Lorenzson for The Grolier Club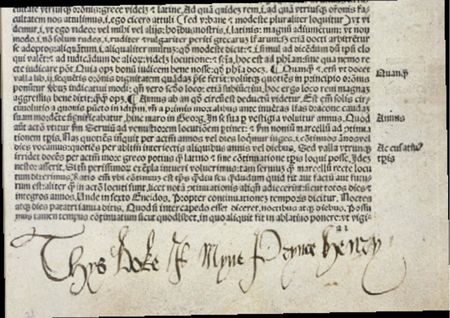 Henry VIII schoolboy copy of Cicero's Commentum familiare in Ciceronis officia (1502), inscribed "Thys Boke is Myne Prynce Henry" (cat. 13). Photo credit: By permission of the Folger Shakespeare Library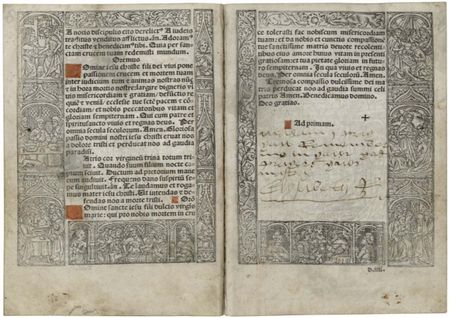 Prayer Book. inscribed by Elizabeth of York, Henry VIII's mother Incipiunt hore beate Marie virginis secudum vsum Sarum, a book of prayers and devotions (1498), inscribed by Elizabeth of York, queen consort of Henry VII and the mother of Henry VIII, "Madam j pray yow Remember me in yowr good prayers yawr mastras Elyzabeth R" (cat. 8). Photo credit: By permission of the Folger Shakespeare Library.'s
Shakespeare's, Henry VIII, in the second folio edition of his collected plays (1632), with phrases praising Henry and his daughter, the future Queen Elizabeth I, crossed out by a censor of the Spanish Inquisition (cat. 107). Photo credit: By permission of the Folger Shakespeare Library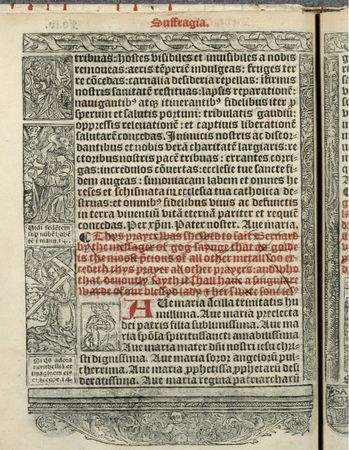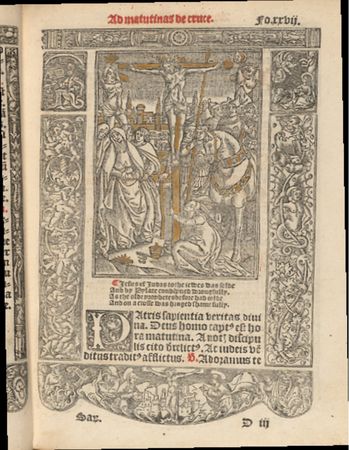 Two copies of a Book of Hours, Hor[a]e Beatissime virginis marie ad legitimum Sarisburiensis Ecclesie ritum cum quindecim orationibus beate Brigitte, printed in 1534 in Paris for the English market. One copy was defaced by an early reformist owner; the second owner enhanced his book with crude gilding (cat. 92). Photo credit, defaced: Robert Lorenzson for The Grolier Club. Photo credit, gilded: By permission of the Houghton Library of the Harvard College Library