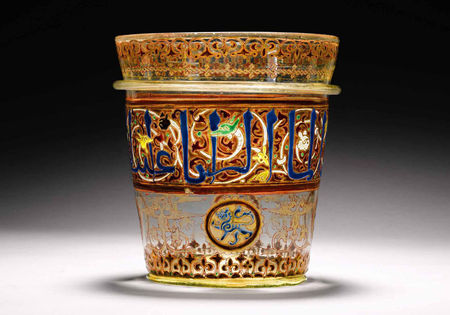 The Rothschild Bucket, estimate £600,000 – 800,000. Photo: Sotheby's
LONDON.- On April 1st 2009 Sotheby's London is to sell one of the most remarkable Mamluk enamelled glass buckets left in private hands, in its biannual Arts of the Islamic World sale. The Rothschild Bucket is exceptionally rare and was made at the high point of Mamluk glass production. The auction also features a range of paintings, manuscripts, textiles, pottery, weapons and scientific instruments that span one thousand years of Islamic history and originate from cultures as diverse as those from India, Iran, Syria, Egypt and Islamic-Spain. Many of the works in the sale are of museum quality and have rarely been seen at auction. The Rothschild Bucket, estimate £600,000 – 800,000

The Rothschild Bucket
The highlight of the sale is A Highly Important Mamluk Gilded and Enamelled Glass Bucket or Finger-Bowl, one of the last Mamluk Glass Buckets remaining in private hands (Lot 96, Est. £600,000 – 800,000). This superb piece of glassware dates from the mid-14th century and was made in either Syria or Egypt. The bucket is immediately striking for the vivid colouring that covers the surface which is enamelled with blue lettering, a winding white scroll, red leaves and various animal heads depicted in green, yellow and black on the top half, while the lower section features bright blue lions and double headed eagles outlined in red. The bucket was in the Rothschild Collection for over 100 years having been purchased by Baron Alphonse de Rothschild at a Paris auction in 1893. It is evocative of princely culture at a time when Muslim armies were evicting crusaders from across the Middle East.

The Mamluk period dates marked the high point in glass production with the main centres of glass manufacture – Damascus and Aleppo – being sacked by Tamerlane shortly after the current piece was made. The bucket would have been passed around at the beginning or end of a meal for guests to rinse their fingers - the inscription appearing around the vessel reads "I am a toy for the fingers shaped as (in the form of) a vessel. I contain cool water." Four other buckets of this type are known to exist and three of them are in major museum collections in Cairo, Lisbon and Kassel in Germany. The whereabouts of the final bucket is unknown.
La suite sur Mon Eloge de l'Art http://elogedelart.canalblog.com/