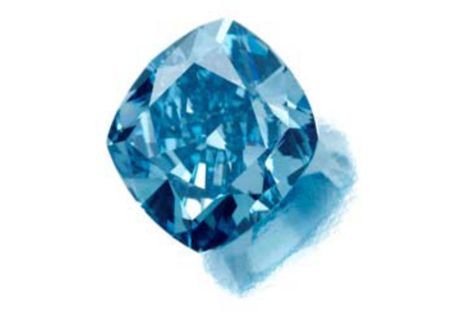 Le lot phare de la prochaine vente aux enchères de haute joaillerie organisée par Sotheby's à Genève, le mardi 12 mai 2009 dans les salons de l'Hôtel Beau-Rivage, est un important et rare diamant de couleur « Fancy Vivid Blue », « Internally Flawless », de taille coussin, pesant 7.03 carats. Ce diamant, obtenu à partir d'un brut de 26.58 carats qui a été découvert en 2008 dans l'historique mine de Cullinan de Petra Diamonds en Afrique du Sud, est estimé US$ 5.8-8.5 millions / CHF 6.8-10 millions*. Son nouveau propriétaire aura l'honneur de lui donner un nom.
SOTHEBY'S is delighted to announce that the centrepiece of its forthcoming sale of Magnificent Jewels in Geneva, to be held at the Beau-Rivage Hotel on Tuesday, May 12, 2009, will be an important and rare fancy vivid blue, internally flawless, cushion-shaped diamond weighing 7.03 carats. The diamond, which was cut from a 26.58 carat rough, was discovered in 2008 at Petra Diamonds' historic Cullinan diamond mine in South Africa. The pre-sale estimate is US$5.8-8.5 million/CHF6.8-10 million* and the buyer will have the honour of naming the diamond.
D'un poids de 7.03 carats, ce diamant bleu qui sera mis en vente en mai prochain se place parmi les plus importantes pierres de ce type jamais offertes aux enchères par Sotheby's. Selon le Gemological Institute of America (GIA) la pierre est de couleur « Fancy Vivid Blue » et de pureté « Internally Flawless », les caractéristiques optimales pour un diamant bleu. Ce dernier, qui figure parmi les pierres précieuses les plus rares, doit l'existence de sa couleur à la présence de bore au moment où la pierre se forme. La mine de Cullinan est la source de diamants bleus la plus importante au monde et cette pierre est un exemple parfait de ce qu'elle peut offrir de meilleur.
At a weight of 7.03 carats, the diamond to be auctioned in May ranks among the most important blue diamonds ever to be offered for sale by Sotheby's. The Gemological Institute of America (GIA) has graded the stone as fancy vivid blue in colour and internally flawless in clarity, the highest possible grading for a blue diamond. Blue diamonds, which are among the rarest of all gems, owe their colour to the presence of the chemical element boron during the stone's formation. The Cullinan mine is the world's most consistently reliable source of blue diamonds and this stone is a perfect example of Cullinan diamonds at their best.
David Bennett, président du département de haute joaillerie de Sotheby's pour l'Europe et le Moyen-Orient nous dit : « Les diamants bleus font partie des trésors naturels les plus rares. Il est donc très excitant d'avoir un tel lot phare dans notre prochaine vente de haute joaillerie à Genève. De plus, cette pierre se place probablement parmi les diamants bleus les plus importants que j'ai eu le privilège d'offrir aux enchères durant ma carrière chez Sotheby's. Comme nous avons eu la possibilité de suivre sa production à travers les différentes étapes de taille et de polissage, et ce dès son état initial, ce diamant est d'autant plus particulier à nos yeux ».
Commenting on the fancy vivid blue diamond, David Bennett, Chairman, Europe & the Middle East, Sotheby's International Jewellery department, said: "Blue diamonds are among the rarest of all nature's treasures and it is very exciting to have such a fine example as the centrepiece of our forthcoming Geneva Magnificent Jewels sale. This stone certainly ranks among the most important blue diamonds that I have had the privilege of offering for sale in my career at Sotheby's and what makes it particularly special for us, is that we've been able to follow its production from the initial rough state through the various stages of its cutting and polishing."
Johan Dippenaar, CEO de Petra Diamonds commente : « Ce diamant de couleur « Fancy Vivid Blue », et de pureté « Internally Flawless » est une pierre extrêmement rare, voire unique. Sa qualité est renforcée par le fait qu'il provient de Cullinan, une mine qui a produit certains des diamants les plus célèbres du monde. De part son expérience exceptionnelle, il était légitime que Sotheby's fasse de ce diamant la pièce maîtresse de sa vente exclusive dédiée à la haute joaillerie à Genève ».
Johan Dippenaar, CEO, Petra Diamonds, commented: "This fancy vivid blue, internally flawless diamond is a very rare and unique gem. Its quality is enhanced by its Cullinan origins, a mine that has produced some of the world's most famous diamonds. Given its distinguished heritage, it is fitting that Sotheby's should further establish its legacy by marketing the gem as the cornerstone of its exclusive 'Magnificent Jewels' collection in Geneva."
Depuis la découverte du premier diamant dans la province de Gauteng (connue anciennement sous le nom de « Transvaal ») en Afrique du Sud il y a un siècle, la mine de Cullinan a révélé certains des plus spectaculaires diamants du monde, parmi lesquels le « Cullinan », qui reste avec ses 3'106 carats la pierre précieuse brute la plus imposante jamais découverte (pour plus de détails cf. notes sur Petra Diamonds). En plus d'être la source de diamants bleus la plus importante, cette mine a produit plus du quart des diamants dépassant les 400 carats. La mine est située dans les contreforts de la montagne de Magaliesberg, à 50 kilomètres au Nord-est de Pretoria en Afrique du Sud.
Since the first diamonds were discovered in the Gauteng province (formerly known as the 'Transvaal') in South Africa over a century ago, the Cullinan mine has produced some of the most spectacular diamonds ever to be unearthed, including the 'Cullinan', which at 3,106 carats remains the largest gem rough ever to be discovered (for further details see notes on Petra Diamonds). In addition to being the world's most consistently reliable source of blue diamonds the mine has also produced more than a quarter of the world's diamonds weighing more than 400 carats. The mine is located at the foothills of the Magaliesberg mountain range, 50 kilometers northeast of Pretoria in South Africa.
Sotheby's a une longue histoire, auréolée de prestige et de succès, dans la mise en vente de diamants bleus. Durant les trois années passées, la maison de ventes aux enchères a vu trois diamants de cette couleur atteindre des prix représentant plus d' un million de dollars par carat : à Hong Kong en octobre 2007, une bague ornée d'un diamant de taille émeraude, de couleur « Fancy Vivid Blue » pesant 6.04 carat a réalisé $7.9 millions ; à Genève en novembre 2007 un diamant bleu de taille poire a été vendu $4.7 millions ; et finalement à Genève, en mai 2008 un diamant de taille poire et de couleur « Vivid Blue », monté en bague, a été adjugé $4.9 millions, établissant ainsi le nouveau record de prix par carat pour une pierre précieuse vendue aux enchères.
Sotheby's has a distinguished and successful history of selling blue diamonds and in the last three years alone the company has seen three blue diamonds achieve prices that represent more that $1 million per carat: in Hong Kong in October 2007 a fancy vivid blue emerald cut diamond ring weighing 6.04 carats realised $7.9 million; in Geneva in November 2007 a pear-shaped blue diamond sold for $4.7 million; and then in Geneva in May 2008 another pearshaped vivid blue diamond, set as a ring, brought $4.9 million, establishing the new world record price per carat for any gemstone at auction.
Travelling Exhibition Dates:
Hong Kong: April 2-6
Paris: April 8-9
New York: April 18-22
London: April 25-28
Pre-sale Exhibition Dates in Geneva:
Saturday 9 May
Sunday 10 May
Monday 11 May
Tuesday 12 May