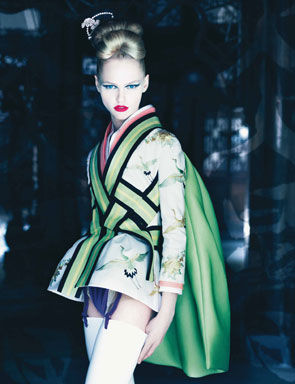 Dior has always fostered a special bond with great photographers
MOSCOW.- Christian Dior presents the exhibition Christian Dior: 60 years of Photography that will be held during the 6th International Festival "Fashion and Style in Photography 2009". This exhibition tells the history of Christian Dior through a selection of 120 pictures from the world's greatest photographers.

Dior has always fostered a special bond with great photographers. In the 1940s and 1950s Erwin Blumenfeld, Willy Maywald, John Rawlings, Henry Clarke, Robert Randall and Horst P. Horst, amongst others, immortalised Dior's most beautiful creations. This tradition still lives strong. Nowadays, Dior is proud to work not only with the greatest established photographers but also with young talents – today's undeniable creative forces.

The first room displays the work of Patrick Demarchelier who photographed the 2007 spring-summer Haute Couture show for Pirelli Calendar. The second room shows the pictures that Zanna, a British photographer, took backstage in July 2007 at the Haute Couture show which was held in Versailles to celebrate Dior's 60th anniversary. The third room is dedicated to the pictures that Simon Procter took to celebrate John Galliano's 10th anniversary at the helm of Dior. Simon Procter shot a series of portraits of the designer amongst models wearing his Haute Couture gowns. Three separate rooms are dedicated to the work of Chinese artists. Young artist Quentin Shih brings the 2008 winter Haute Couture show into Chinese landscapes. Wang Qingsong gives us his interpretation of The Last Supper. Rong Rong & Inri reinterpret Dior items which are reminiscent of Asia. The exhibition continues with the work of Guido Mocafico who shot Victoire de Castellane's amazing fine jewellery creations called Belladone in 2007. Finally, another room shows a selection from Nan Goldin's Wild Horses series that features Kris Van Assche's menswear clothes for Dior.

In the early 50s, Dior started developing strong relations with USSR. In 1959, models were sent to Moscow to present 120 of Christian Dior's couture creations. The event was a huge success and over a period of three days, 1100 people came to see the collection at the Soviet Wings club in Moscow.

John Galliano paid tribute to Russia on numerous occasions. The 1998 spring-summer Haute Couture fashion show echoed oriental influences from the Russian ballet. The spring-summer 2002 collection was designed after a trip to Russia, during which John Galliano visited the Museum of Ethnology in St. Petersburg. In 2006, Sharon Stone accompanied Bernard Arnault and Sidney Toledano at the opening of the Dior store at GUM in Moscow. In 2009, Christian Dior reveals its photographical DNA at the Moscow Museum of Modern Art, one of Moscow's most prestigious museums.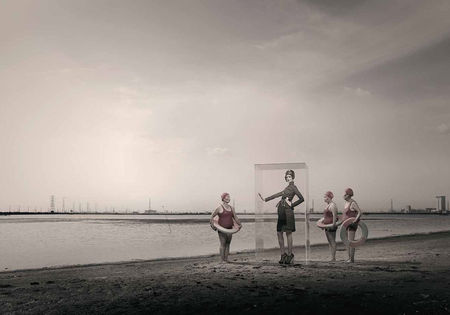 Quentin Shih, The stranger in the glass box.