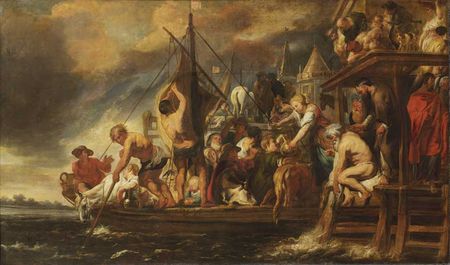 Jacob Jordaens, The Tribute Money – Peter finding the silver coin in the mouth of the fish, 1630-1645, Collection Rijksmuseum
MAASTRICHT.- Bonnefantenmuseum presents Jordaens – The making of a masterpiece, until June 14th at the Bonnefantenmuseum, enriched with a surprising oil painting just after TEFAF. The study with three heads of a young woman from c. 1616, which was since 1953 in a private collection at an unknown location, fits perfectly in the show on Jordaens' early work (c. 1616-1623) and studio practice. The study has until recently been depicted as a production of Rubens' studio, but specialists recently agreed to reckon it as the work of the very hand of the Flemish master of Baroque Jordaens.

Highlights by Jacob Jordaens in the Bonnefantenmuseum. Two versions of The Tribute Money - Peter finding the silver coin in the mouth of the fish by Jacob Jordaens take pride of place in the exhibition, which was created in collaboration with the Statens Museum for Kunst. The Danish version of the painting underwent extensive technical research and was fully restored in Copenhagen in 2007 and 2008. The presentation is completed by all the paintings by Jordaens on long-term loan to the Bonnefantenmuseum as part of its alliance with the Rijksmuseum.

Jacob Jordaens is one of the most important painters of the Flemish Baroque. One of his undisputed masterpieces is The tribute money: Peter finding the silver coin in the mouth of the fish from ca. 1623. The monumental painting has been in the Statens Museum for Kunst in Copenhagen since 1912. A second, considerably smaller version of the painting from the collection of the Rijksmuseum Amsterdam is on display in the Bonnefantenmuseum in Maastricht. Up to now, it was presumed that this version was a copy of the larger painting, but technical research has shown that the relationship between the two paintings is much more complex than was previously assumed.

On this occasion, the large painting from Copenhagen is surrounded by some of Jacob Jordaens' paintings and drawings of the same period. This gives the visitor a unique picture of this great Antwerp painter around the year 1625.

Catalogue in English and Danish: Jordaens. The Making of a Masterpiece, 120p. , Statens Museum for Kunst, 2008.
© Foto SMK.
© Foto SMK.
Jacob Jordaens, Fluitspelende satyr, 1630-1645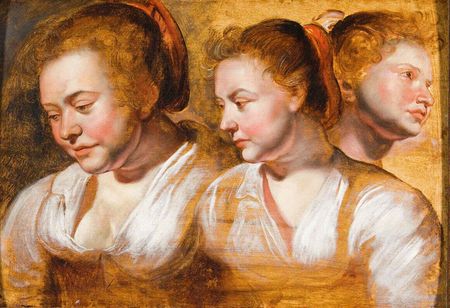 Jacob Jordaens, Three studies of a young woman (1616/1617), David Koetser Gallery, Zürich.