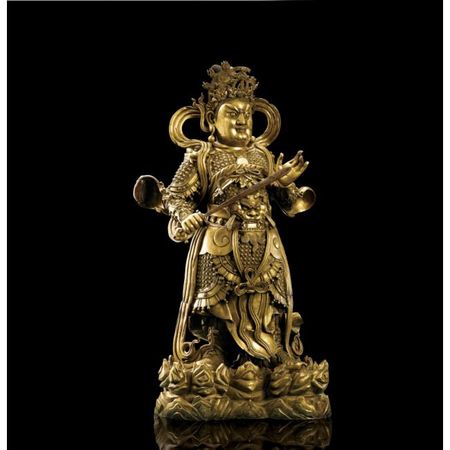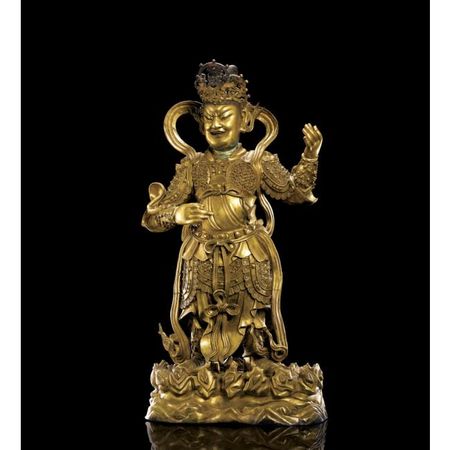 A rare and massive pair of gilt-bronze figures of guardians. Ming dynasty
each finely cast standing on a separate kidney-shaped rockwork base, wearing a chain-mail completely covering the body and extending down to the overlapping ruyi-decorated boots, the shoulders of both with fierce monster-mask epaulets and the belly of one with a further larger mask, a celestial scarf billowing up behind the head and trailing down to the base of each, with further knotted ribbons at the waist, the crisply cast faces with lively expressions, surmounted by elaborate pierced crowns, on with arms raised as if to hold a musucal instrument, the other holding a sword generously gilt overall (5). 105.cm., 41 1/2 in. Estimate 3,500,000—4,500,000 HKD
PROVENANCE: Joslyn Art Museum, Omaha, Nebraska.
Sotheby's New York, 28th May 1991, lot 149.
NOTE: Amongst gilt-bronze figures made during the Ming dynasty sculptures of the four guardian kings (sitian wang) are unusual, especially figures of this impressive large size. The two finely cast and exquisitely detailed figures represent Virudhaka, 'He who enlarges the kingdom', the Guardian of the South, and Dhrtarastra, 'He who maintains the kingdom of the Law, the Guardian of the East. Virudhaka is usually depicted holding a spear in his left hand and a sword in his right one, neither of which have survived. Dhratarastra holds a sword in one hand and is usually depicted with a fierce facial expression that conveys the awe-inspiring power that can overturn mountains. Both guardians have their eyes wide open with their brows knitted, while their thick torsos and masculine bodies are filled with power and martial spirit. They are heavenly kings who are on earth to guard the four cardinal points of the world and are Protectors of the Buddhist Law (dharma). According to legends, the four guardian kings were present at every critical moment in Buddha's life. They helped with his birth; carried him when he left his father's place; offered him food before his enlightenment; and attended his final nirvana.
Guardian figures were originally placed on the four sides of stupas, guarding the Buddhist relics inside. Gilt-bronze sculptures of this very high quality were made on commission for important temples and principal places of worship. Although very few examples can be found today, they are nevertheless an essential part of the Buddhist Pantheon.
As seen on the present pair, the figures are represented as fierce warriors, dressed in interlocking-chain armour and wearing elaborate helmets. They stand in a dramatic pose with flaming aureoles behind their heads representing the Buddhist Law. Their attire billows around their bodies showing their celestial nature. The two figures are well proportioned and the casting is typical of the finest quality achieved during the Ming dynasty. The character of both guardian kings is vividly portrayed.
See two closely related gilt-bronze guardian figures standing in similar powerful poses and with stylistically comparable detailed ornamentation, from the Fuller Memorial collection and now in the Seattle Art Museum, Seattle, illustrated in Hugo Munsterberg, Chinese Buddhist Bronzes, Tokyo, 1967, pls. 93 and 94, and discussed on p. 120, where Munsterberg attributes the figures to the 15th century.
Further two guardian figures of somewhat larger sizes, from the Nitta Group collection, were included in the exhibition The Crucible of Compassion and Wisdom, National Palace Museum, Taipei, 1987, cat. nos. 120-121. See another closely related pair of impressive, large guardian figures, one representing Dhrtarastra and the other Vaishravana, Guardian of the North, sold in our London rooms, 16th June 1998, lot 7. A third figure from the same set which originally would have comprised four figures was included in these rooms, 30th April 1997, lot 724, while the fourth figure appears to be unrecorded at present.
For examples of smaller bronze guardian figures see two illustrated in Giter and Li Yin, The Beauty of Ancient Chinese Sculptures, Taipei, 1995, pls. 31 and 32; and a third sold at Christie's New York, 20th September 2005, lot 146.
The present pair of figures is also related to large colourfully painted stucco figures of the Ming dynasty found in temples. See a colossal (176 cm) guardian figure depicted in situ in the Hall of the Thousand Buddhas, Shuanglin Temple, Pingyao county, Shanxi province, published in Angela Falco Howard, et al. (ed), Chinese Sculpture, New Haven, 2006, pl. 4.67; and an even larger (200 cm) stucco figure of Vaishravana, formerly in the Palace Museum, Beijing, and now in the Baima Temple, Luoyang, illustrated in Zhongguo meishu quanji. Diaosu bian, vol. 6, Beijing, 1988, pl. 9, attributed to the late Yuan and early Ming periods.
Sotheby's. Fine Chinese Ceramics & Works of Art. 08 Apr 09. Hong Kong www.sothebys.com photo courtesy Sotheby's