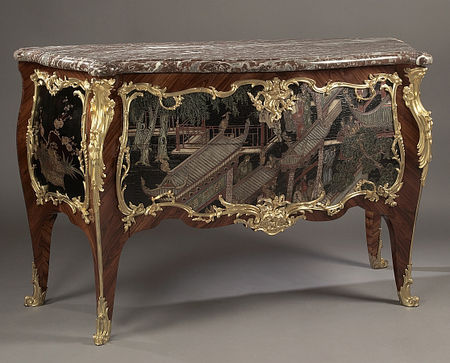 A Fine Louis XV Style Coromandel Lacquer Commode with a Rouge de Rance Marble Top by Paul Sormani. 19th century
Stamped to the lock plate 'SORMANI 134 bd Haussmann Paris\'. Height : 155.00 cm. Width : 93.00 cm. Depth : 59.00 cm. Price on application.

Note: This exceptional commode is decorated with panels of Coromandel lacquer depicting a courtly scene of stylised gardens, palaces and courtiers, set within fine gilt bronze frames.

Coromandel lacquer, named after the Coromandel Coast of India through which it passed on its way to European markets, was originally made only in China. The complicated technique involved incising a decorative pattern into the deep lacquer surface and then colouring the incised lacquer areas, creating a relief pattern in reverse. Originally, in oriental lacquer, the cutting of the lacquer surface would reveal coloured layers of lacquer beneath, depending on the depth of the incision.

In Europe this type of carving was originally called Bantam work, rather than Coromandel, in reference to the Dutch trading post in Java from which lacquer ware of this type was collected for shipment to Europe. Both names are a misnomer, as the majority of this lacquer was sourced from the province of Honan in China.
Adrian Alan enquiries@adrianalan.com