Ren Zhenyu, Albert Einstein, 2009. Oil on canvas, h: 100 x w: 90 cm
Olyvia Oriental is proud to host Iconic,Ren Zhenyu's maiden UK solo show, which runs from April 17th until May 10th. The exhibition features the latest works by the respected Chinese artist and is part of Olyvia Oriental's mission to promote fresh and original art that contributes to the discourse of visual culture.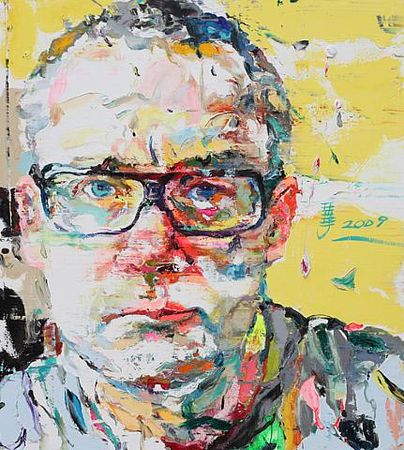 Ren Zhenyu, Damian Hirst, 2009. Oil on canvas, h: 100 x w: 90 cm
Born in Tianjin in 1976, Ren Zhenyu graduated in 1999 from the Tianjin Academy of Fine Art, where he currently works as a lecturer. His great talent has long been recognised by galleries and collectors throughout China; more recently he has gained fame in Europe, especially through his portrait series of two historical icons, Andy Warhol and Chairman Mao. He plays with a broad palette of colours that are layered and juxtaposed to create his own expressionist interpretation of famous faces, which he renders in a manner closer to Pop Art than to the currently dominant Chinese Neo-Realist style.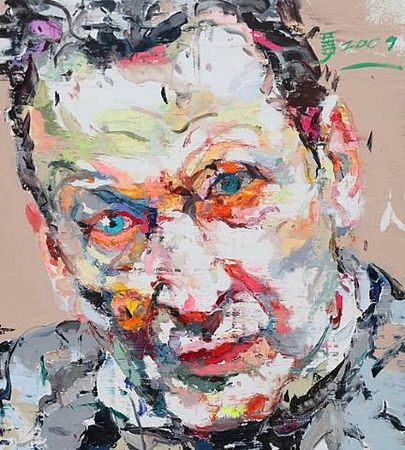 Ren Zhenyu, Lucian Freud, 2009. Oil on canvas, h: 100 x w: 90 cm
By featuring Mao as one of his main subjects, Ren attempts not only to celebrate the Chairman's image from a contemporary perspective, but also tries to reconcile some painful and uncomfortable memories. He alludes to the profound political changes that have taken place in China since Mao's death – the same year the artist was born – and also to the constant need of Chinese artists to connect themselves with the past. By contrast, his obsession with Warhol expresses his reverence for contemporary art, and in particular Pop Art, a movement that is a world away from traditional Chinese visual culture. Perhaps this admiration is most clearly expressed by the portrait of his teacher Wang Guangyi , the acknowledged master of Chinese Pop Art.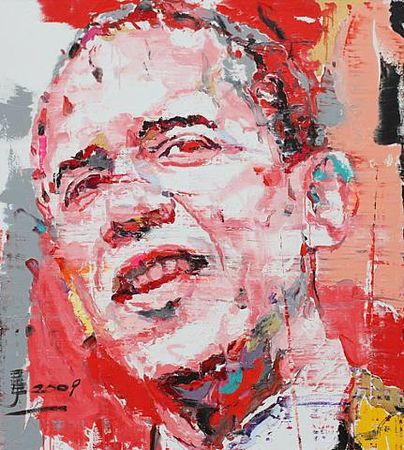 Ren Zhenyu, President Obama, 2009. Oil on canvas, h: 100 x w: 90 cm
The paintings featured in Iconic represent Ren Zhenyu's interpretation of other emblematic figures of the last 50 years, including Albert Einstein, Winston Churchill, Queen Elizabeth II, Diana, Princess of Wales, Barack Obama, Francis Bacon, Lucian Freud and Damian Hirst. Through his bold, mesmerizing portraits, Ren investigates the concept and nature of the term 'icon', raising questions about what makes a figure iconic and how that perception is perpetuated.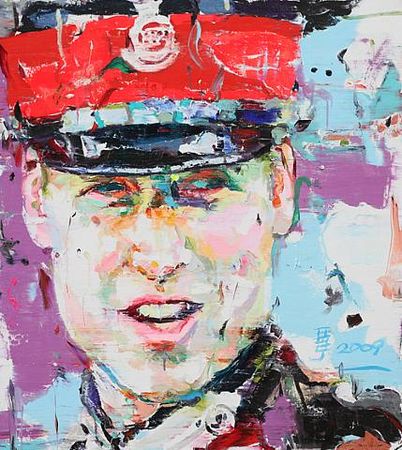 Ren Zhenyu, Prince William, 2009. Oil on canvas, h: 100 x w: 90 cm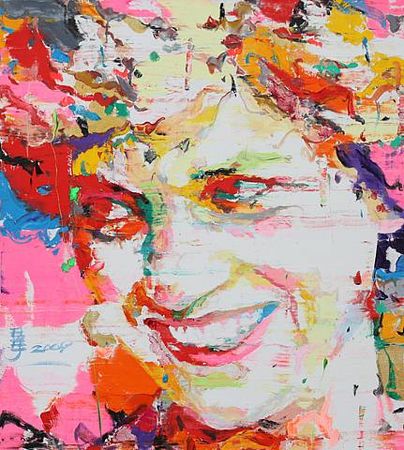 Ren Zhenyu, Princess Diana, 2009. Oil on canvas, h: 100 x w: 90 cm
Apr 17 - May 10, 2009. 17 Ryder Street, St. James's, London, SW1Y6PY United Kingdom