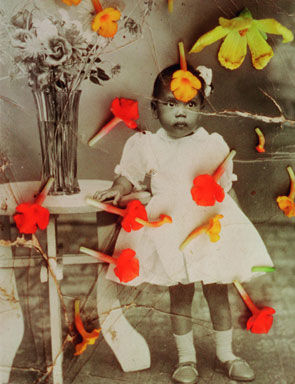 Albert Chong, Cousin Shirley, 1986. Chromogenic color print. Collection of the artist, Boulder, Collection
CHICAGO, IL.- The persistent interplay between the past and present in African-American photography is illuminated in the exhibition "Double Exposure: African Americans Before and Behind the Camera," which opens April 16 at the DePaul University Art Museum in Chicago.

The exhibition, which runs through June 14, draws heavily from The Amistad Center for Arts & Culture's extensive collection of 19th and early 20th century photographs. It contrasts these photographs with photo-based art by contemporary African-American artists. The exhibit – which was funded by a generous donation from Aetna – is traveling to a number of museums throughout the country. This is its only Chicago appearance.

"Double Exposure" debuts with a pre-reception lecture by Deborah Willis, professor and chair at the Tisch School of the Arts at New York University, at 4 p.m. April 16 in the museum's North Gallery. Willis is a distinguished photographer and one of the nation's leading historians of African-American photography. She was a 2005 Guggenheim Fellow and Fletcher Fellow and a past MacArthur Fellow, as well as a recipient of the Anonymous Was a Woman Foundation award.

An opening reception will follow the lecture from 5 to 7 p.m. at the museum. The exhibit was curated by Lisa Henry and Frank Mitchell, independent curators for The Amistad Center for Art & Culture, which houses one of the country's most comprehensive art and humanities collections devoted to the African-American experience and is located at the Wadsworth Atheneum Museum of Art in Hartford, Conn.

"Double Exposure" examines myriad choices now available to photo-based artists. Techniques represented in the exhibition include daguerreotypes, tintypes, cartes de visites, traditional silver prints, Polaroids and digital prints, assemblage and photographs printed on linen, wood and felt.

"Each section of the exhibition – the historical material and the contemporary work – could stand alone, but put together they are revelatory. Each informs and deepens the other, and seen as a whole they raise profound questions about the nature of identity, history and memory," Museum Director Louise Lincoln said of the exhibition.

Major themes of the exhibit include the influence of historical and family photographs on contemporary African-American art; the multiple uses of photographic appropriation, a technique that has been used since the 1970s to commemorate as well as critique; the importance of the portrait tradition in African-American photography from the earliest studio portraits of the 19th century to the mural-size color and digital portraits made today; and the influence of master photographers such as Augustus Washington, James Van Der Zee, Gordon Parks and Roy DeCarava.

In conjunction with the exhibition, artists and critics will address aspects of the works on view at a symposium on May 23 at the museum.
Darryl Smith, Wig Ad One, 2006. Ink jet print. Collection of the artist