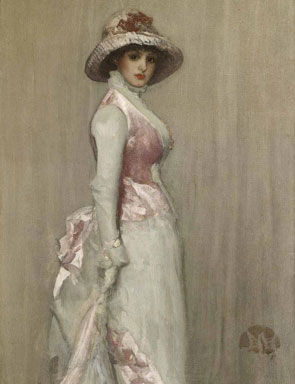 James Abbott McNeill Whistler, Harmony in Pink and Grey: Portrait of Lady Meux, 1881–82, oil on canvas, The Frick Collection. Photo: Michael Bodycomb.
NEW YORK, NY.- This summer The Frick Collection will present a focus exhibition dedicated to the colorful and often controversial artist James Abbott McNeill Whistler (1834–1903). The Frick's ensemble of four full-length portraits by Whistler will be displayed in the museum's Oval Room alongside his evocative seascape, Symphony in Grey and Green: The Ocean (1866). The presentation will include a Cabinet installation of fifteen pastels and etchings from his Venetian sojourn of 1879–80. These works show Whistler's command of three distinct media and demonstrate his concern for the harmony of form, color, and composition. Whistler's oeuvre clearly had a special appeal for Henry Clay Frick, who acquired more works by this artist than by any other. This presentation, drawn from the institution's celebrated holdings and accompanied by several gallery talks, marks the first time in more than twenty years that they will be exhibited together.

Senior Curator Susan Grace Galassi notes, "Perhaps because we have not shown these paintings, etchings, and pastels together for more than twenty years, it may come as a surprise that Whistler—an American and a near contemporary to Frick—is actually one of the best represented artist in our collection. We look forward to welcoming the public to enjoy these works together this summer in galleries adjacent to the Old Master paintings for which the institution is best known." The installation is organized by Curatorial Assistants Joanna Sheers and Caitlin Henningsen, in conjunction with Galassi.

East Gallery Refurbishment to be Undertaken this Summer
The movement of the main full-length Whistler portraits into the Oval Room this summer has been arranged in connection with a project to refurbish the East Gallery, where they customarily hang. In August and September, the floors there will be refinished and the paneling will be treated and waxed. A new rose-colored velvet mohair wall covering will be installed, through the generosity of Mr. and Mrs. Jeremiah M. Bogert. The East Gallery, which has not been renovated in more than twenty years, will reopen on September 8, 2009.

A Dandy to Rival Wilde, A Painter of Aristocrats and Bohemians
Having left the United States as a young man in order to pursue his artistic ambitions in Europe, Whistler spent most of his life in London, where his reputation for dandyism rivaled that of Oscar Wilde. As one of the chief proponents of Aestheticism, he sought the harmonious synthesis of art's formal and representational qualities. He was influenced by Baudelaire's notion of the correspondence between music and painting and often likened his works to musical compositions, entitling them Symphony, Harmony, or Nocturne. With his avant-garde approach to painting, Whistler deliberately provoked more traditional members of London's art world. In 1877, the critic John Ruskin ridiculed the artist's nearly abstract Nocturne in Black and Gold, accusing him of "flinging a pot of paint in the public's face."

Whistler worked as a portraitist throughout his career, securing commissions from members of the aristocratic and bohemian circles of London and Paris. His portrait of the actress Lady Meux (front page), whose scandalous marriage to a wealthy baronet made her notorious, captures all her sensual flair. Titled Harmony in Pink and Grey: Portrait of Lady Meux (1881–82), the painting is as much an exploration of color and texture as it is a perceptive likeness. Whistler's mature portraiture is well represented at the Frick by four canvases from the last three decades of his life. In addition to Lady Meux, they depict Frances Leyland (painted 1872–73), the wife of Whistler's patron, portrayed as the embodiment of his aesthetic ideals; Rosa Corder (1876–78), a fellow artist and the mistress of Whistler's unofficial agent, Charles Augustus Howell; and Comte Robert de Montesquiou-Fezensac (1891–92), a poet and member of the Parisian social and intellectual elite.

Displayed in close proximity to the Dutch and English "Grand Manner" portraits generally favored by Henry Clay Frick, these paintings reveal Whistler's respect for—and transformation of—the art of the past.

Vibrancy and Atmospheric Effect
Whistler was a master etcher, and he returned to this medium again and again. Following a financially disastrous libel suit against Ruskin, he traveled to Venice to complete a commission from the Fine Arts Society for twelve etchings, which came to be known as the First Venice Set. Whistler took a unique approach to the subject of Venice. Choosing to represent the city and its inhabitants in quiet moments glimpsed from narrow canals and second-story windows, he departed from the tradition of "vedute," views of popular tourist spots such as San Marco and the Grand Canal. In Frick's day, the Venice etchings were objects of competition for print collectors, who thought of Whistler as Rembrandt's heir in the great tradition of painter-etchers. At the Frick, three plein-air pastels provide a colorful counterpoint to the etchings, in which Whistler translates Venice's vibrancy in a restricted palette of black, brown, white, and gray. He achieved striking atmospheric effects with his virtuosic graphic style—at times densely hatched, to suggest a shadowy recession, his use of line is elsewhere economical. Whistler later described these effects as "painting with exquisite line." The exhibition invites viewers to consider Whistler's exploration of the expressive possibilities of painting, pastel, and etching in pursuit of his aesthetic ideals.
James Abbott McNeill Whistler, The Cemetery: Venice, 1879, pastel, with some stumping, over traces of underdrawing in graphite on dark brown paper, The Frick Collection. Photo: Michael Bodycomb