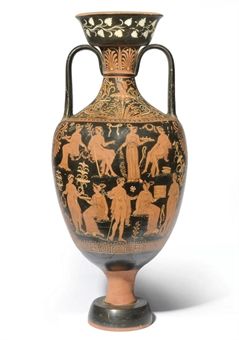 An apulian red-figure amphora. 4th century B.C.
Side A: nine figures in two registers, the upper with seated female holding wreath and phiale looking back at a naked seated youth with thyrsos, and a standing female with garland and phiale who looks towards a naked seated youth with staff, the lower register with seated female offering phiale to standing naked youth with wreath and flower, and a naked youth leaning on a staff with arm outstretched towards a seated female with casket, another standing youth with staff to right, the shoulder with female bust emerging from a large flower with acanthus leaves and surrounding scrolling tendrils
Side B: four offering bearers around a stele tied with a black fillet, a large kylix above
Palmettes under the handles, band of meander and dotted squares below, vine tendrils around the rim, details in added yellow and white
35½ in. (90 cm.) high. Est. £10,000 - £15,000. Lot sold £20,000
A Thermoluminescence Analysis Report from Oxford Authentication Ltd. accompanies this lot.
Provenance: Formerly in a Japanese private collection, acquired during the 1970s-1980s.
Christie's. Antiquities. 28 April 2009. London, South Kensington www.christies.com Photo: Christie's Images Ltd. 2009